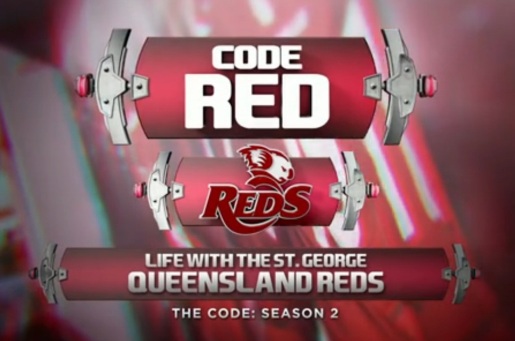 Code Red draws to a close for this season. And I'm glad they cut the series to four episodes.
After the in-depth week with the Reds last week, this episode takes a slightly different tack. It's focussed on the players — who they are and what makes them tick. We get to see a glimpse of them off-field as well as a brief look at the thinking behind the Ballymore upgrade.
Starting with an in-depth chat with Quade Cooper, it shows a bit of a different side to the Quade that everyone thinks they know from his infamous tweets. Far from the egotistical and spoilt sports star plenty of people have him pegged as, here we see a quite and thoughtful Quade reflecting on his life and where rugby fits into it. It's clear he has put thought into getting his priorities straight and family comes first. Plenty has been said about Quade's tweeting and people have already made up their mind, but for mine, this is probably the closest snapshot of how he is in person I have seen. Hopefully it shows that there is more to him than the media tend to portray.
[youtube id="Pmo48c3pN2s" width="600″ height="350″]
Next up is the Faingaa Twins and their mountain of work outside rugby. Again showing the family ethos, we get some banter about which twin shows the greatest leadership. Saia believing it's himself because he's five minutes older. Their fantastic work with charity is also shown, as they prepare for their golf day for breast cancer awareness.
Then we check in with G&GR's own James 'Big Kev' Horwill for a chat about how important outside interests are in keeping fresh for rugby.  We get to see Kev clowning around in the gym as he plays with the producers camera gear. There is also an injury update, including some RPA-style footage of the operation to rejoin the tendon in his hamstring.
There is a small update on the Ballymore redevelopment project. We get to hear a little about the idea behind what they are trying to achieve and the legacy for rugby in Queensland that it will provide, but I had hoped for a little more detail on the plans and facilities that are going to be a part of the finished product. I understand the politics and processes that are required mean that it is in a state of flux and constant change until final approvals have been granted, but I just wanted to know more.
And what would Code Red be without at least some game footage? We get to see a little of the work James does as he attends the final regular season match for 2012 against the Waratahs, as well as the qualifying final where the season ended, against the Sharks. Clearly not playing the role he would like to, but still remaining upbeat and friendly as he mingles with guests and the general public, giving a good insight into the strength of the organisation and the emphasis they put into all community engagement.
This is a good episode all together, and a nice end to the season, with a look at some of the names of the Reds in a way we don't often get to see. Make sure you tune in to Fox Sports 3 tomorrow night (Thursday, 8 November) at 7:00 pm.