There were more ripping games of NSW schoolboy trials yesterday. They might not have been official competition games but unless anybody told you beforehand, you wouldn't have known it.
Scots v Joeys
By "Armchair Selector"
It was 2009 when the Joeys' boys last cheered success over the lads from Bellevue Hill. With a record eleven competition wins on the trot, were Scots to rack up another in a trial game, or were Joeys going to set a platform to launch their assault on the 2017 GPS Premiership?
Two minutes into the match Scots declined a penalty shot in front, opting for the kick to the corner. The Scots' lineout drive crossed the line with #4 Jeremy Williams dotting down. Robson converted. Scots 7 – 0.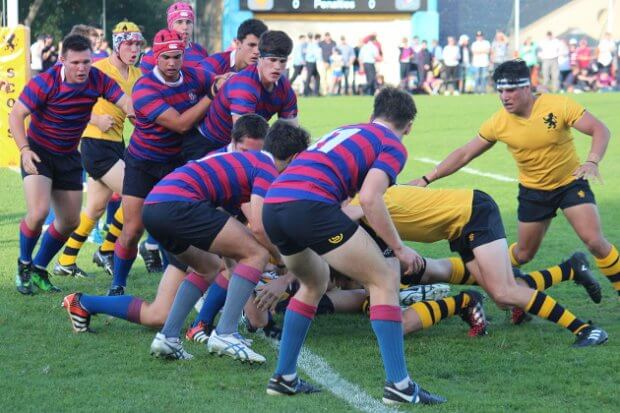 Eleven minutes later slick backline play from Joeys was finished well in the corner by #11 Dan O'Brien. Green & Gold's 2017 GPS Rising Star, #13 Triston Reilly, added the extras. 7-all.
A pressured Scots' clearing kick had Joeys with a lineout ten metres out from the Scots' line. From a well-drilled maul from a slick lineout move #1 Lincoln Blackhall claimed the points. Reilly's conversion successful Joeys 14 – Scots 7.
Both backlines were willing to play an expansive game. Joeys pushed their luck a little too hard and Scot's monster winger #14 Tom Yasmin pounced on the loose pass scoring in the corner. Robson squared the ledger 14-all.
Joeys were determined to let the ball sing. In the final three minutes of the half #14 Lachlan Shortis scored out wide. Not to be outdone team mate #11 O'Brien bagged his second of the day.
Joeys had the better of the first half with their centre pairing of #12 Eveleigh and #13 Reilly applying pressure to Scots. Both were lighting quick in defence and forced several errors.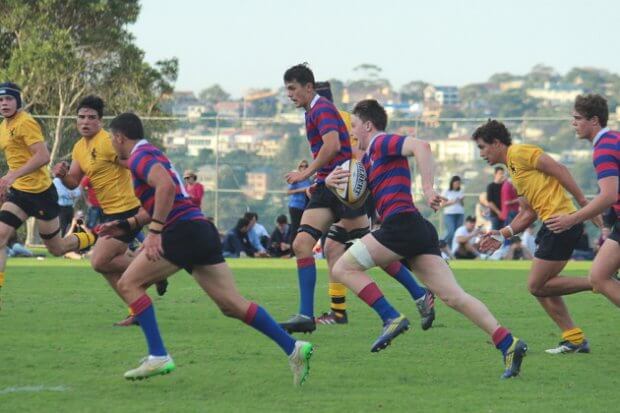 Half time score: Joeys 24 – Scots 14.
Scots repelled an onslaught of Joeys' backline raids before Joeys #10 Vincent Creagh broke the line and opened up a gap mid-field passing to Shortis for his double near the posts. Reilly converted – Joeys 31 – Scots 14.
Scots were kicking away what precious possession they had but once they kept ball in hand they looked more effective. Their go-to guy, Yasmin, again broke the line out wide to score after treating his opponent like a speed hump. Robson converted: Joeys 31 – Scots 21.
The home team was playing their best rugby of the game in the fourth quarter.
With five minutes remaining Scots #13 Billy Smith capitalised on a turnover crossing under the posts. Robson's conversion successful.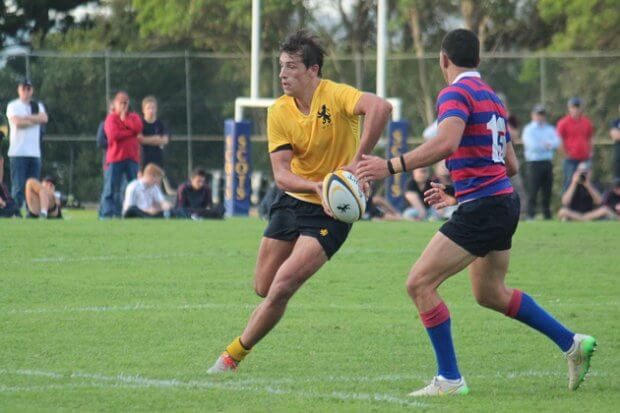 With two minutes remaining Scots declined a penalty shot midfield from a ruck penalty. A knock-on from the ensuing lineout sealed their fate.
There wasn't much in it – the two-try blitz by Joeys just before oranges was the killer for Scots.
Scots will be working on their lineout next week. It was a mess and cost them dearly in the set piece.
Full-time score: Joeys 31 – Scots 28

The players
For Joeys, the centre pairing of Tom Eveleigh and Triston Reilly was brutal in defence and dangerous in attack; Vincent Creagh was an excellent pivot.
For Scots, #4 Jeremy Williams was a work horse and #14 Tom Yasmin a superb finisher.

Scoring
Joeys 31 (D. O'Brien 2, l. Shortis 2, L. Blackall tries; T. Reilly 3 cons) beat Scots 28 (T. Yasmin 2, J. Williams, B. Smith tries; M. Robson 4 cons)
---
Barker v Aloys
By Rod Skellet
Two CAS teams fresh off recent victories against GPS schools, faced off against each other on a perfect afternoon for rugby.
Aloys are always difficult opponents for Barker and it is never a game any Barker team takes lightly. The image of Alex Diamond running over all and sundry is still way to fresh for any Barker student or parent to forget.
With Barker in possession just outside their 22m line, a blind pass found Aloys prop Simon Rahme as "Johnny on the spot" who strolled 35m to score under the post. With the extras Aloys led 7-nil.
That was the end of the scoring for Aloys, who despite having some quality players in their side, were their own worst enemy by kicking away possession and then not challenging at the ruck.
Barker regrouped and with a mountain of possession, the forwards and backs combined to be pressing Aloys' line, resulting in Weymouth (6) crashing over.
After the restart Barker were again on the attack, retaining possession and working into a favourable field position. This time Melchior (3) burst through to score and much like last week extras went begging.
Behind 7-10 Aloys continued to baffle, kicking away possession or being isolated at the breakdown, letting Barker off the hook. A neat backline move by the Reds put Lloyd (14) in space. He backed up after the breakdown and got the try he deserved.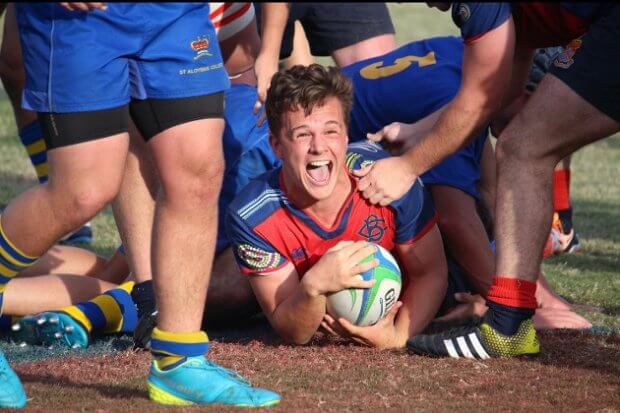 Half-time score: Barker 17 – Aloys 7
The second half did not improve for Aloys and that was disappointing as it is clear this team has talent. Their props Rahme and Halliday are strong at the set piece and McDonagh (5) and Partington(8) provide height and strength around the park.
Barker continued building on the first half, with a try to Wilson (2), following on from good work from the backs Van Woekom (13) and Nercessian (10).
Then Barker's captain, Luke Reimer (8) stepped up and scored the last two tries of the day to nail the coffin shut.
Final score: Barker 36 – Aloys 7
Aloys are a better team that this score line suggests and Barker certainly did not play as well as last week when they dispatched Shore.
For Aloys their set piece is sound but they need to be more innovative in attack with the backs being too tentative ball in hand.
For Barker a win is a win, but there is still plenty of work to do and Knox and Waverley are looking ominous.

Best for Barker
– Dring (5), who was everywhere in the tight.
– Chalmers (1) who was a monster in both defense and ball in hand.
– Van Woerkom (13) & Harding (12) who ran straight and hard and maintained possession post tackle.

Best for Aloys
– Rahme (1) Spalding (2) & Halliday (3), who were solid in the set piece.
– Flaherty (12) who just needs to see more ball in space.
---
Knox v Kings
By "Waratahs to win"
What a massive battle this game was.
From the kick-off, Kings had all the possession for the first ten minutes and parked themselves in the Knox 22. Knox rarely got their hands on the ball and when they did, they would knock-on, incur a penalty or handover possession.
Kings were dominant and error-free. The only thing that Knox had going their way was their defence – which was exceptional!
Another silly penalty by Knox allowed Kings to point towards the posts. It was a signal of how importantly Kings were taking this game that they would choose to kick for a penalty goal which was converted by Kings no. 10 Matt Minogue.
More Knox penalties gave possession away and Minogue then scampered over to score King's first try. He converted it.
Kings continued to retain possession and must have had at least 80-90% possession throughout the first half. What few opportunities that Knox had resulted in them handing the ball back to Kings.
Another Knox penalty from a lineout infringement resulted in another penalty conversion by Kings.
Kings had been almost error-free and were hammering Knox. While Knox's defence had been incredible, it was looking like the 2nd half would be more of the same.
Half-time score: Kings 13 – Knox 0
I'm not sure what Knox put in their drinks at half-time, however they need to bottle the recipe. From the kick-off, Knox forwards and backs finally strung some phases together to work the ball up field leading to Nick Frost driving over for a try. The try was converted by No. 10 Tom Woodcock.
Knox then held up a Kings' player to form a maul and force a turnover. Momentum was turning. From the set piece Knox created a slick backline move to put Woodcock into a gap, some nice offloads led to Superman, Nick Frost, scoring his 2nd try.
The score was suddenly 13-12. The crowd was silent for the kick as Woodcock converted. Amazingly, Knox were in the lead.
Kings started to incur penalties – letting Knox gain field possession. Knox then converted a 43m penalty to inch further in front.
The tide had turned; Knox had more possession and were doing something with it. Kings were rattled and from a scrum, Knox executed a deceptive manoeuvre from the back resulting in Jono 'greased lighting' Stenning speeding down the sideline to offload for a Dan Garing Try. The try was converted by Woodcock.
As the clock wound down, amazingly, Knox had won 24-13 in a game of two halves.
Kings were a worthy team. Their performance in the 1st half should have put them 20 points in front. However, this Knox team showed that they have something special. They can be solid in defence, and can put on the razzle-dazzle when they have the opportunities. In the end – they had won this titanic battle.
Knox 24 (Frost 2 , Garing tries; Woodcock 3 cons, pen.) beat Kings 13 (Minogue try, con, 2 pens.)
---
Cranbrook v Grammar
By "The Cow"
They were two quite evenly matched teams.
The score was 17-5 at half time, with Grammar taking advantage of a yellow card to the Cranbrook hooker. The second half was tight and tense with a lot of errors from either side.
Final Score: Cranbrook 22 – Grammar 12
Both teams turned up to play rugby which made the game quite entertaining. The better players were Cranbrook #10 Finn Stenmark, and Grammar #6 Tom Chadwick.
Grammar had a strong scrum and maul which put Cranbrook's small pack under pressure. Stenmark was a good game manager for Cranbrook though he overplayed his hand on occasion.
Cranbrook will struggle against Knox, Waverley and Barker with their small forward pack.
Scots v Joeys photos by "Lee Grant"