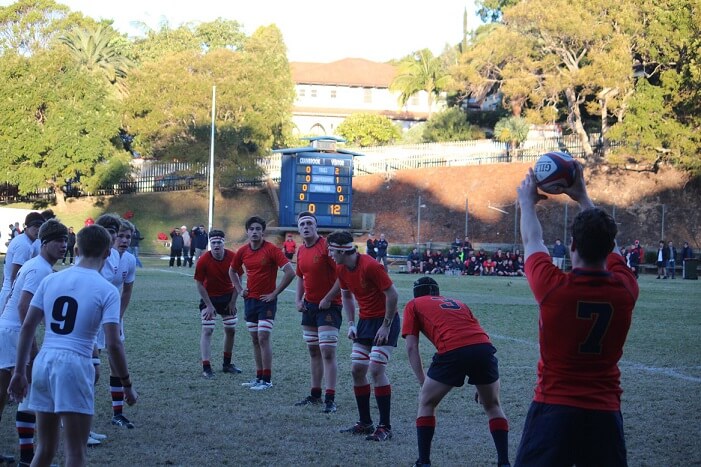 Riverview v Newington
Written by Scotsman18
Riverview def Newington 50-21
The game opened with each side testing the other in the forward exchanges. An early attacking Newington scrum saw 12 New burst through the line and score under the posts. Converted by 10. New 7-0. Play then moved quickly to the Riverview attacking zone, and a mistake at a Newington lineout saw a neat little blindside move by View and View 12 dived over in the corner for a nice try. Conversion unsuccessful. New 7-5. New then had some good attacking possession, but a box kick by the View 9 was spilt by New and scooped up for 7 View to score under the posts. Converted. View 12-7. Another period of New attack was scoreless and a quick turnover saw 15 Riverview score untouched adjacent to the posts. Converted by 12. Riverview 19-7. 3 Riverview then yellow carded for a lifting tackle. New scored a try (player unknown) on the stroke of halftime. Converted by 10. View 19-14 at halftime. Newington actually dominated territory and possession in the first half, but this possession was punctuated by simple hadling errors, poor passes and turnovers. Riverview scored from every opportunity.
The 2nd half started with New going on to the attack and pressing the View line. New held up and from the ensuing scrum, 8 passed to half to 15 who scored a well-worked try. Converted by 10. New 21-19. The next 5-10 minutes saw New dominate territory and possession once more, but the final pass let them down and they were unable to penetrate the brick-wall like defence of the View pack. Play then went down the other end and after a sequence of pick and goes, an unknown Riverview player scored. Converted 12. Riverview 26-21 and it looked like the final 15 minutes was going to be a nailbiter. This was not to be the case. From a penalty deep in View territory 12 View took a quick tap, ran and kicked ahead. The ball ran parallel to the sideline for 30 metres without doing out and 14 View toed ahead and wond the race for the ball. Unconverted. Riverview 31-21. From this point, it was all Riverview. A try to 11 from hands across the backline and two tries by unknown players (scored at the other end and my eyesight not up to identification) saw the score blow out to 50-21.
A very even contest for 60 minutes, but Riverview made far fewer mistakes and took all their scoring chances. Both sides looked a little disjointed in the backs, and the Riverview forwards really won the day for mine with brutal and effective defence.
Best for Riverview 12 and 7
Best for Newington 12 and 1
Unfortunately even though I was there at 12.15, there were no programmes available for player identification.
Aloys vs Trinity
Written by QuickHands
These two teams were both reeling of disappointing ends to their trial games and with potential CAS 1sts fly-halves Pollack (A) and Edmed (T) clashing it was bound to be a tight affair
First Half:
The kickoff into the wind was dropped by Aloys and Trinity were able to show their dominance in the scrum for the first time, this would be repeated a lot throughout the game as both teams struggled under the high ball. Trinity tried continuously to run it out of their own half but were met by a strong defensive line from Aloys who applied excellent breakdown pressure to continuously steal the ball. Eventually Aloys backs were allowed to get the ball and a beautiful cutout pass by Westbury (15) found his winger McNamara who dived over for the first try of the game. Trinity clearly shellshocked struggled to get a foothold in the game, Ilias (13) tried his best to start something in attack and always looked threatening initially but was constantly smothered by his opposite number Hampton (A).
A spear tackle by Edmed while Aloys were attacking the Trinity line saw Westbury extend the lead to 10. Confidence growing with their ball in hand, Aloys attacked viciously with F Spalding (2), Ryan (8) and Rahme (6) all having dominant carries in the lead up to a beauty of a try as some beautiful hands let Westbury sprint over the line from 20 out untouched to finish of a lovely team try. Aloys had their tails up and shortly after a scrum on the Trinity 10 metre line was capitalised on by Pollack (10) dummied his opposite number and stepped the fullback and the covering winger to extend the lead to 22-0. With the half winding down Trinity had a chance to score with a line out from 5 out but the throw went off target.
Second Half:
As with the rest of the kickoffs in the second half, Aloys either stole them or Trinity failed to catch them on the full, troubling signs for the coaches. However with the wind behind them Trinity were able to finally get some ascendency in the game and some poor discipline from Aloys gave them an easy trip down to the Aloys 22 where some sustained pressure allowed Hawkes (2) to crash over and give Trinity their first whiff. A great display of running rugby was put on by both teams as Hampton (13) and Westbury (15) ran riot in broken play only to be sent scrambling in defence as Taiuiliili-Miller (8) and and Hennessy (11) were constantly making breaks and looking deadly. The class of Trinity rep players began to show as Chambers (9) had a snipe off the back of a scrum 22 metres out and an incredible offload found Tayloyr-Tighe (5) who touched down to bring the game within 8 points.
A penalty for striking by a Trinity player off the kickoff, gave Westbury the chance to add a bit more breathing space as the lead extended to 25-14. A ruck penalty won by F Spalding (2) could have given Aloys the chance to extend their lead again but instead opted to try their luck at the line out, where the maul was sacked and Trinity gained possession. Aloys were beginning to fatigue now and Trinity sensed it with some more pressure but up on the Aloys line allowed Ginits (3) to score making it a 4 point game 21-24. With 10 minutes to go the crowd was all on their feet as Aloys did their best to stay out of their own half while winding the clock down. However some poor discipline by Aloys saw them again defending on their own line and when Edmed (10) saw a gap in behind the Aloys line and grubber through it seemed that was surely going to be a game winner, but out of nowhere an Aloys player dived on the ball and Trinity players dived on him allowing Aloys to get a penalty to exit.
Entering the last few minutes both teams tried their best to give their supporters a heart attack, Aloys would kick, Trinity would knock it on, Aloys would kick again this time out on the full, Trinity line out would be stolen by Aloys, Who would knock it in trying to kick. Until a Trinity carrier had the ball stripped away by Di Sano (9) and ended up in F Spaldings hands who booted it into touch to send the Aloys crowd into a frenzy.
The Round Up
Both teams were very evenly contested when they got a roll on, But aside from some exceptional play by a few individuals from Both teams the deciding factor was the winds down at Tyneside Oval. Aloys Scored 22 points with the wind on their backs and Trinity scored 21, compared to running into the wind where they scored 3 and nothing respectively. However not all of the game was determined by Mother Nature, while Trinity had the better team on paper the Aloys team just out worked them completely, especially in the backline surprisingly, and in the first half mostly. When Trinity did get in the game they showed why they were a threat to all teams in CAS but they just put in too little too late. A lot to work on for both teams as they head into some massive games next week.
The Players
Trinity:
Hawkes (2) – Absoulutely Dominant around the field but needs to work on set piece
Ginis (3) – Worked hard and key to the dominant scrum
Chambers (9) – at times was the only reason Trinity was still in the game, great service to his team all game.
Aloys:
Ryan (8) – played with absolute heart, never stopped working and put on some massive hits on boys much bigger than him.
Pollack (10) – after that performance has got to be the 10 for CAS 1st's, Clinical In his execution and completely outclassed his opposite number
Hampton (13) – Nullified Ilias completely which effectively shut down the Trinity backline
King's vs Shore
Written by UpTheGuys
Shore hosted King's at Northbridge in what many believed would be a very one sided affair. However, that did not stop a large crowd gathering in the Hawker Stand to cheer on both sides on a sunny but otherwise cold and blustery afternoon. Apart from the wind the conditions were outstanding with the playing surface in outstanding condition and with a tightly fought game in the 2nd XV clash excitement brewed in anticipation of the 1st XV match.
First Half
Shore would like to forget their last encounter against a GPS side but it became clear in the first five minutes that Shore would not be shipping 80 points in front of their home crowd.
Shore started with a strong south-westerly over their shoulders and looked to play the down the King's end of the field early in the match. As both teams adjusted to the conditions in the first twenty minutes play was a little scrappy with a fair amount of drop ball. However, the class of King's was evident, particularly in their outside backs, with Sualli and Connolly making easy metres whenever they touched the ball.
Although Shore defended solidly for a good period of the first half King's eventually broke through with their sustained pressure out wide just too much to handle for the Shore defence. Another score on the edge and a fantastic set piece play off a 22m lineout saw King's take a three try lead going into half time. It was a disappointing end to the first half for Shore who had managed to keep one of the top GPS sides at bay for the first 20 minutes of the game before a few poor kicks and missed tackles let King's blow out to a solid lead.
Second Half
King's came out fired up for the second half and caught Shore napping scoring an easy try off the kickoff. With King's hard enough to contain at the best of times, Shore could not afford to grant them such easy opportunities or they would find themselves on the end of another lopsided score-line.
However, just as it started to look ominous Shore were able to maintain possession for a period and mount an attacking raid in the King's twenty-two. A well-formed rolling maul saw Shore go in sparking their supporters to life and giving some glimmer of hope that they may be able to mix it with the King's side.
King's, however, had different ideas as Shore's try seemed to flick the switch for them and they immediately replied with a number of their own tries that quickly put the game well beyond Shore's reach. King's certainly have some class in attack but again Shore will be unhappy that poor kicking and a number of missed tackles resulted in the score blowing out to 41-5.
Shore didn't die wondering though and to their credit fought back in the dying stages of the game and attacked King's line relentlessly. King's, however, with a man sin binned for collapsing a rolling maul, were able to deny Shore a try they probably deserved and the game finished at 41-5.
Overview
King's were clearly classy in the backs and the defensive effort by their pack at the end showed they will be real contenders for the premiership. Shore did not look like the same team that went down by 80 to Joey's but would be frustrated at some poor tackling and ill-directed kicking that clouded their competitiveness for reasonable periods of the game.
The Players
King's
The King's backline is a very slick unit that will punish any weakness in defence. Penisini at 12 ran some very hard lines and was rewarded with a good try in the first half. Sualli is simply an outstanding player who is well within a shot at GPS 1st XV selection which is just ridiculous for someone in year 9. Connolly too looks class and should be around the GPS 1st XV side.
The King's pack work hard all around the pack and have a good balance of size and mobility. Mitchell at openside had a Pocockesque performance over the ball with at least three turnovers that prevented Shore from gaining any momentum.
Shore
In the backs Jackson Wunderlich looked the most dangerous for Shore with plenty of pace and good physicality in the contact zone, an accomplished performance for a player who was in the 3rd XV only a few weeks ago. In the forwards, both Ben Wilkins and Dan Williams carried strongly with Williams making a few stinging shots in defence.
KNOX V WAVERLEY
Written by WLF
On a cold and windy day 2 old rivals again faced each other having done so in the last game of the CAS round in 2017 but this time at Knox.
Over the trial period the Waverley coaching staff had experimented wisely, particularly in the back line, and had finally reached what appears to be its best combination.
This was shattered last week when the impressive Lathan Hutchinson-Walters broke his hand and will be out for approx. 4 weeks. So the back line was reshuffled bringing in experienced Daniel Andrews into no.10 from his normal no.15 position, with Luca Martin taking the no.15 spot.
Knox had a reasonable trial season with good efforts against Stannies, Shore and Joeys, so it was fair to assume that both teams had ironed out a number of early issues, and were ready to go.
The Knox forward pack is very big, particularly the 2nd rowers, similar to the Riverview and probably Scots sides.
1st HALF
Knox opened up strongly and held ground advantage for the first 5-10 minutes, however they struggled to penetrate the Waves defence.
A pilfered ball by Waves Tadgh Murphy saw him race 60 metres only to be pulled down right on the Knox try line, as he went down he popped it up to the supporting Conor Molloy and he dived over.
The try was not converted and fair to say, due to the wind, it would be a difficult day for goal kicking.
The next 10 minutes saw both sides drop ball constantly and scramble to gain ascendency, finally the Waves pack started to march down the field.
A forward rush 10m out again saw Conor Molloy dive over for try no 2, a great sideline conversion to Daniel Andrews.
The Knox forward pack was performing well in the set plays and particularly in the line outs but their backs lacked penetration and creativity, so progress by them was constantly thwarted.
Again the Waves loose forwards started to win the breakdown which saw the Waves draw a penalty right in front of the sticks, which Daniel Andrews ably converted.
This put the Waves ahead by more than 2 converted tries.
HALF TIME : WAVERLEY 15 KNOX 0
It was fair to expect that Knox would open up with a bit more flair in the second half, as the game was quickly slipping away.
After each Knox kick off it was noticeable how important Harry Whiteman is to this Waves team, he successfully and bravely took each kick and returned with yards gained.
His work around the ground with the Waves 3 back rowers also often goes unnoticed.
Both of the Knox centres defended very well and were the pick of their back line but when given good ball from their forwards there was never a feeling that they might break the line.
The no.7 Enrique Grobler was the pick of the Knox loose forwards, his defence was very solid and he hit with good force.
Without wanting to comment on the man in the middle but he seemed to struggle with his positional play at times and get in the way of back line plays from both sides.
In the final 20 minutes the Knox team appeared to tire and the Waves put on 3 more tries, 2 to a young and impressive no.12 Ronald Volkman, and a storming 25m run from prop Harley Mcguiggan saw him score a good individual try.
Andrews again converted. Final whistle.
FULL TIME : WAVERLEY 32 KNOX 0
SUMMARY:
The game was a stop start affair, it never reached any great heights, so the real abilities of both sides never really got a chance to emerge.
I think supporters on both sides would agree.
Knox have a solid forward pack, very strong in the set play and line out department, probably not as strong in the breakdown area.
Their backs were good in defence but really need to work on their attacking skills, they really struggled to put points on.
The only time Knox looked like they may score was from the age old pick and drive technique, but I doubt this alone will win teams many games.
Their best were :
No.7 Grobler
No.12 Leigh
No.13 Glassie
The Waverley side did not execute well today. They made plenty of breaks but the last pass often hit the canvass or was dropped.
Their breakdown work was superior and their defence very good, any time a team can keep another strong school 1ST XV to Nil, it's a solid effort.
Probably their best defensive effort this year, but to be fair, the attack wasn't electric.
Their best were :
No. 6 Murphy
No.4 Whiteman
No.7 Molloy
If either of these sides hope to beat Barker then they have some work to do.
However a very astute and seasoned ex-coach and supporter did say to me that this type of performance often happens in the 1st comp game due to nerves and the occasion.
I suspect he is right!
Cranbrook v Barker
Written by Rod Skellet
Final Score Barker 49: Cranbrook nil
The opening round of this season CAS competition had the competition favourites Barker taking on Cranbrook who were confident after a strong win over Aloys the previous week.
Barker had reshuffled the forwards following a concussion to their no 6 Cameron from the game against Riverview. This had Adrian Brown promoted from the 2nds as the starting prop and Dane Wilson shifting from 3 to open side flanker.
Would this affect Barkers dominance at scrum time and give Cranbrook a point of weakness to exploit or would the Red Machine keep rolling unaffected. We were about to find out.
Barker 1st XV finally ran onto Cranbrooks No1 Oval in their traditional full Red jersey signifying that they were here to play, and the season had started proper.
The opening exchanges were frenetic, with Cranbrook spinning the ball wide at every opportunity. Young Tas Smith at 9 (still the smallest 9 in the game) was providing excellent service to his backline giving Tim White (10) and Johnny Vicars 12 plenty of opportunity to stretch their legs and test the Barker defensive line. Cranbrook looked good, ball in hand and their forwards had enough strength and energy to recycle the possession to keep Barker on the backfoot.
After 10 minutes, Barkers strength at the breakdown began to show, with Weymouth (6) and Wilson (7) starting to have an impact and Cranbrook slowed. When the Reds finally got the ball, Tejeck (9) and Graham (13) combined nicely to put speedster Galloway (14) into space. Tackled 15m out, Reimer (8) recycled quickly to big Lochie Dring (4) who crashed over for the opening try. All to easy and clinical. With Nercessian adding the extras it was 7 nil.
Cranbrook were not about to lie down, and they promptly executed one of the best run around back up moves I have seen this year. Smith, White and Vicars combined with Pakutoa, to execute and delightful move to put Jacob Taylor in the clear. He raced 45m to almost score only to be dragged down 10 m short. Hugo Hayman (1) and Paddy Tagg (6) were very active at the breakdown, but it was all to no avail.
Barker recovered and did what they do best and slowly rumbled up the field. It was not flash, and with the odd penalty and dropped ball, the game was really not rising to any great heights.
In addition, there was clearly a bit of back chat from both sides which all players should realise will never get you anywhere with the man with the whistle. Cranbrook probably dominated possession, but Barkers offensive tackling more often than not, caught Cranbrook behind the advantage line. As time ticked by Barker started to dominate not only the set piece but also the phase play. The inevitable finally occurred 10 min before half time with Harry Flaherty crashing over. The conversion was wide but Barker was out to a 12 nil lead.
At the restart and 2 minutes from halftime Barkers Reimer, was yellow carded for a deliberate knockdown. To put it mildly, this decision had both Cranbrook and Barker supporters alike astonished as the incident occurred right in front of the stands, but the refs decision is final and Barker went into the halftime break with 14 men.
Following oranges, and 30 sec into the start of the 2nd half, Barker lost Billy Pollard to another yellow card. This time from an assistant Ref report for an action that was unsighted by the ref and by the crowd, which at the time left us all perplexed and Barker down to 13 players.
With Barker down to 13 players, the selection of Adran Brown at 3 and having Dane Wilson at 7, proved wise, as even with the Barker scrum down to 6 players, they were able to shift Wilson to hooker and with Dring Flaherty and Weymouth providing the grun,t they were able to withstand the Cranbrook pack with ease.
With Barker having 2 players in the bin, Cranbrook lost Pakutoa to a yellow, for what looked like back chat. The game was now 14 on 13 and to stay it disrupted the flow for both sides was an understatement. (For the record, this writer is not at all judging the ref here on his performance. He refs the game as he sees it and the players must abide by his advice during the game and the decisions he makes on the field.)
The subsequent penalty had Barker out to a 15 nil lead when the flood gates started to open. Tries to Weymouth, Wilson and Nercessian, had Barker leading 32 nil when both sides came back to 15 players a piece. Three more tries to Pollard, Reimer and Graham, the last one following a great bust and bullocking 45m run by prop Gus Collison saw the final score finish 49 nil.
In the end, this was an expected result, but how it eventuated was not contemplated pregame. Barker did not play anywhere to their potential, with silly penalty's and to much drop ball giving Cranbrook plenty of chances. In addition, they need to keep their mouths shut and let David Tejcek their captain do the talking on-field. That said, if Barker had bought their A game to the field, this could have been an 80 plus point blowout as when their big lads get running they know how to pile on the points.
Cranbrook on the other hand are rebuilding with around 10 players in year 11 so they will only get better.
Hugo Hayman has all the makings of a first-class prop while Tas Smith (9) will most likely get a CAS selection, next year, if not this. Paddy Tagg was very willing at the breakdown, while out wide, Johnny Vicars (12) proved he is defensively sound by tackling all day while Pakutoa (13) has speed and slight of hand to be a classy centre next year.
Overall this Cranbrook side will have a ding-dong battle with Knox, Aloys and Trinity for a podium finish as the season unfolds behind Waverly and Barker.
Best for Barker. Reimer, Dring, Graham
Best for Cranbrook. Smith, Hayman, Tagg
Joeys v Scots
By "thats_gold"
Scots had to work very hard to beat a willing, but mostly out-muscled, Joeys by 34 to 26.
Joeys scored some great long range tries, but their defence in close will need some attention.
Scots looked a bit disorganised at times and missed several scoring opportunities. But they maintained good composure when behind and did just enough to be leading at the full-time whistle.
First half
Joeys knocked on their first two possessions. Scots capitalised with a try within two minutes to Mossman (15) off an inside pass from Harris (8). Conv missed.
Some brutal early Scots defence had Joeys rattled but it didn't take them long to re-organise.
Play centred between the two 22s for the next 10 minutes before Joeys 13, Dan O'Brien, crashed over following some good lead-up work by backs and forwards. With the extras, Joeys lead 7 – 5.
Scots wrestled back control of the game and then the scoreboard after Savala (10) brushed aside Gibbs (J10) from a scrum 10 metres out. The kick was good. 12 – 7 to Scots.
Scots continued to dominate and the next five pointer went to Strang (9) to take the score to 17 – 7.
With two minutes remaining before half-time, Scots missed two potential tries – a dropped last pass and 'white line fever' the instigators.
Joeys were still well and truly in the game, but execution had been patchy and they'd struggled to contain Scots offloads.
Half-time score: Scots 17 – 7 Joeys
Second half
Joeys started the second half very willing. Scolari (J11) made a great break down the left flank and raced 50m to score a classic winger's try near the corner. 17 – 12.
This was followed by another top individual effort, with Murray (J9) running 35m to dot down under the sticks. 19 – 17. Joeys in front. Anything could have happened from here.
Down but not out, Scots made their way into the Joeys 22, but failed to score from at least three scrum feeds with the line beckoning.
Scots seemed a little unstructured. Almost like they were looking for someone to step up and make the big play. And then it happended. Jeremy Williams (5) grabbed the ball from the base of a maul and changed up the field to score. 22 – 19 Scots way.
In true Joeys style, they were quick to respond. Howse (4) ran into a huge gap and galloped away to score a converted try. Joeys were now back in front 26 – 22.
Then it was Willliams again. He scored another try, similar to his first. But this time the conversion was successful and Scots took the lead 29 – 26.
For the last five minutes, the game swung frantically from one end to the other.
Joeys had their chances, but didn't take them. They kicked away too much possession. A try to Gavin (S4) in the final minute sealed the result.
Full-time score: Scots 34 – 26 Joeys
The wrap
Joeys could easily have won and should feel confident they are in with a shot at the premiership. If they can improve on their defence and hold on to the ball more, they are a serious competition threat.
The Scots win confirmed they are probably warm favourites for claiming their sixth straight. But Scots are definitely beatable and every game from here will be like a grand final.
Best players
Joeys – Howse (4), Scolari (11) and O'Brien (13)/Creagh (!2)
Scots – Williams (5), Harris* (8) and Strang* (9)