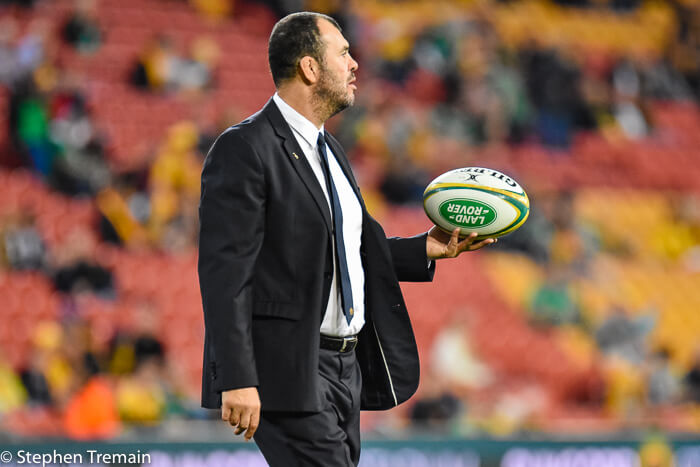 Monday's Rugby News sees a ton of international rugby, a not so magic weekend, a junior Wallaby victory and Aussie Super Rugby sides travel to Japan.
---
TEST MATCH FOOTY
This weekend saw so much international rugby that if you blinked for a second, you would've missed a game.

For Australia, the stage is set for a blockbuster finale next weekend after going down to Ireland 26-21 at AAMI Park on Saturday night.

Australia started well once again, but was dogged but their own ill-discipline, an issue which has always haunted Michael Cheika's Wallaby sides.

In fact Australia outscored Ireland 3 tries to 2 but it wasn't enough against a much more experienced and cohesive Irish outfit compared to last week.

It wasn't as if that Australia played inherently badly, but it was the Irish who clearly lifted their game, dominating possession and territory for large amounts of time and refused to turn the ball over to the Australian's.

Arguably a major difference between the two Tests was the absence of the Wallabies line speed and aggression in defence which had served them so well last weekend.

It allowed Ireland to make the gain line and negate the skillset of David Pocock (AKA Jesus).

As reported in the SMH, captain Michael Hooper was frustrated with the idea that the team left so much out there to be desired.

"We put ourselves in with a chance to win it right at the end but left so much out there during that middle 50 in the game," Hooper said.

"I'm aware that this team can be so great, we've got so many threats across the field and we were just a bit short there tonight. Our kicking probably summed up how the game went. Just not in the right spot. Being 30 centimetres off the mark."

Added to the pain of the loss, Will Genia has broken his arm and will miss the remainder of the series. Coach Cheika described the hit from Ireland prop Cian Healy as a "king hit".

Adam Coleman also came off injured but should be okay to play in Sydney.

In South Africa, England went down 23-12 in the 2nd test in Bloemfontein.

England started quickly once again with tries to both Mike Brown and Jonny May put the old firm ahead 12-0 early on in the match.

The loss marks a series defeat and a 5th consecutive test defeat for the Eddie Jones coached side.

According to the BBC, Jones described the loss as "like a horror movie" but said his team were determined to "get our pride back" in next week's final Test.

"This team has a lot of pride, we've won back-to-back Six Nations, equalled the record for wins," said Jones.

"Now we're going through this tough period. Everyone will fight hard to get out of this."

Another defeat would send English rugby into chaos, with rumours fuelled by former English scrumhalf Matt Dawson that Jones has supposedly "Lost the dressing room".

I wonder how long this can last before a decision is made.

New Zealand beat France 26-13 in the second test but not without more controversy surrounding the officials decisions after the contentious early dismissal of visiting fullback Benjamin Fall.

Fall was punished for contesting for the ball as Beauden Barrett hit the ground as a result of the two players trying to catch the ball.

With his eyes firmly fixed on the ball in every camera shot, the referee made the decision to red card Fall.

What's frustrating is that the French did so well without Fall, imagine the possibilities they would've had if the spectacle was on the game and not the decisions made by the officials.

The All Blacks will chase a series sweep and a 14th-straight win over France in next week's third Test in Dunedin.

There was so much rugby played I wish I could write about all the games, but alas, I'll give a short recap of the rest of the weekends fixtures.

The United States won a historic fixture against Scotland to beat a Tier 1 nation for the first time in 94 years, 30-29 on Saturday.

Argentina once again lost to Wales 30-12, losing the series 2-0 as well as their coach Daniel Hourcade who has stepped down from hiss role.

Fiji got up over Georgia 32-15 in Semi Radradra's first international Test match for his country.

Italy beat the 2019 Rugby World Cup hosts Japan in a tight one 25-22.

Finally, Tonga were victorious over Samoa in a nail-biting fight for the pacific, with a 28-18 win.
NOT SO MAGIC WEEKEND
After announcing a grand 'Magic Weekend' of NRL in which all matches would be played at Suncorp stadium from May 17-19, the NRL has had to embarrassingly change it tune after they found out that it clashed with the Reds derby against the Waratahs on the 18th of May.

Hours later the NRL announced the Magic Round would come a week earlier. Funny that.

According to ESPN, the NRL released a statement to clear up and 'issues'.

"There has been some miscommunication over the availability of dates," the NRL said in a statement.

"NRL Brisbane Magic Round will occur in Round Nine of next year's NRL Premiership from May 10-12."

The idea itself is brilliant, but maybe they need to check Suncorp's calendar before making such a big announcement.

The Magic Round itself tipped to pump more than $60 million into the Queensland economy.

I wonder if it would be possible for Rugby Australia to organise something like this? It seems like a great idea both commercially and to excite rugby fans.

Would there be enough appetite is the question though.
FIRST IS THE WORST RIGHT?
As reported on rugby.com.au, the Junior Wallabies have finished their campaign with a cruisey victory over the Argentinians 41-15.

In a sign that this group of young men could've competed for a higher finish, the baby Wallabies barely got out of 2nd gear as they beat last year's 6th place finish.

Australia's strong forward pack, consisting of super rugby contracted Harry Hoopert, Efi Maafu and Harry Hockings dominated the clash from the get go with some devastating carries.

After going up 7-0 in the early stages, Argentina responded with a beautiful piece of heads-up rugby, putting an a lovely cross field kick off a penalty to send Mateo Carreras over for a try in the 15th minute.

The Australians crossed again with a well constructed driving maul and a pilfer to find of the tournament Fraser McReight handed Ryan Lonergan a shot at goal which pushed Australia to a 17-7 lead at half time.

After the break, Australia continued to deconstruct the South American's with a try to Ross and a brutal run from reserve backrower Patrick Tafa setting up Hansen, further extending the lead.

Isaac Lucas scored the final try for the Australians, diving over late to seal the once again disappointing campaign at the World Rugby U20's tournament.

Rugby Australia needs to do a review of their 'pathways' to Super Rugby and beyond as clearly we're missing something at the U20 level on many fronts.

Hopefully the Under 19's NRC competition announced earlier this year will go some way to helping our boys in the future!
BRUMBIES AND WARATAHS GO DOWN FIGHTING
As the Wallabies aim up to contest a grand final like final match against the Irish, both the Waratahs and the Brumbies will return to Australia after a brilliant initiative to play two Japanese rugby sides.

In a smart move to continue to improve skills and keep up match fitness, the Aussie teams went down to their Japanese rivals in a 3 point and 2 point loss's respectively.

Both matches helped our youngsters learn how tight matches should be contested.

The NEC Green Rockets beat the Waratahs with a 29-26 win, reported by rugby.com.au

The Tahs-Green Rockets clash began the CHICHIBUNOMIYA Minato Rugby Festival on Sunday afternoon and from the very beginning, it was clear that attacking, free flowing rugby was the goal.

The young NSW side started in a dazzling fashion when Bryce Hegarty scored with two minutes and just 15 minutes later, hooker Hugh Roach marched over after a big Taqele Naiyaravoro (who else) carry split the line.

Mack Mason fittingly slotted the sideline conversion in a great start to open up a 12-3 lead.

Halfback Jake Gordon turned on the Tahs 3rd, with a quick tap leading to a try.

NEC finally settled into their rhythm and responded with two tries of their own prior to the half time whistle, sending the two teams into the sheds with NSW up 19-15.

The home side then took the lead with a try after play restarted and they made it 26 straight points, penning up a 29-19 lead.

Gordon hit back with a second try of his own to set up a tight finale, but it wasn't enough for NSW.

The Brumbies battled out a similar style with Suntory which again went down to the final moments, with the Top League champions coming away with a close two point victory.

ACT followed NSW's lead in starting well with Lausii Taliauli scoring the first try of the match.

Suntory responded with two of their own tries before outside back James Verity-Amm kicked the Brumbies back into gear, scoring a try and putting the Brumbies just two points behind at the break.

Verity-Amm nabbed his double to put the Brumbies in front when play resumed but Suntory responded once again.

The see soaring affair continued with a Christian Lealiifano try with 15 to play again putting ACT ahead.

However Sungoliath had the last laugh when they scored with nine minutes left on the clock and the conversion sailing through to send both of the Australian teams home without a win.