Now that's how to kick off a tournament!
On beautiful day at Apex Park in Dubbo, it was the Country Eagles who started their campaign with a win, but they had to work for it against a determined Sydney outfit, the 38-33 win having shades of the great City-Country matches of season's past. 
There was a lot riding on this game, in more ways than one. Last year, both these sides finished bottom of the ladder, with the only win coming from NSW Country beating Sydney in an uninspired match at Leichardt Oval. But more than that, this match would mark the first time the two teams would play with assistance from NSW Rugby.
For years, the NRC has been somewhat of a confusing beast in New South Wales, with teams chopping and changing left right and centre. However, 2019 saw NSW Rugby finally take ownership of the NSW Country Eagles and Sydney sides, and rumblings from behind the scenes had made it clear that NSW has finally woken up to the potential of the NRC as a pathway to player development. Everything, from the active inclusion of Shute Shield coaches and players in the squad, to the social media support from the Shute Shield, Waratahs, Country rugby unions and the like; even the decision of returning the Sydney team to it's old traditional jersey was a statement that this time, things would be different.
And at Dubbo, it showed in the performance on the field. In front of a modest crowd, which built up nicely to about 1,000 as folks came from the other local club games came to watch, both these sides delivered one of the most entertaining matches in NRC history to kick off the 2019 season.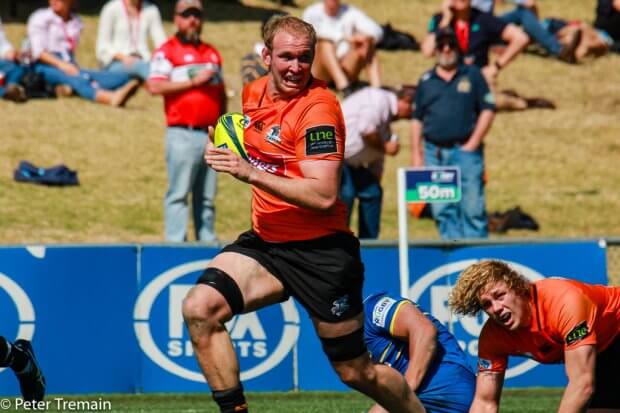 THE MATCH
NSW Country came into the game with an impressive record against NSW teams, having never lost a match against the former Rays outfit, and having only dropped one out of four against the former Greater Sydney Rams. 
Launching out of the gate, Country marched it's way into Sydney's half, and a well executed lineout and rolling maul saw hooker David Vea draw blood in the third minute of the game. Even better, Sydney gave the Country boys some push and shove straight afterwards, and it became clear there was going to be a lot more feeling in this game than in previous editions. Young gun James Kane slotted the conversion, and Country were up 7-0.
Sydney tried to regather, but were caught off-guard by the Country defence, and soon found themselves pinned back in their own 22. Country eventually regathered and began to push Sydney, out-muscling their City counterparts and asking plenty of questions defensively. Eventually, Jake Gordon produced a piece of brilliance to put his Sydney Uni counterpart Tim Clements away under the sticks in the ninth minute. Kane converted and Country had a 14 point lead.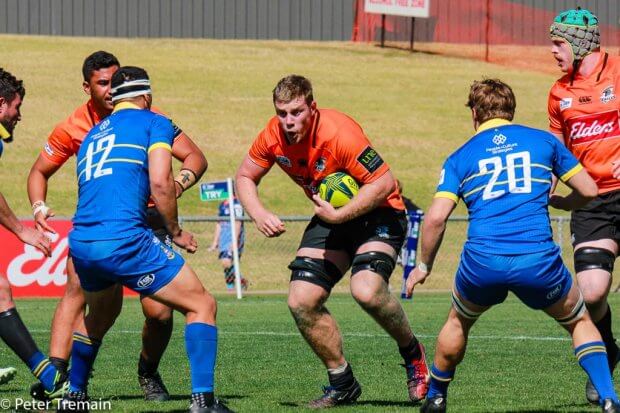 Sydney weren't happy which saw more push and shove, so much so that a penalty was awarded to Country by ref Angus Gardner instead of a restart kick-off, for a slap in the face after Clements' try was scored. Immediately, Sydney were under the pump again. Sydney eventually won and desperately cleared, but immediately Country's attacked pounced and the forwards got to work, with tighthead Matt Sandell barging his way over in the 13th minute. Things were starting to look ugly for Sydney. Kane missed the conversion, but the 19-0 scoreline was suggesting a blow out.
Sydney pinned Country down in the 22 off the kick-off, finally putting some pressure on. However, they lost the lineout, and Country performed the first 50-22 kick to put Sydney back on their own tryline. The lineout for Country stood up again, and loosehead prop Angus Bell barged his way over, completing the hattrick of tries for NSW Country's front row, and their fourth overall in 17 minutes. Kane converted, and they were up 26-0.
Despite the scoreline, there had been some ominous signs from a few big defensive hits that Sydney were starting to wake up. Over the next couple of phases as more people started to come in to watch, they began to finally string together some phases in Country territory, and their pressure was finally rewarded with a few penalties. Despite this, Country absorbed the pressure, kicking a 50-22 to have Sydney back in their own 22.
Sydney survived the Country raid, and regathered the ball to get back in Country territory, with Gardner increasingly penalising Eagles captain Ned Hanigan for hands in the ruck. Sydney went to the lineout, and after losing the ball in the maul, Country cleared again. Sydney attacked again, and finally after niggling away, Shambeckler Vui broke through the Country defence, and handed off to Lachie Swinton who scored. Will Harrison converted and Sydney were on the board, 26-7.
Sydney were quickly back into Country territory, and scored quickly again when Will Harrison broke the defensive line, kicked ahead, and gathered his own try to score. However he missed his conversion and the score was 26-12, which is how it remained until halftime. However, it was clear as the teams headed for change rooms that the game was still very much up in the air.
Halftime Score: NSW Country Eagles 26 – 12 Sydney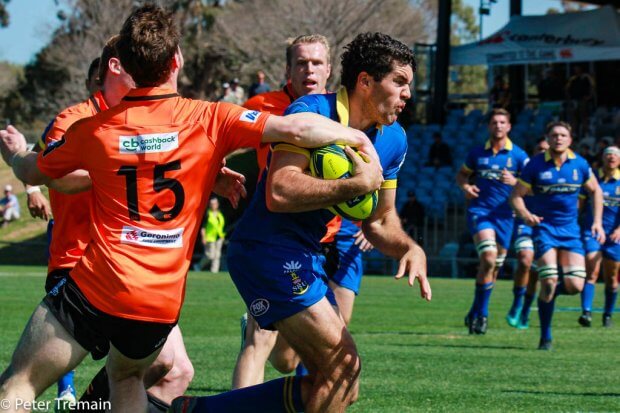 Hostilities resumed, and Sydney began immediately pressed the NSW Country line, before Country regathered. The match see-sawed from side to side, with neither team getting the upper hand. Ned Hanigan came close to scoring, but Mitch Short managed to steal the ball back and get Sydney out of danger. Then Jack Digby got in space for Sydney, but no try eventuated. Then in the 50th minute, Gardner finally lost patience with Hanigan's discipline around the ruck, and sent him to the bin for ten. Immediately, Sydney scored through Vui and converted to bring the margin back to a converted try.
Sydney then scored their second try in four minutes, when the captain Lalakai Foketi wriggled through, and the try was converted. 26-26, and Sydney had all the momentum.
The deficit all but gone, Country was struggling to keep pace, with the match increasingly played at frenetic speed. The match settled into a period of fast-paced, free-flowing rugby as the reserves for both sides came on. It was clear that this was going to go to the wire. City vs Country. How awesome was this!
Hanigan returned to the field, and the forwards got to work, finally barging over the 64th minute to score another rolling maul try to hooker Vea. It was some much needed-breathing space for the home team, and Kane converted. 33-26. Sydney attacked again, working into Country's 22, but the home side regathered and off a Staniforth break, produced a spectacular runaway try to replacement Jack Grant (the Shute Shield's highest try scorer for 2019). Kane missed the conversion, but with fourteen minutes to go, the score was 38-26. Country then tried to score another, but were beaten back, going for the try rather than taking the points.
Sydney regathered and began pounding the NSW defensive line, and their efforts were finally rewarded in the 79th minute when backrower Christian Poidevin scored and Donaldson converted. 38-33. Sydney began running back to the line, hoping to sniff a come-from-behind win, and worked their way back into the Country 22 as the game went into extra time. Sniffing blood, they went for the lineout, but a small knock-on by NSW Country off the competing lineout brought the game to it's close. And what a match it was!
Fulltime Score: NSW Country Eagles 38 – 33 Sydney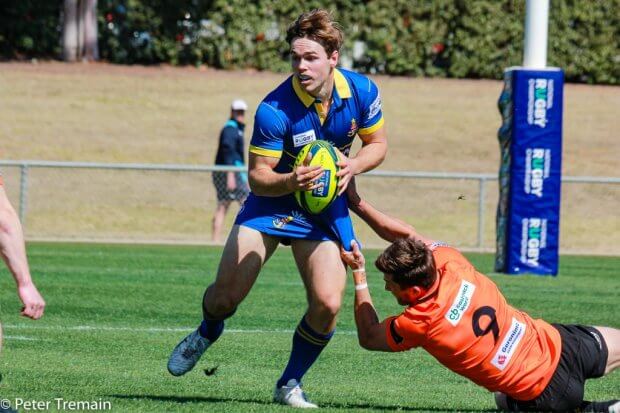 It was a gutsy effort from Sydney, and they showed really metal to come from a 26 point deficit to nearly win. I reckon they'll take a lot of positives from this game, especially considering they haven't had much time in camp. There were many encouraging passages of play and they looked physical and dangerous. Sydneysiders, get behind this team! They look like they'll be going places this year. They'll head to north to face Brisbane City on the Gold Coast next week.
It was a similarly gutsy effort from Country, but one that they'll be happy with. There were a lot of questions asked of this outfit today, and considering the little time they've had together, they stood up well. Discipline looked to be a major problem for this team when things weren't going their way, but there is enough in this performance to suggest they'll be strong competitors this year, unlike 2018. They will head to Adelaide next week to take on the Melbourne Rising.
Frankly, rugby was the winner. These two NSW sides looked really dangerous and really good! Here's hoping they give everyone else in the competition a run for their money! And here's hoping folks in the NSW Country and the Harbour City get behind them too!
---
[one_third last="no"]
The Game Changer
This was a tough point to pick, as both sides were so evenly matched. Eventually, it was Vea's second try to break the deadlock and Grant's runaway try that proved the difference for the Eagles.
[/one_third]
[one_third last="no"]
The GAGR MOTM
The Country Eagles pack was phenomenal, and while Hanigan was giving away penalties all over the place, Tom Staniforth was a monster, giving the Eagles some great go forward and physicality, and proving instrumental in several of their tries, including the eventual try to Jack Grant.
[/one_third]
[one_third last="yes"]
Rising Star Watch
Well done NSW Waratahs, because in these teams it was clear a lot of management had gone into making them competitive outfits. Even better, so many younger players on both sides stood up, which was so good to see. But for me, the big one was Will Harrison for Sydney. Considering the Tahs have a flyhalf option next year, Harrison was instrumental in Sydney's fightback, and his kicking was outstanding. Special mention must also go to David Vea (NSW Country), Ben Donaldson (Sydney) and Jack Grant (NSW Country) off the bench. Was so good to see so much talent stand up.
[/one_third]
---
The Details
Crowd: around 1,000
[one_half last="no"]
NSW Country 38
Tries: Vea 2, Clements, Sandell, Bell, Grant
Cons: Kane 4/6
Yellow Card: Hanigan (49')
[/one_half]
[one_half last="yes"]
Sydney 33
Tries: Swinton, Harrison, Vui, Foketi, Poidevin
Cons: Harrison 3/4, Donaldson 1/1
[/one_half]