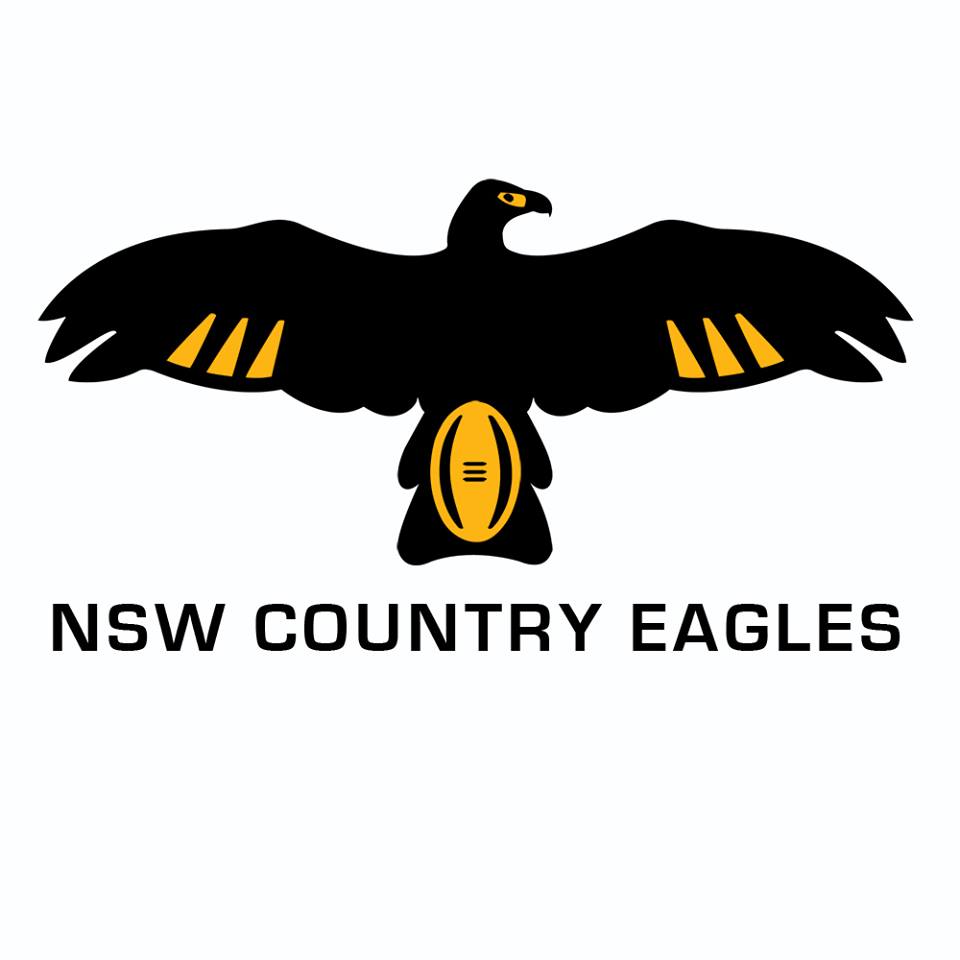 Following the launch of the NRC this week, we will be previewing another NRC team – the NSW Country Eagles. 
The NSW Country Eagles are associated with both Eastern Suburbs and Randwick Rugby.  Both Sydney clubs have strong affiliations with NSW Country Rugby through providing opportunities for Country players.
Rick Hutchinson and Peter Tonkin have formed the NSW Country Eagles out of  their passion for NSW Country Rugby. Their goal is to give NSW Country Rugby members and players the opportunity to reach the highest level of Rugby and also engage the rugby communities of NSW Country through the NRC competition.
The Eagles Team will consist of predominately players with a NSW Country back ground, all who have been excited with the opportunity to represent the regions they played for.
Many players have gone onto represent the Wallabies from the NSW Country regions.   Dave Carter (who represented the Wallabies from his home club Quirindi) is the Foundation President of the Eagles.  General manger James Grant was also playing for Orange City when he was selected to play for Australia. There are many other players who have used NSW Country to progress them into the Wallabies and the Eagles will be looking to connect with the history.
The Eagles will provide the current players the opportunity to reach to the high levels of Rugby through the NRC with a view to progress into Super Rugby.  Just as important, the competition will enable the Eagles to engage with the regional Rugby communities to give supporters, administrators and coaches the chance to be part of the National Rugby landscape and bring a high level Rugby competition to their front door.
Head Coach
Darren Coleman has been appointed head coach of the NSW Country Eagles.  Coleman has had substantial coaching experience. He has coached at the ACT Brumbies, NSW Waratahs, Toyota – Japan as well as Sydney Club Rugby, Italy, Canada and Ireland.
Quick Questions
What kind of playing style can we expect to see from the NSW Country Eagles this season?
In the traditions of Country Rugby the Eagles with a big robust forward pack will look to dominate physically first and foremost. Off the back of that we are hoping to play an exciting brand of Rugby to release the Andrew Kellaways, John Grants & Pat Delitts of the squad.
Who do you expect will be some of more challenging teams in the competition?
Obviously, the Canberra, Melbourne and Perth teams will not only have a quality set of Super experienced players but a good base of understanding on their structures, calls and style of play, which I imagine will make them the toughest to beat. The Rams have a lot of x-factor players which will be hard to handle on day 1.
What are the chances of the NSW Country Eagles winning the competition in the first year?
Like any team you play to win, if we can gel quickly as a group, have a good run injury wise who knows what can be achieved. The main priorities are to take quality Rugby to the Country, give them a team to be proud of and springboard some players into full time Super Rugby contracts, if the wins come on the back of that it's a bonus.
Squad
Michael Alaalatoa – Prop
Matt Carraro – Centre
Mitch Chapman – Lock
Duncan Chubb – Prop
Sam Croke – Backrow
Ryan Danziel – Hooker
Patrick Dellit – Outside Back
Kane Douglas – Lock
Darcy Etrich – Halfback
Ethan Ford – Outside Back
Tala Gray – Backrow
John Grant – Outside Back
Steven Hoiles – Backrow
David Horwitz – Flyhalf
Andrew Kellaway – Outside Back
Max Lahiff – Prop
Apakuki Ma'afu – Centre
Josh Mann-Rea – Hooker
Ben Matwijow – Lock
Brendan McKibbin – Halfback
Tim Metcher – Prop
Will Miller – Backrow
Misieli Sinoti – Outside Back
Mick Snowden – Halfback
Ed Stubbs – Centre
Ben Suisala – Prop
Pauli Tuala – Backrow
Chris Tuatara-Morrison – Center
Cam Treloar – Lock
Ita Vaea – Backrow
Malakai Watene-Zelezniak – Outside Back
Will Weekes – Hooker
Sam Windsor – Fly Half
Staff
Founding Members: Rick Hutchinson, Peter Tonkin
Founding General Manager: James Grant
Foundation President: David Carter
Founding Coach: Darren Coleman
Associate partners: Eastern Suburbs Rugby Club, Randwick Rugby Club.
Team Mascot: Wedgie
Team Colours: Burnt Gold / Black
Team Manager: Matthew Barlow
Media Liaison: Sam Ryan
Home Matches:
The NSW Country Eagles will play their home games in a range locations which will encapsulate the New South Wales country area.
Coogee Oval– A joint venture with Eastern Suburbs and Randwick to celebrate a 'Back to Country Day' to celebrate the supporters of Country residing in Sydney and encouraging our regional supporters to 'Bring the bush to the city' day.
Lismore City– The Far North Coast has historically been a big part of ARU rugby and has a strong local Rugby competition developing many of our future stars. Sam Croke ( ARU u/20) will be returning home to play in front of his home crowd.
Orange– Currently home of the central west premiers Orange City, has been a stronghold of NSW country Rugby boasting 3 senior Rugby clubs and fielding over 24 Rugby teams each weekend.
Dubbo– A strong Rugby town based at the boarder of the far west and boasting one of the largest Rugby clubs in terms of numbers in Australia with Dubbo Roos.
For more information go to: http://nswcountryeagles.com