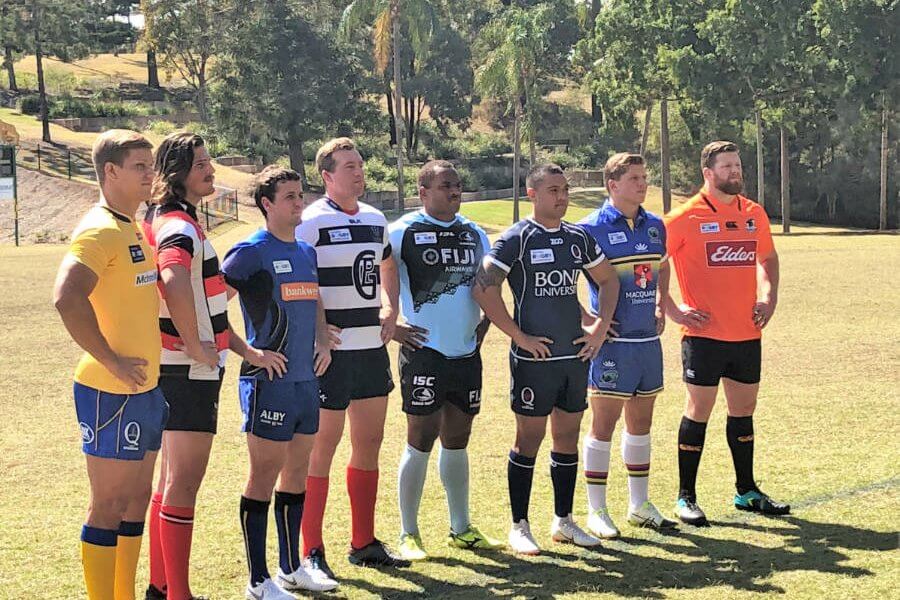 Ladies and gentlemen, this is NRC number five! Before I fall down the Lou Bega chasmn, let's get the point. The fifth iteration of the National Rugby Championship kicks off this weekend and forgive me for believing that it finally feels settled.  I know we've lost a NSW team, from the much maligned western suburbs, and I know it still hasn't won the hearts and minds of the wider rugby community. However in terms of finding it's place in the calendar, of gaining acceptance from the powers that be across the country and for proving numerous doubters wrong, I reckon we enter this season at a better place than ever.
Kudos to the schedulers who have managed to come up with a weekend of fantastic encounters for Round 1, despite the fact the Shute Shield Grand Final will also feature this weekend. As a result the two remaining NSW teams will play THEIR round one in a few weeks in a return to the famous Sydney City v NSW Country games of yesteryear.
This weekend, however, has three games that have the potential to be absolute epic battles and perhaps even begin to border on burgeoning rivalries. So let's get to it and look at what we have.
FIJI DRUA v MELBOURNE RISING (STREAMED LIVE ON FOX SPORTS)
SATURDAY 1 SEPTEMBER AT RATU CAKOBAU PARK (NAUSORI). KICK-OFF 3:00PM (LOCAL TIME – 1PM AEST)
REASONS NOT TO MISS THE MATCH:
It was this match-up last year that opened everyone's eyes to the quality of the Drua. Having pushed but not really troubled Brisbane City in the first round of 2017, the Fijians blew the Rising off the park in their round two match in Melbourne. It proved that not only did they have the quality to match it with the rest of the NRC, but that they were serious title contenders. Expect them to make a similar statement in this game against the same opposition, but just one match earlier.
We may be getting a sneak preview of the Rebels backrow this weekend. With new signing Isi Naisarani making his first run in Melbourne colours, his work with Rising captain Gus Cotrell and former Wallaby, Richard Hardwick, has the potential to be the go to option come next year's Super season. Each have Wallaby aspirations and their credentials will be fully tested by a fast and physical Drua team.
Drua scrumhalf Frank Lomani was one of many Fijian players that caught the eye through a series on impressive performances in their inaugural NRC last year. The live wire 9 topped his team's try scoring list through his excellent support play and wonderful game awareness. More international experience followed later with the test team, but it was an opportunity to train with the Melbourne Rebels this year, and learn from Will Genia that has set him up for an exciting return campaign.
FIJI DRUA:
1. Eroni Mawi, 2. Tuvere Veremalua, 3. Luke Tagi, 4. Peni Naulago, 5. Albert Tuisue, 6. Filimone Seru, 7. Mosese Voka (c), 8. Eremasi Radradro, 9. Frank Lomani, 10. Alivereti Veitokani, 11. Levani Kurumudu, 12. Cyril Reece, 13. Poasa Waqanibau, 14. Avete Daveta, 15. Apisalome Waqatubu
Replacements: 16. Ratunaisa Navuma, 17. Joeli Veitayaki, 18. Mosese Ducivaki, 19. Tevita Naqali, 20. Johnny Dyer, 21. Peni Raidre, 22. Serupepeli Vularika, 23. Enele Malele
Last Year:
3rd (losing Semi-Finalists)
MELBOURNE RISING:
1. Tetera Faulkner, 2. Anaru Rangi, 3. Jermaine Ainsley, 4. Matt Philip, 5. Trevor Hosea, 6. Angus Cotrell, 7. Richard Hardwick, 8. Isi Naisarani, 9. Harrison Goddard, 10. Archie King, 11. Tom English, 12. Billy Meakes, 13. Sione Tuipulotu, 14. Sefa Naivalu, 15. Justin Masters
Replacements: 16. Andrew Tuala, 17. Fereti Sa'aga, 18. Mees Erasmus, 19. Esei Haangana, 20. Robert Leota, 21. Michael Ruru, 22. Kemu Valetini, 23. Kiti Ratu
Last Year:
9th (wooden spooners)
TIP: On the back of an expect large and vocal home crowd, I'm backing the Drua by 12
---
CANBERRA VIKINGS v QLD COUNTRY (LIVE ON FOX SPORTS)
SATURDAY 1 SEPTEMBER AT VIKING PARK (CANBERRA). KICK-OFF 5:00PM (LOCAL TIME)
REASONS NOT TO MISS THE MATCH:
Again, one only needs to look at the corresponding match last year to get excited about the prospects of this year's encounter. This match is a well scheduled rematch of last years Grand Final, won by the visiting QLD Country team by 42-28, but also a replay of the opening game of last season, also in Canberra. In that encounter the Vikings took the win in a high-scoring tight affair, 48-40. Given the talent on show this weekend, don't expect the quality nor attacking emphases to be any different.
With four Wallabies back from training camp, the intensity of this game just raised a notch. Given the disappointing performances in the two Bledisloe encounters each has a chance to stake a test claim. For mine, Rory Arnold in particular will be one to watch. The obvious benefit of strengthening the lineout but also bringing a physicality on both sides of the ball would be much welcomed by the Wallabies at the moment.
One of they keys to last year's QLD Country championship was the work of their halves. James Tuttle and Hamish Stewart worked so well it was amazing that hadn't played together previously. Once Brad Thorn was named Reds coach, and when it became clear Quade was persona non grata, it was thought that the successful NRC combination would take the next step into the Super Rugby arena. As it was Tuttle was mysteriously dumped early on in the season and Stewart didn't get a shot at 10 until it was too late. Perhaps a 2nd season together at Country will see them prove that they are a serious option come next season's Super season.
CANBERRA VIKINGS:
1. Sione Taula, 2. Folau Fainga'a, 3. Leslie Leuluaialii-Makin, 4. Rory Arnold, 5. Darcy Swain, 6. Blake Enever, 7. Luke Kimber, 8. Ben Hyne (c), 9. Joe Powell, 10. Wharenui Hawera, 11. Lausii Taliauli, 12. Jordan Jackson-Hope, 13. Len Ikitau, 14. Andy Muirhead, 15. Tom Banks
Replacements: 16. Connal McInerney, 17. Vunipola Fifita, 18. Tom Ross, 19. BJ Edwards, 20. Brodie Leber, 21. Ryan Lonergan, 22. Irae Simone, 23. Chance Peni
Last Year:
2nd (Minor Premiers)
QLD COUNTRY:
1. Harry Hoopert, 2. Alex Casey, 3. James Slipper, 4. Harry Hockings, 5. Angus Blyth, 6. Angus Scott-Young, 7. Liam Wright, 8. Caleb Timu, 9. James Tuttle, 10. Hamish Stewart, 11. Joey Fittock, 12. Duncan Paia'aua ©, 13. Jordan Petaia, 14. Jock Campbell, 15. Tom Lucas
Replacements: 16. Effi Ma'afu, 17. Richie Asiata, 18. Jake Simeon, 19. Rob Puli'uvea, 20. Tai Ford, 21. Harry Wilson, 22. Tate McDermott, 23. Patrick James
Last Year:
1st (Winning Grand Finalists)
TIP: This will be a fantastic game.  Both teams are filled with talent making tipping damn tough. I can only go with the home team on this occasion. Vikings by 4
---
BRISBANE CITY v WESTERN FORCE (LIVE ON FOX SPORTS)
SUNDAY 2 SEPTEMBER AT NORTHS RUGBY UNION CLUB (BRISBANE). KICK-OFF 3:00PM (LOCAL TIME)
REASONS NOT TO MISS THE MATCH:
These teams have developed quite the rivalry over the years. Both are former Champions and their encounters have regularly been memorable for any number of performances. Back in 2014 it was an away win by a young Brisbane team that shaped their season before the two teams faced off again in the Grand Final, for a Brisbane win. Another win to Brisbane in the first round of 2015 was flipped the next season when the Perth Spirit SPANKED Brisbane in Perth putting on 60 point on their way to their inaugural premiership. Another 60 point thrashing last year leaves Brisbane with a fair bit to play for this weekend on their home soil.
While many will tune in to see Quade and Karmichael back in representative jerseys (and why shouldn't they?), if they click then keep your eye on the flying winger further out. Brisbane City has been blessed with try-scoring finishers from Junior Laloifi to Ed Fiddow who topped their stats last year. This year we have Emori Waqavulagi. He's lightning quick and as elusive as they come. Opposition teams may not know him now, but if they give him any space they'll soon realise what many in QLD club land cottoned on to throughout the season. He's a star.
One of the reasons I so enjoy the NRC is the intriguing nature of the season. It's such a short competition that teams need to hit the ground running from the get-go with no room for 'easing yourself in'. You counter this with the fact that these teams are composite outfits of professional, semi-professional and amateur players and you can appreciate the challenge the coaches have in dealing with these two facts.  The Force have blown this out of the water this year having effectively had a four month pre-season to the NRC. Their World Series Rugby has built combination that no other NRC can match. The only question that needs to be answered, having enjoyed the comfort of a home base all year, is how they can perform on the road.
BRISBANE CITY:
1. JP Smith, 2. Brandon Paenga-Amosa, 3. Ruan Smith, 4. Pat Morrey, 5. Nathan Den Hoedt, 6. Adam Korczyk (C), 7. Fraser McReight, 8. Dillon Wihongi, 9. Moses Sorovi, 10. Quade Cooper, 11. Jayden Ngamanu, 12. Con Foley, 13. Karmichael Hunt, 14. Emori Waqavulagi, 15. Jaye Thompson
Replacements: 16. Moli Sooaemalelagi, 17. Misioka Timoteo, 18. Feao Fotuaika, 19. Tuaina Tualima, 20. Matt Gicquel, 21. Phoenix Hunt, 22. James Dalgleish, 23. Matt Gordon
Last Year:
6th
WESTERN FORCE:
1. Cameron Orr, 2. Harry Scoble, 3. Chris Heiberg, 4. Fergus Lee-Warner, 5. Jeremy Thrush, 6. Tevin Ferris, 7. Chris Alcock, 8. Brynard Stander, 9. Ian Prior (C), 10. Andrew Deegan, 11. Rod Davies, 12. Henry Taefu, 13. Marcel Brache, 14. Clay Uyen, 15. Jack McGregor
Replacements: 16. Feleti Kaitu'u, 17. Harry Lloyd, 18. Kieran Longbottom, 19. Leon Power, 20. Harrison Orr, 21. Issak Fines-Leleiwasa, 22. Rodney Iona, 23. Peter Grant
Last Year:
4th (losing Semi-Finalists)
TIP: There's a lot to like about that Brisbane City outfit, particularly their front row, but I'm backing the Force's combinations to see them through. Force by 6