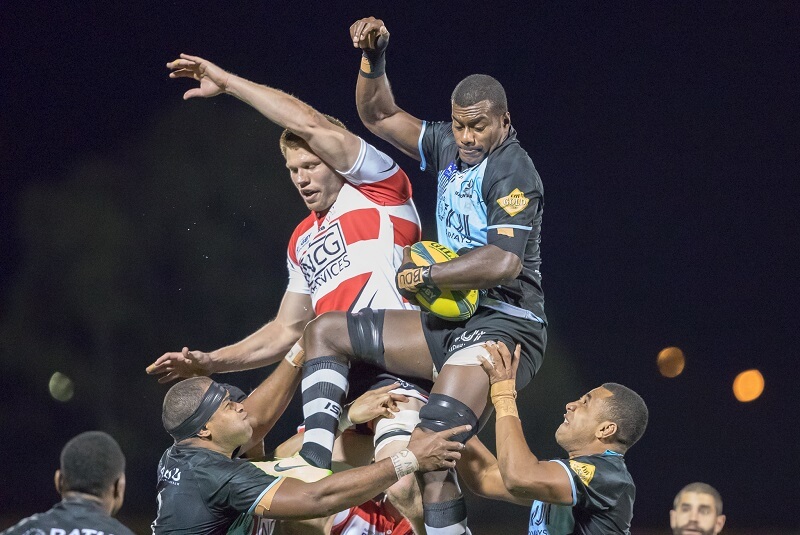 Big wins were the story of the weekend with the Vikings, QLD Country and the Spirit all piling on the points. The Eagles then produced their 2nd win of the season, in a tighter affair against the Rays.  In the wash up to it all we can see the competition remains the tightest it has ever been with the top four teams all equal on points.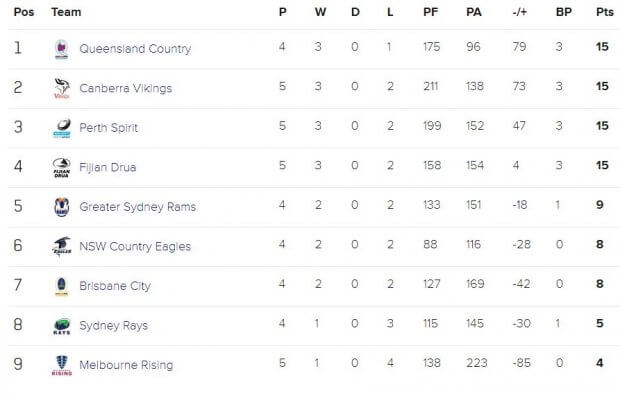 Round 6 this year is the annual Pacifika Round which celebrates the influence of the Pacific Islander community on Australian Rugby. As part of the weekend, the ARU is encouraging supporters to bring old footy boots and playing kit to the NRC games this weekend from where they will be provided to the Fiji Project cause. The Fiji Project will take the kit and distribute to kids across Fiji who are in desperate need of sporting equipment.
Greater Sydney Rams v Fiji Drua (Live on Fox Sports)
Saturday 7 October at TG Millner (Sydney). Kick-off 3:00pm (local time)
Reasons not the miss the match:
Last year the Rams lead the way with their engagement with the local Pacific Islander community and it culminated on this day last year. Thankfully the new club management have just as eagerly embraced it and have a massive day of rugby on down at TGM. How's this for a line-up? At 11am there's the Australian Schools Barbarians taking on the Fiji Schools team. After that, at 12:50pm, will be the Aussie Schools team taking on the Kiwi Schools team and it all culminates in the big clash between the Rams and the Drua, which will also be a Horan-Little Shield Match. Will the Shield make its first trip out of the country?
How in the name of Serevi do the Fijians back up from the absolute shellacking they got last weekend in Canberra? This is the defining moment of the Drua season because they have it all against them. A record loss to Canberra and a second batch of citings of the worst kind. The pressure will be on this new team and how they respond will be fascinating? Fortunately for them they are up against a weakened Rams outfit, but the home team will be just as determined to get their season back on track after recent losses.
The two hookers facing off this week, Hugh Roach for the Rams and Ratuniasia Nuama for the Drua, are two absolute Trojans. The two play a similar game involving high involvement in all aspects of the game. Roach's running game is probably more dominant however that could have as much to do with Nauma's quality of team mates around him in that aspect.
Form:
Rams: W – W – L  – L – B
Drua: L – W -W – W – L
Greater Sydney Rams:
1 Jed Gillespie, 2 Hugh Roach, 3 Rob Lagudi, 4 Sam Thomson, 5 Adrian Hall, 6 Fergus Lee-Warner, 7 David Hickey, 8 Albert Tuisue, 9 Waldo Wessels, 10 Jai Ayoub, 11 Stuart Dunbar, 12 Kevin Fuavao, 13 Denis Piligateau, 14 John Grant, 15 Cameron Bailey
16 Andrew Tuala, 17 Mokani Fuavao, 18 Conor Young, 19 Tevita Piukala, 20 Josh Redfern, 21 Dion Spice , 22 Ben Cotton, 23 Kodie Drury-Hawkins
Fiji Drua:
1. Joeli Veitayaki Jnr, 2. Ratunaisa Nauma, 3. Moese Duckvaki, 4. Peni Naulago, 5. Mataiasi Ucutabua, 6. Samu Saqiwa, 7. Mosese Voka, 8. Peni Raidre, 9. Seru Cavuilati, 10. Alvereti Veitakano , 11. Apete Daveta, 12. Eroni Sau, 13. John Stewart [c], 14. Ifereimi Tovilevu, 15. Apisalome Waqatabu
16. Osea Naganilau, 17. Eroni Mawi, 18. Moses Gavidi, 19. Filimoni Seru, 20. Sakiusa Nadruka, 21. Frank Lomani, 22. Kini Douglas, 23. Kitione Taliga
Tip: Too many crucial injuries and absences for the Rams unfortunately should see the Drua back in the winner's circle. And it could be a big one. Fiji by 20.
---
Queensland Country v NSW Country Eagles (Streamed via foxsports.com.au/live)
Saturday 7 October at Bond University (Gold Coast). Kick-off 4:00pm (local time)
Reasons not the miss the match:
The Battle of the Bush is back at Bond! The first time these two teams ever met in the NRC was back on 30 August 2014, in Round 2 of that inaugural championship. It was the southerners who came away with the chocolates on that occasion with Andrew Kellaway scoring a hat trick of tries alongside team mates that included Stephen Hoiles, Michael Alaalatoa and Green and Gold Rugby's own Sam Windsor. The QLDers would bounce back to win the subsequent two encounters, being the only team to defeat the Eagles in the preliminary rounds last year. It's back to that same venue of the first encounter and this time the QLD boys are the high flyers with NSW looking to ruffle some feathers.
One of the things the NRC is so useful for is showcasing future talent. This weekend we have two future Wallaby 9s, in James Tuttle and Jake Gordon, facing off against each other. Gordon seems to be finding his way back to full form after an injury break, while Tuttle has been one of the players of the tournament so far. Gordon's strike power comes from his speed and support while Tuttle is in 2nd place on this year's "Try Assist" list.
I generally try to mix it up between the forwards and the backs in these previews but this time I'm just moving one spot out. The opposing flyhalves this weekend are probably vying for the prize of the best 10 of the comp. Stewart probably has the more classical flyhalf game, and reminds me a lot of Michael Lynagh (although I never saw Noddy tackle like Stewart), while Adams has a tad more flair to his game. Regardless both have been standouts for their respective teams and will be relishing a chance to go up against each other.
Form:
QLD Country:  L – W – B – W – W
NSW Country: L – B- L – W W
Queensland Country:
1 Sef Fa'agase, 2 Alex Mafi, 3, Taniela Tupou 4 Angus Blyth, 5 Harry Hockings, 6 Angus Scott-Young, 7 Liam Wright, 8 Caleb Timu, 9 James Tuttle, 10 Hamish Stewart, 11 Eto Nabuli, 12 Duncan Paia'aua [c], 13 Izaia Perese, 14 Filipo Daugunu, 15 Patrick James
16, Richie Asiata 17 Efi Ma'afu, 18 Fred Burke, 19, Rob Puli'uvea 20 Tai Ford, 21 Tate McDermott, 22 Teti Tela, 23 Byron Hutchinson
NSW Country Eagles:
1. Paddy Ryan [c], 2. Brandon Paenga-Amosa, 3. Sam Needs, 4. Ryan McCauley, 5. Tom Staniforth, 6. Rohan O'Regan, 7. Maclean Jones, 8. Pat McCutcheon, 9. Jake Gordon, 10. Tayler Adams, 11. Alex Gibbon, 12. Kyle Godwin, 13. Alex Newsome, 14. Seb Wileman, 15. Andrew Kellaway
16. Connal McInerney, 17. Matt Gibbon, 18. Harry Johnson-Holmes, 19. Tim Buchanan, 20. Lachie Swinton, 21. Nick Kellaway, 22. Tom Hill, 23. Tyson Davis
Tip: The home team will do it for the new Reds coach I feel.  QLD Country by 10              
---
Melbourne Rising v Canberra Vikings (Streamed via foxsports.com.au/live)
Sunday 8 October at Frankston Park (Frankston). Kick-off 1:00pm (local time)
Reasons not the miss the match:
The performance by the Canberra Vikings last weekend to completely dominate the Fijian Drua was the closest thing I've seen to Super Rugby since the inception of the NRC. It was a wonderful performance but one that must now be lived up to. They get to do it against the team that currently sits at the bottom of the ladder so the Vikings will be confident. The addition of Wallaby discard (to the amazement of many rugby pundits) Rory Arnold will definitely mean they won't lack any of that hard edge in the pack.
It seems odd that this NRC match, with little impact on the current NRC season, played down in Frankston could be a game of such significance for one player. Lopeti Timani. The guy simply must stand up. While many fans were wondering why Arnold was being sent home, many of those same fans were wondering why Timani was there in the first place? It's high time he stood up and put in a eye catching, match winning performance against this high class opposition. Otherwise he is set to be overtaken by the likes of Jed Holloway, Isi Naisarani (when eligble), Rob Valetini and Rob Leota.
Tom Cusack was probably the player of the round last weekend leading his team in their remarkable win over Fiji? Three tries was just the start of it for Cusack who had such an impact on the game that he had some astute pundits suggesting he may be a candidate for the Wallaby 6 jersey. Realistically he is a little way off that but his form this NRC has been outstanding and remains one of the big hurdlers the Rising will have to overcome to claim an upset win.
Form:
Rising:  L – L – L – W – L
Vikings: W – W- L – L – W
Melbourne Rising:
1 Rory O'Connor, 2. Siliva Siliva, 3. Fereti Sa'aga, 4. Jason Havea, 5. Alex Toolis, 6. Rob Leota, 7. Ikapote Tapai, 8. Lopeti Timani, 9. Harrison Goddard, 10. Jack McGregor, 11. Henry Hutchison, 12. Lloyd Johansson, 13. Sione Tuipulotu, 14. Kitione Ratu, 15. Jack Maddocks
16. Cameron Mapusua, 17. Tom Moloney, 18. Pone Fa'amausili, 19. Sione Taufa, 20. Mahe Vailanu, 21. Maradona Farao, 22. Hunter Paisami, 23. Angelo Leaupepe
Canberra Vikings:
1. Faalelei Sione 2. Folau Faingaa 3. Les Leuluailii-Makin 4. Blake Enever 5. Rory Arnold 6. Rob Valetini 7. Tom Cusack [c] 8. Lolo Fakaosilea 9. Ryan Lonergan 10. Wharenui Hawera 11. Tom Banks 12. James Dargaville 13. Andrew Robinson 14. Ben Johnston 15. Andrew Muirhead
16. Robbie Abel 17. Harry Lloyd 18. Joel Penders 19. Darcy Swain 20. Angus Allen 21. Pedro Rolando 22. Mac Hansen 23. Len Ikitau
Tip: It won't be 60 points (well…it could be) but it will be another win to the Vikings. Let's say by 24
---
Sydney Rays v Brisbane City (Live on Fox Sports)
Sunday 8 October at Pittwater Park (Sydney). Kick-off 3:00pm (local time)
Reasons not the miss the match:
There have been a lot of allusions to 'season defining performances' this review! Perhaps it's because there are only four weeks to go in the comp or perhaps it's because I'm writing this late Thursday night after a massive week at my real work and dealing with teenage kids! Putting all that aside though….this is a season defining match for Brisbane. They looked to be #checkedout last weekend against Perth so need to prove their finals credentials against the Rays this weekend. The return of Sam Talakai, Nick Frisby and Karmichael Hunt should assist.
The Rays had a tough loss to the NSW Country Eagles last week but despite the loss, one of the positives from it was the return of last year's NRC Player of the Season, Irae Simone. Simone was never going to run back onto the field and match his 2016 form but there were glimpses there of his class. With an apparently newly buffed up physique he forms a handy combination with the crafty Rohan Saifoloi -one that could cause some damage to a misfiring Brisbane City defensive unit.
Just a nice little side point to this match is that the Sydney Rays lock forward Dave McDuling was the man who lead Brisbane to their first NRC tournament win back in 2014. In fact it was Dave, alongside Wallaby Samu Kerevi, who penned the Brisbane City victory song "Glory Glory Brisbane City". Thanks Dave!
Form:
Rays:  B – L -W – L – L
Brisbane: W – L- W – B – L
Sydney Rays:                                                 
1. David Lolohea, 2. James Hilterbrand, 3. Wayne Borsak, 4. Dave McDuling, 5. Angus Ryan, 6. James Brown, 7. Tom Connor, 8. Hugh Sinclair, 9. Jack Grant, 10. Rohan Saifoloi, 11. Steph, van der Walt 12. Harry Burey, 13. Irae Simone, 14. Rob Buaserau, 15. Josh Turner
16. Damien Fitzpatrick, 17. Lisiate Vaihu, 18. Alex Westgarth, 19. Conor Vest, 20. Alex Perez, 21. Harry Nucifora, 22. Kepu Lokotui, 23. Augustin Slowik
Brisbane City:
1 Tonga Ma'afu, 2 Andrew Ready [c], 3 Sam Talakai, 4 Dan Gorman, 5 Kane Douglas, 6 Adam Korczyk, 7 Michael Gunn, 8 Reece Hewat, 9 Nick Frisby, 10 Quade Cooper, 11 Ed Fidow, 12 Karmichael Hunt, 13 Dylan Riley, 14 Maaloga Konelio, 15 Jayden Ngamanu
16 Maile Ngauamo, 17 Salesi Manu, 18 Feao Fotuaika, 19 Jeremiah Lynch, 20 Pat Morrey, 21 Moses Sorovi, 22 AJ Alatimu, 23 Junior Laloifi
Tip: This one probably won't be a blow out but I am tipping the away team to sneak this one. Brisbane by 4.