Friday's Rugby News see the latest from the Wallaby camp in Mendoza, McMahon maybe coming back for the RWC, the Drua proving the value for Super Rugby success… oh, and some bloke replaced Nick Stiles at the Reds.
And for those of you who didn't see it last night, our one and only Hugh Cavill put together an emergency solo podcast, as due to multiple technical issues we were unable to present the podcast we'd made this week. 
---
[one_half last="no"]
All about consistency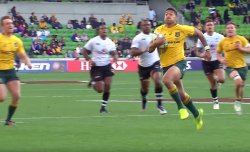 The Wallabies are keen for a big sesh to finish off the Rugby Championship in style, following two encouraging outings in the form of their win in Canberra against the Pumas and a hard fought draw against the Saffas. Consistency is key, and hopefully no one knows this more than Michael Cheika.
But Jack Dempsey certainly looks like he's keen as a bean to finish off the RC properly, promising to 'light up' Mendoza and let the Pumas know of his offensive abilities in their own backyard.
The Pumas have a pretty decent record in Mendoza, with only two teams (the Wallabies and the Springboks) ever beating them there. But that comes to nought on the weekend according to Dempsey. The Wallaby is already keen to rip in, after what he considered to be a pretty frustrating performance against the Boks.
"For my own personal reflection I was a bit frustrated that I wasn't able to get my hands on the ball," Dempsey said to rugby.com.au.
"That's something I pride myself on but as you mentioned that's kind of how the game went in that first half.
"I am going to be looking to get my hands on the ball and show what I can do with ball in hand (against Argentina)."
Dempsey also admitted that the lads were particularly focused on improving at the breakdown.
"The attacking ruck was a lot better (against South Africa) but I think it's probably our biggest weakness at the moment, as a forward pack," Dempsey added.
"We're not really there in terms of consistent, clean, fast ball.
"We spoke about it in the review.
"Adam (Coleman) was pretty vocal in saying that we aren't where we want to be in terms of attacking ruck and Cheik had a word to all of us four, five, sixes, because we do work as a pod, about us really needing to pick up in that part of the game.
"It's also the carry and the urgency of the clean so that's a whole unit focus and something we really need to work on for this game."
On a more surprising note, Izzy Folau is already being talked up for a prestigious rugby record. Scoring his 11th test try of the season against the Boks last weekend, Izzy has a shot at beating the record for most number of tries in an international season: a record currently jointly held by Japanese flyer Daisuke Ohata (2002) and legendary All Blacks winger Joe Rokocoko (2003).
The Wallabies have six more tests this year, and Izzy needs to score a try in every match in order to equal the record. But, considering he is averaging well over more than one try a game, he could reach that sooner.
With doubles against Fiji, Scotland and Italy in 2017, Folau already became the first Australian to cross twice in three successive Tests. He is also in the top five Australian rugby try scorers, behind Drew Mitchell, Adam Ashley-Cooper, Chris Latham and David Campese.
While many may be predicting a Wallaby win in Mendoza, Argentina will have nothing to play for but pride, and with history on their side they definitely have the firepower and ability to force an upset.
"But both teams have been trying to play with a lot of flair and (to) keep the ball in hand as much as possible and it's going to amount to a very exciting game to watch," said Stephen Larkham to the Sydney Morning Herald.
If the Wallabies win and the All Blacks beat the Boks, the results will see us finish runners up for the second straight year.
As of Friday morning, the Wallabies are still to name their starting squad.
[/one_half]
[one_half last="yes"]
Game of Thorn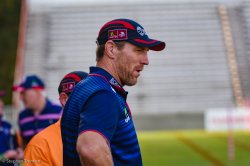 The era of Nick Stiles is officially over in Queensland, with the announcement that dual international, World Cup winning All Black and Queensland Country Coach Brad Thorn will take the reins for next years Super Rugby season.
Stiles guided the Reds through a miserable 2017 campaign that saw them win only four games, and it wasn't enough to see him return for a second year.
"I want to acknowledge that Nick has given a lot of his life to the QRU as a player, staff member and a coach and we are grateful for the immense contribution he has made," Queensland Rugby chief executive Richard Barker  said to Fox Sports.
"Queensland Rugby Union was disappointed with the performance of the Queensland Reds in 2017 and we believe we require a catalyst for change in culture, discipline and standards.
"We feel strongly that Brad Thorn is the right person to lead this change and that his appointment as head coach is the necessary catalyst for that change.
"Brad has a proven track record of success as both a player and a coach.
"He is without peer when it comes to the culture and professionalism required to be successful at the highest level of our sport and he is enthusiastic about moving the Reds forward and creating a winning culture at Ballymore once again."
Despite his extensive rugby knowledge, there is no denying the daunting task that faces Thorn. He has had an encouraging start to his coaching career, guiding the Reds U20s side to an undefeated season this year, as well as completely turning around Queensland Country.
But, if history has taught us anything, it is that we've been here before. Stiles coached Brisbane City to two successful NRC premierships (including one undefeated season) before taking on Reds duties. And look how that turn out.
Thorn is going to have a lot of work to do to win back fan support in the Sunshine State. And that starts with what happens on the park.
[/one_half]
[one_half last="no"]
Drua launching to Super Rugby Success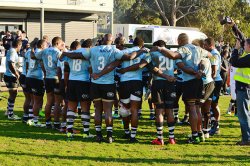 Waratahs coach Chris Hickey has been a consultant for the Fijian Drua for much of their NRC campaign. And, based on what he's seen, he believes that the Drua's performances have been so above expectation, that it may have gone a long way to prove that Fiji have the talent to field a competitive team in Super Rugby (minus the exception of their performance against the Vikings).
With many wondering what Super Rugby will look like in the next couple of years, many are hoping that it will include a Pacific Island team of some sort. The Drua's presence has certainly provided a stronger case for that cause. Already, their inclusion has seen crowds numbers and interest increase dramatically in the competition, including the breaking of the NRC crowd record with their first ever home match in Suva.
But to Hickey, Super Rugby is a real possibility for Fiji.
"Obviously things have to be in place financially and with management structures and so on, but if we just talk on playing talent, and you look at the players they have overseas and the talent in this group — and there is probably the same amount back in Fiji who haven't been identified yet," he said to the Daily Telegraph.
"I think it could be a step towards that in two or three years time. The playing talent is there, no doubt about it."
The Drua will be playing against the Greater Sydney Rams at TG Millner on Saturday as part of the Pacifika round, and many are expecting a big crowd to come through the gate and show their support. TG Millner is Hickney's old stomping ground, and for him having them at the old venue shows the potential they have to grow as a club.
"To a degree it [the Drua] has exceeded expectation," he added.
"It was always a little bit of an unknown for them coming into the competition. All credit to the ARU for issuing them an invitation, because it will be a big step to the development of the game to a higher level in Fiji, and help create a pathway for players in Fiji through to the national side."
The Drua currently sit in fourth, and are still in the running for the finals.
"Playing finals in the first year, that'd be an amazing achievement," Hickey laughed.
In other matches of the Pacifika round, Queensland Country will host the Country Derby when they take on NSW Country Eagles, while Melbourne Rising will host the Canberra Vikings and the Sydney Rays will host Brisbane City. Perth Spirit have the bye.
[/one_half]
[one_half last="yes"]
McMaybe?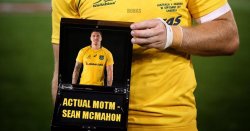 Let's face it: Sean McMahon has been an absolute freak ever since he made it back on the park for the Wallabies. His departure from Australian rugby at the end of this year to Japan for two years will be felt by many, as many have seen him as a indispensable player for the Wallabies at set piece.
But, ahead of the Puma test match, McMahon made it clear that, despite his current focus on the upcoming test, he was always keeping his options open to play in 2019, should the opportunity arise.
"You never know, we'll see what happens when the time comes," McMahon said to rugby.com.au.
"For now I'm just focused on what's ahead this weekend and that's a strong Argentinian team."
After being out for the entire Super Rugby season, the former Rebel has certainly been making the most of his time in the gold jersey.
"Every opportunity that I'm getting at the moment I take with both hands and I'm just trying to make sure that I do what I can in that gold jersey.
"I want to make sure that as a team we finish on a high, it's not a personal thing, but as a team so next year, whoever comes into that position takes it on and continues to build."
While McMahon will likely make way for the one-and-only David Pocock, there's no denying his influence in the game has been particularly impactful this year.
"Right now I am just trying to bring a bit of consistency to my game," McMahon added.
"That's all about back-to-back, week in week out, working with Hoops – who's such an unreal player – and trying to work with him and bring a combination that works for both of us.
"Currently we have got a little bit of free reign to move around the field and it's been working."
Should the opportunity come for him to come on the field to play for Australia, lets just say many at GAGR central will be more than happy to see him kick on once again and keep up the form he's been having this year.
[/one_half]