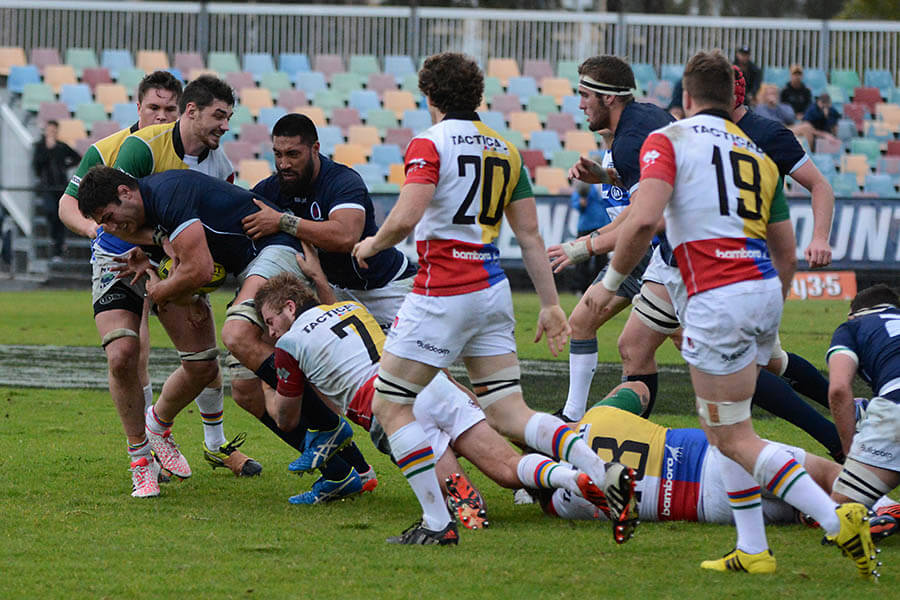 I'm sure Qld Country were expecting an improved showing coming into NRC 2016, but things haven't gone to plan. For the Sydney Rays though everything is coming up roses. They've gone home with maximum points from their two outings while country are yet to earn a point. Queensland Country will be out to turn things around but it's a big ask against the competition front runners.

The Match
The rain had fallen steadily all day on the Gold Coast, but by kick off time things were looking a little better. The rain held off during the game but for a few sprinkles and the ground while wet had held up nicely. Things didn't start as planned for the Rays as Country had built on  the improvement they showed last week and their scrambling defence held the Rays scoreless until nearly half time.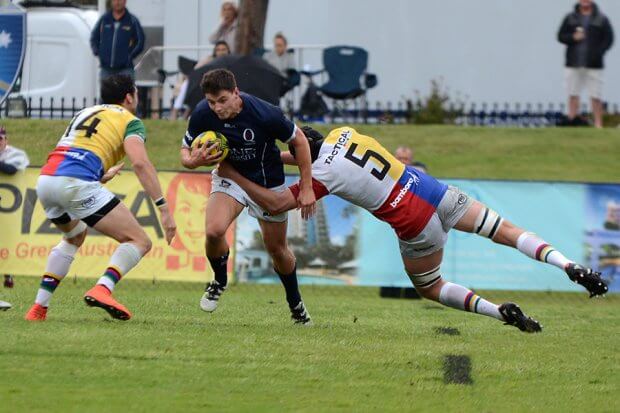 In fact Queensland Country were the first to score through some nice work from Parese. Unfortunately Country surrendered their hard fought lead late in the half. The Rays scored twice in the last five minutes of the half, once after the hooter, to take a 16-8 lead to oranges.
The minutes around half time are amongst the most important in any match and today they were enough to lose Country the game. 47 minutes in the Rays scored their third try, and Richard Woolf's second, to take a commanding 22-8 lead just before the finishers started filtering onto the field. Ten minutes later the Rays scored their forth try and it was looking like the floodgates might open in the last quarter.
To their credit, and with the help of the reserves bench, Queensland Country held it together and started to peg back the lead. They were helped partially by Harry Bergelin's yellow card in the 65 minutes. Richard Woolf scored moments later and Tom Banks went over late to bring Country within striking distance of a draw but the Rays held country in their own half with stout defence and eventually hey knocked on to end the game.
The Rays, to me, looked the better team all game and Country looked to be gamely hanging on. Country got better as the match went on but three tries around half time cruelled any chance they had.
---
The Game Changer
The championship minutes! How many coaches and captains have banged on about them to their teams over the years. I certainly heard it a lot when I was a much younger man. Country either didn't hear it or didn't pay attention today and it cost them.

The G&GR MOTM
Tom Banks again had a good game in a losing side. Richard Woolf looked good and scored two tries before being injured very late in the game. But the guy who looked the best to me was the Rays little general Matt Lucas. He steered them around the park intelligently and kicked their goals. He's out Man of the match.

Player watch
For Country Duncan Paia'aua had a good game and Connor Mitchell was busy. As one of only two Wallabies on the field Rob Simmons was largely anonymous. For the Rays, apart from the two already mentioned, flyhalf Angus Sinclair had a good game

---
The Details
Qld Country: 22

Tries: 3
Perese 27'
Third 65'
Banks 78'

Conv: 2
Tuttle (1/1) 28'
Third (1/2) 66'

Cards:
n/a


Sydney: 30

Tries: 4
Woolf (2) 35', 47'
Palmer 40'
Brown 58'

Conv: 3
Lucas (3/4) 37', 40', 59'


Cards:
Sinclair 9' – YC
Bergelin 65' – YC
Referee: Jordan Way

Attendance: tbc

Queensland Country: 1. Ben Daley, 2. Alex Casey, 3. Taniela Tupou, 4. Izack Rodda, 5. Rob Simmons, 6. Tyrell Barker, 7. Conor Mitchell, 8. Jack Cornelsen; 9. James Tuttle (c), 10. Mitch Third, 11. Liam Jurd, 12. Duncan Paia'aua, 13. Izaia Perese, 14. Liam McNamara, 15. Tom Banks. Replacements: 16. Feleti Kaitu'u, 17. Sef Fa'agase, 18. Kirwan Sanday, 19. Angus Scott-Young, 20. Maclean Jones, 21. Issak Fines-Leleiwasa, 22. Mack Mason, 23. Tyrone Lefau. Coach: Toutai Kefu.

Sydney Rays: 1. Ezra Luxton, 2. Damien Fitzpatrick, 3. Lawrance Hunting, 4. Connor Vest, 5. Nicholas Palmer, 6. Harry Bergelin, 7. Will Miller, 8. Michael Wells; 9. Matt Lucas (c), 10. Angus Sinclair, 11. Harry Jones, 12. Con Foley, 13. Irae Simone, 14. Richard Woolf, 15. Cameron Clark. Replacements: 16. James Hilterbrand, 17. Rory O'Connor, 18. Mitch Lewis, 19. Adrian Hall, 20. James Brown, 21. Dewet Roos, 22. Sam Lane, 23. Seb Wileman. Coach: Simon Cron.