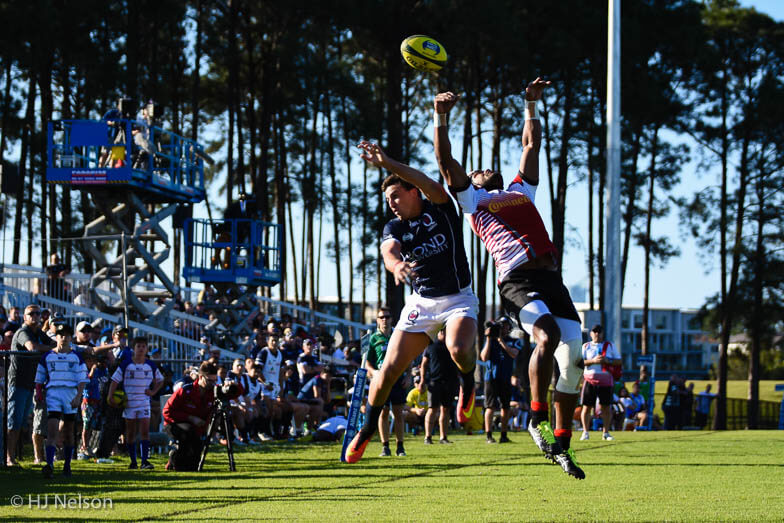 Queensland Country must start this year with a new air of confidence. An improved roster and new coaches including Wallaby legend Toutai Kefu and all round legend Brad Thorn. The guys from the capital won't be push overs. Lets face it they never are. Both teams have had a very short lead into this match with only a few training sessions together. The team who can gel first will probably win the game. (DUH)

The Match
The game started with a bang for Country with Taniela Tupou playing pinball with opposition players but after the first couple of minutes the Vikings began to dominate. They scored four first half tries to none with their backs doing most of the damage. James Dargaville scored two tries but injured his shoulder doting down the second and had to leave the field. Rory Arnold and Jarad Butler scored the other two.
Canberra dominated the ruck and maul and won the scrum battle. Fast ball at the tackle and slick hands and powerful running through the midfield in the backs made it seem like they could make ground at will. Qld Country frittered away their possession with poor handling, ill conceived kicks and runs into touch and while looking the best I'd seen them play still looked off the pace. By Half time the Vikings were up 28-0 and the game looked gone for Qld Country.
The second half looked like a rinse and repeat for the Vikings. Rory Arnold scored his second just after the break making Country's mountain even higher.
Izaia Perese scored a beautiful long range try to get Country off the duck. The replacement centre's energy really made a difference and Qld Country seemed to rally despite another Vikings try to Henry Speight. Country's fullback, Tom banks, scored two late tries to bring the score up to 44-20 with less than 10 minutes to go but the Vikings ran in two late tries of their own to shut out the match. the final score of 58-20 was a pretty fair representation of the game.
---
The Game Changer
The Vikings looked like a pretty slick well drilled unit and they pretty much controlled the game from the first minutes.

The G&GR MOTM
The official man of the match was Lausii Taliauli with Rory Arnold and James Dargaville filling in the minor spots. Since we pick the NRC 3-2-1's we'd better go with them then. Lausii Taliauli is the GAGR MOTM

Players to watch
Rory Arnold coming back from injury looked the goods. Rob Simmons was parachuted into the side at the last moment and it showed. Tom Banks looks like a player of the future and I expect to see him play more Super rugby. Nic Jooste played a beautifully understated hand for the Vikings and kicked very well.

---
The Details
Qld Country: 20

Tries: 3
Banks (2) 72', 74'
Perese 61'




Conv: 1
Mason (1/3) 75'

Cards:
n/a

UC Vikings: 58

Tries: 8
Dargaville (2) 6', 27'
Arnold (2) 19', 50'
Speight (2) 68', 80'
Abel 30'
Jackson-Hope 76'

Conv: 5
Jooste (5/8) 6', 28', 51', 68', 77'

Cards:
n/a
Referee: Nic Berry

Attendance: tbc

Queensland Country: 1. Sef Fa'agase, 2. Feleti Kaitu'u, 3. Taniela Tupou, 4. Rob Simmons, 5. Izack Rodda, 6. Tyrell Barker 7. Conor Mitchell, 8. Apisai Naiyabo; 9. James Tuttle, 10. Mack Mason, 11. Eto Nabuli, 12. Duncan Paia'aua, 13. Tyrone Lefau 14. Tom Pincus, 15. Tom Banks. Reserves: 16. Alex Casey, 17. Ben Daley, 18. Kirwan Sanday, 19. Phil Potgieter, 20. Lolo Fakaosilea, 21. Issak Fines-Leleiwasa, 22. Mitch Third, 23. Izaia Perese. Coach: Toutai Kefu.

University of Canberra Vikings: 1. Sione Taula, 2. Robbie Abel, 3. Les Makin, 4. Rory Arnold, 5. Blake Enever, 6. Tom Staniforth, 7. Jarrad Butler (c), 8. Jordan Smiler; 9. Joe Powell, 10. Nick Jooste, 11. Lausii Taliauli, 12. Jordan Jackson-Hope, 13. Andrew Smith, 14. James Dargaville, 15. Robbie Coleman. Reserves: 16. Connal McInerney, 17. Faalelei Sione, 18. Nick Dobson, 19. OJ Noa, 20. Dean Oakman-Hunt, 21. Brent Hamlin, 22. Isaac Thompson, 23. Henry Speight. Coach: Wayne Southwell.