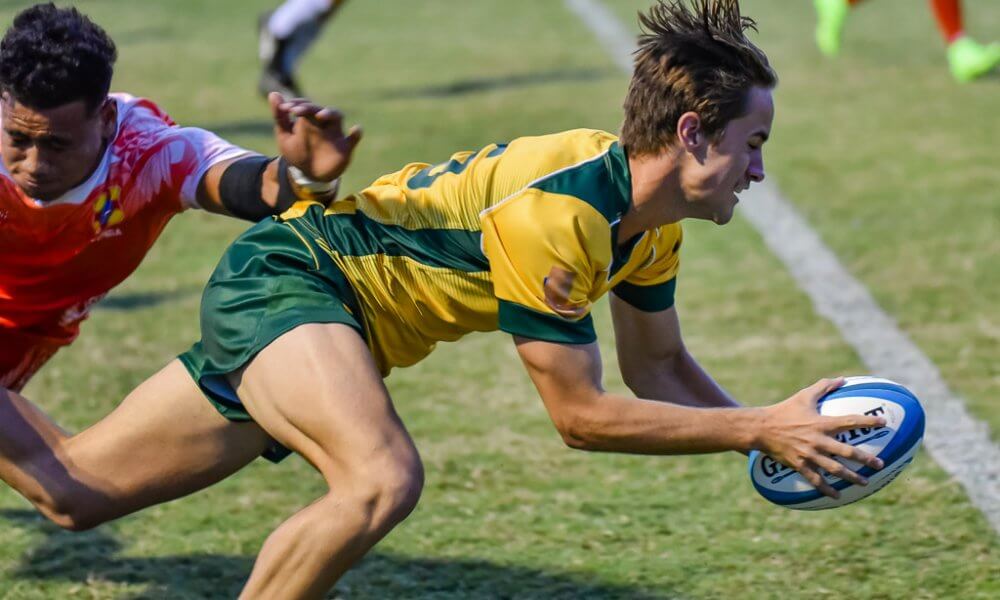 Australia and New Zealand unsurprisingly won their Round 2 games of the Oceania U20s Championship, setting up a winner-take all Final on Saturday, at Bond University.
Australia v Tonga
Australia scored at over a point a minute for the entirety of the game. Standout on the scoresheet was Matt McTaggart with 4 tries. Trevor Hoesa led the forwards well, and late call-up Will Harrison kept the back-line ticking over.
As writing match reports is not my strong point, I have borrowed some forum comments from our man on the ground, "The Honey Badger"
Team last night started really well. Showed lots of skill and speed and some very good structures.The game was always going to be an easy and big win to AUS, the first 40 points went on so quickly, I thought we would easily pass 100.
To their credit Tonga, put some phases together for period late in the first half and put a tempory brake on the scoring.
And they scored a try after pressuring the Aus line.
But Aus did resume their domination and went on to score 15 trys to 1.
Good mix of Forward tries and some great slick moves from the backs.
Hosea was outstanding and MOM IMO.
Hosea and Hockings will be a strong combination in the Locks. Hockings a very good line out specialist.
McTaggart was a standout in the backs.
Thought Harrison made the most of his late call up at 10. He has a nice pass and does organise the backs we'll. (not sure what happened to Kunzel who was originally named)
Australia 91
(Tries: Harry Hoopert, Trevor Hosea 2, Matt McTaggart 4, Isiah Latu, Hayden Sargeant, Josh Kemeny, Will Harrison, Matt Faessler, James Ramm, Efi Ma'afu, Isaac Lucas; Cons: Will Harrison 6, Isaac Lucas 2)
defeated Tonga 7
(Tries: Siale Tamo'ua; Cons: Peni Vea)
New Zealand v Fiji
New Zealand didn't have it all their own way against Fiji. Fiji provided stiff resistance in the first half, going into the half-time break trailing 15-3. Fiji managed to score a couple of tries in the second half, but a late flurry of tries from New Zealand got them over the half-century, with a final score of 55-15.
Again, some comments from "The Honey Badger"
Fiji were in that game for a good while. Was 10-3 late in the first half.
Fiji helped by a red card, I thought was pretty hash, as the Fijian tried to hurdle the 13 (Billy Proctor).
NZ threatened every time they had the ball, very fast and great handling skills. Fiji did a lot of scrambling defence.
NZ back row played very loose, 6 (Devan Flanders)  & 7 (William Tremain) played very wide.
NZ 8 (Hoskins Sotutu) was a standout and red head hooker (Thomas Flynn) not bad either.
Actually saw Plummer miss a few goals, unfortunately a feat he was unable to perform 2 years ago.
New Zealand 55
(Tries: Sione Asi 2, Harry Plummer 2, Devan Flanders, William Tremain, Xavier Roe, Taniela Tele'a, Jamie Spowart; Conv: Harry Plumer 5)
defeated Fiji 15
(Tries: Liam Rasch, Ilikena Vudogo; Conv: Peniasi Ratu; Pen: Turaganivalu Nabetelevu)