Monday's Rugby News has the Wallabies not being "gallant losers", Kurtley Beale hurting from the loss, more McMahon minutes and a Women's Rugby World Cup wrap
---
[one_half last="no"]
No Gallant Losers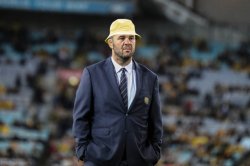 Michael Cheika is a fuming a bit after Saturday's rip-roaring Bledisloe game.
"I am not angry. I am just very, very disappointed because I felt like we did enough to win the game," Cheika said, via the SMH. "We put everything into it and we wanted to get something out of it.
"We don't want to be gallant losers, that's not our thing. I thought we deserved to win tonight. We did enough and copped a few key calls against us at really important times and that's the way she rolls. Maybe the script was written.
"It's extremely disappointing. We've copped grief from everyone and that's not what our boys deserve. I understand that's the way it goes but I wanted them to get the reward tonight and it didn't end up working out that way.
"We should have won it and I apologise to Aussies for that because they wanted to wake up tomorrow having beaten New Zealand and I'm always proud to be Australian and coach this team. It's a huge match for us in Perth (against the Springboks on September 9) and it's going to be really important for us to play well there and to get the people behind us there."
Like last year, when Cheika sort of almost imploded after the Auckland test, Cheika took the refereeing to task. Case in point, Brodie Retallick's Mortal Kombat move on Ned Hanigan.
"The guy can't end up on his head any other way but then it's a freebie … just as well he didn't break his neck," Cheika said. "I have to tread lightly here. It was clear to everyone he [Retallick] has picked one of our blokes up and put him on his head. Categorically. He has his arm through his leg and picked him up.
"It's irrelevant if it was fair or not because that's the way it was officiated. That stuff does not in any way excuse not finishing that game off, with three minutes to go and a kick-off to us.
"There were some calls last year in Auckland and we have been hit again here. I suppose it is just disappointing."
For the full presser, click here.
[/one_half][one_half last="yes"]
Kurtley Hurts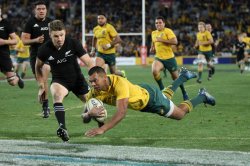 Kurtley Beale is also a bit woe is me, saying that the late lost to the All Blacks is like a dagger to the heart.
"That one really hurts, heartbreaking stuff, huge effort from the lads, couldn't ask anything more," Beale sobbed to the SMH. "Both teams played to the very end and it's just unfortunate that we were put in that position in the end and that one really just cuts the heart.
"After that second-last try, there was still a long time to go, so it was a matter of just trying to exit from our half and that was our focus. They changed the point of attack to kick to the right side and we just got caught off-guard and they made that kick into a contestable … it was the luck of the bounce for them.
"Just got to try and soak it in and try and remember this one so when we come back next time, we'll be playing with a lot to prove."
Beale was also asked about teammate Bernard Foley's kicking. The 'Iceman' only nailed 2 of his 6 kicks during the game.
"It's just unfortunate that it hit the post [three times]," the bloke who probably should have been given the chance to kick said. "Obviously he's gone through his own processes and he's striking the ball very well.
"We gave ourselves plenty of opportunities, we took them when we did and we probably left a couple out there as well, but that's rugby. What do you say? Just a tough way to end a big performance from our boys."
[/one_half][one_half last="no"]
Cheika Wants More McMinutes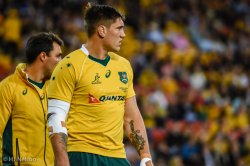 Michael Cheika has publicly declared his love for Sean McMahon, telling the media "I don't care what it takes to get him to stay here because we want him and we need him."
"There's a word for Sean McMahon tonight, that was outstanding. He was truly outstanding, he just gave it everything,"Cheika said post-game, according to rugby.com.au.
"That's the Sean McMahon we know and that's why I'll be aiming all guns towards Japan to try and get his contract torn up over there or something like that.
"I don't care what it takes to make him stay here because we want him here."
McMahon is buggering off to Japan later this year, if you didn't know. And Cheika would very much like to keep him. Cheika, however, is unsure whether McMahon might change his mind.
So let's go to the man himself. When asked, McMahon swatted the question aside.
"I love getting an opportunity to put the gold jersey on and it's great to hear comments like that. But you can't let anything like that go to your head," McMahon replied.
"You've got to focus on game to game and right now, I'm focusing on the next game and getting another opportunity for the gold.
"Down the track, if the opportunity comes back for me to come back, that might happen, but right now I'm focusing on the next game over in Perth, and at the end of the year, I'll focus on when I go to Japan.
"I'll just keep playing each week and if I can keep putting performances on like that, it might be something in the future that can change the opportunity for me to come back and as you said, shift the pieces around for me to get that opportunity."
[/one_half][one_half last="yes"]
Women's World Cup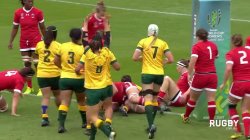 The Black Ferns have beaten England 41-32 to win the 2017 Women's World Cup. This is New Zealand's fifth World Cup win.
Prop Toka Natua scored a hattrick for New Zealand, and props scoring 3 tries is probably a record. New Zealand scored 7 tries in total during the game, held in Belfast, which means only 6 of their points came from kicks.
England, meanwhile, stayed in the game thanks to a penalty try and two tries from Lydia Thompson. However, after the half-time break the Kiwis blitzed them, with a late consolation try smoothing the look of the scoreboard.
"It means everything," said NZ captain Fiao'o Faamausili after the game.
"You couldn't have asked for a better final than this. Full credit to England, what an amazing team they are. They gave it to us, but we had to dig deep and take ourselves out of our comfort zone.
"I'm really proud of the girls. We had to believe in ourselves. No one doubted themselves, but it was about believing in what we could actually do. We had to make sure we played territory and played our Black Ferns rugby. That's what we did."
On the other hand, English flyhalf Katy McLean had this to say.
"It's really hard," she said. "The only thing we can have now is immense disappointment. All credit to New Zealand, they really upped it to us in the second half and we probably didn't do enough to win it.
"All I can say is a massive, massive thank you for all the support we've had. It's been immense and we're very grateful for it.
"But for us right now we feel like we've let people down. We came here to win it and we haven't, so therefore the job hasn't been done. We'll look at the game and take some positives, but right now it's difficult to see that."
The Women's Rugby World Cup, while being a success – "We were on prime time and it's never been done before." said English fullback Emily Scarrett – has come under a bit of fire. NZ dynamo Portia Woodman has mentioned that the men's teams would struggle with 4-day turnaround schedule of the 12-team comp, while USA coach Pete Steinberg has claimed that World Rugby is 'sexist' in its treatment of the female players.
This World Cup final was the last time the English team were to play as professionals. The RFU – who pull in gorillions of dollars every time England plays in Twickenham – is switching its focus to women's 7s. The Commonwealth Games is on next year.
Oh, and the Wallaroos came 6th, after losing to Canada 43-12 in the 5th place playoff final.
[/one_half]
More Bledisloe Stuff