Monday's Rugby News has Cameron Clyne saying not much, Stephen Larkham saying goodbye, Nick Phipps talking fitness and Scott Sio being inspired.
---
[one_half last="no"]
4 Teams Or Me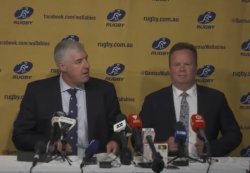 ARU Chairman Cameron Clyne has seemingly said he'll step down if the ARU fail to cut a Super Rugby team.
"We've made the tough decision and it is going to be difficult but the good thing is when we get through the process," he said. "If we end up with five teams, it'll be someone else's problem because I won't be around. If we get to four teams, of course, I think we'll have a really strong Super Rugby next year," said Clyne at Sydney Uni FC lunch (great optics, that).
When specifically asked by Fairfax what he meant, he said "I just don't believe Australian rugby can support five teams…at that point in time [if the ARU could not cut a team], I'd address it [my position] then."
At that's not it! Clyne was pinned about why he said the 48-72 hours thing:
"We said we'd only cut a team if we could have the same broadcast revenue," Clyne said. "Up until that the teams had said, 'if you make the decision to cut a team, can you make the decisions very quickly?'
"We said, 'absolutely, we can do it within 48 to 72 hours'. Then we got the go-ahead we would get the same broadcast revenue. We said we'd do it quickly.
"Then the teams changed their mind and said, 'We'd like to take you to court'. I can understand that, but we're operating under the assumption that we can make a quick decision.
"It's out of our hands once it goes to the lawyers. We're happy to make a decision, but when you're bound up in a legal process, it's very difficult. I don't think they [clubs] actually believed we'd cut a team."
Very interesting and very inconclusive. Stay tuned for more noise!
[/one_half][one_half last="yes"]
Feel the Bernie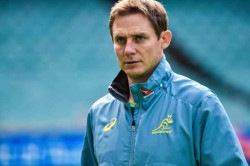 Stephen Larkham has blazed a trail at the Brumbies, and he has told the Canberra Times that the club has a lot going for it now that he's scooting off to the Wallabies.
"When you look at the number of guys that got their first Brumbies cap this year and where the team's come from … the fact we were written off at the beginning of the year, we've certainly achieved a few things this year," Larkham said, not bothering to look up 'this year' in the thesaurus.
"We've put ourselves in a really strong position for next year, there's no doubt about that. Some guys are moving on from the squad, but we'll get some new faces in. And we'll learn. It's a young squad and we'll learn from this experience."
Sam Carter, Brumbies captain, was asked what he thought of Bernie's legacy.
"Half of [Canberra Stadium] is named after him, it's a pretty good legacy." He said more, but that'll do.
Meanwhile, it was Christian Leali'ifano's first game back, and Scott Sio couldn't be prouder.
"To think that 12 months ago he was in hospital, all tubes in him doing chemotherapy and he's come out," Sio said (via rugby.com.au).
[/one_half][one_half last="no"]
Fitness Time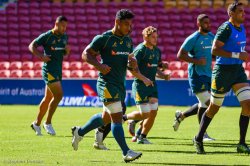 Michael Cheika one-upped Daryl Gibson in the novelty stakes over the weekend, taping up the Wallabies' mouths and eyes as they ran up hills and what not.
For one drill, the players were put in pairs, and one's eyes were taped with other having to guide them up a hill under fatigue. Another drill was taping the players mouths so they'd have to run up the hill breathing only through their nose.
This all comes from rugby.com.au, which also reports that groups have gathered in Perth, Sydney and Brisbane to begin conditioning training. Cheika expects to have his full complement of Wallabies later on this week.
"In 2014 when the Tahs went so well, there was a direct correlation there between fitness and performance," a certain unpopular scrumhalf told the SMH.
"The mental strength you get out of situations like that is quite useful for those times when you're up against it, like when you're trying to repel the 16th phase against the All Blacks. That's something we've got to make sure we're on top of and it's great that Cheik is doing that.
"What you learn about yourself when you're constantly running up and down hills and you're absolutely spent is something I think you can directly use in a game."
[/one_half][one_half last="yes"]
Sio Inspired By 'ifano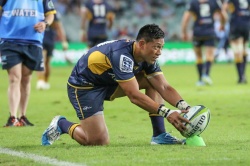 Meanwhile, it was Christian Leali'ifano's first game back, and Scott Sio couldn't be prouder.
"To think that 12 months ago he was in hospital, all tubes in him doing chemotherapy and he's come out," Sio said (via rugby.com.au).
"That's the thing I think, today was bigger than rugby.
"He (Lealiifano) reiterated to us that everyone's saying he's been such an inspiration but he said he's been so inspired by us and the support we've given him and that's really got us up after this loss as well, knowing that he draws a lot of inspiration from as much support as we can give him."
Sio added that the joy Leali'ifano has with his family is the best bit about his recovery.
"I think his biggest supporter and his number one fan is his son and he doesn't even know it," Sio said. "Not a lot of people get to see how he is at home with little Jeremih, how he is with Luga [Leali'ifano's wife].
"That's the awesome part for me is to see the kick he gets out of what his son does around, when his son smiles at him, just to see the warmth in his smile back at him.
"Those are the moments that you truly, you sometimes overlook, you don't get to cherish .that's the biggest kick I get out of going over is just to see how he interacts with his son and his family.
"It's pretty unreal and for me it's something I'd like to emulate when I have a family."
[/one_half]