Will the Sunwolves secure their first ever victory? Can the Rebels chalk up their third win of the season?
These questions and more will be answered on Saturday afternoon as the Melbourne Rebels travel to Tokyo to take on the Sunwolves at Prince Chichibu Memorial Stadium. Kick off is at 3:15 Melbourne time, the referee will be Mike Frazer from New Zealand.
Sunwolves
Despite only having a three week preseason and losing both of their first two matches, to the Lions and Cheetahs respectively, the Sunwolves have already exceeded many people's expectations.
Coach Mark Hammet has, in a very short time, managed to get this collection of Japanese Internationals, Top League players and imported journeymen to gel well. He has them playing fast-paced, attacking rugby although their defensive structure is a work in progress.
Tusi Pisi has been directing the team well and his goal kicking has been first class. Their back three of Yasutaka Sasakura, Akihito Yamada and Riaan Viljoen all have serious pace and are capable of beating tacklers. Last week against the Cheetahs, Yamada racked up a hat-trick of tries before half time. They scored 28 of their 31 points in the first half and may well have won that game until Ed Quirk picked up a yellow card with just under ten minutes left. As we know, the Cheetahs came back to win by a single point.
The Sunwolves can no doubt smell blood and will fancy their chances to record a win this week. They will be looking to recycle the ball quickly from the base of the ruck and build phases until they can get the ball out wide to their fast men.
They will need to watch their discipline.  They have conceded more penalties than they have earned in their first two games and, they will need to tackle well. Missed tackles at crucial moments have really hurt the Sunwolves chances.
Melbourne Rebels
So far this season, the Rebels have been forced to contend with a growing injury list, a brutal travel schedule and two games in very hot and humid conditions.
Each week they have had to deal with reshuffling the starting side as players have been withdrawn from the team before kick-off. Despite this, the Rebels currently sit in seventh place with wins over the Force and Reds and, a loss to the Bulls in Pretoria. Tony McGahan will be looking for a bit of luck to go his way this week.
Captain Nick Stirzaker and Scott Fuglistaller return this week via the bench; Tamati Ellison returns to the starting side after sitting out last week with concussion.
The Rebels have shown a strong set piece and good discipline, conceding only eight penalties per game, but they have not even come close to putting in a full eighty minute performance.
To win this game the Rebels will need to slow down the Sunwolves ball at the breakdown and make their one-on-one tackles stick in defence. In attack, look for McMahon and Thomson to run the ball down the the wider channels. They'll need to hold on to possession and force the Japanese to make plenty of tackles. Kicking the ball to the speedy Sunwolves back three is not likely to end well.
The Rebels will need to find a way to overcome their travel weariness, a packed stadium of parochial supporters and, play for the full eighty minutes.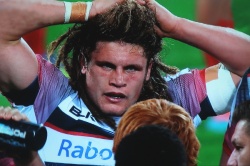 This is what ferocious looks like.
KEY MATCH UPS
Weeks and Leafa Vs Inagaki and Horie
The battle between the front rows will have a big effect on the outcome of this match. Rebels Laurie Weeks and James Hanson are against former Rebels Shota Horie and Keita Inagaki. Horie has scored tries in both of the opening two games and has wonderful skills for a front rower, don't be surprised to see him throw a double cut-out pass or put through a grubber kick. Pat Leafa returns to the starting side this week. Pat's line out throwing can be a bit shaky but his work around the park and in the scrum is first rate. Weeks and Inagaki will be both out to impress their respective national selectors.
Ellison Vs Tatekawa
This match up should be a cracker. Tamati Ellison returns after missing last weeks game with a concussion. Although Sione Tuipulotu had a fantastic debut last week against the Reds, the Rebels will be glad to see Ellison back in the side. His defence, link play and general steadiness are a huge asset. Usually a fly half, Harumichi Tatekawa at outside center has the most runs for the Sunwolves and works well with Tusi Pisi. Look for him to run the ball into contact or use his passing game to shift it quickly outside.
TEAMS
HITO-Communications Sunwolves
1 Keita Inagaki
2 Shota Horie (c)
3 Takuma Asahara
4 Hitoshi Ono
5 Timothy Bond
6 Yoshiya Hosoda
7 Andrew Durutalo
8 Edward Quirk
9 Atshushi Hiwasa
10 Tusi Pisi
11 Mifiposeti Paea
12 Yu Tamura
13 Harumichi Tatekawa
14 Akihito Yamada
15 Riaan Vijoen
16 Takeshi Kizu
17 Masataka Mikami
18 Shinnosuke Kakinaga
19 Shinya Makabe
20 Tomas Leonardi
21 Keito Shigeno
22 Derek Carpenter
23 Yasutaka Sasakura
Melbourne Rebels
1 Toby Smith
2 Pat Leafa
3 Laurie Weeks
4 Luke Jones
5 Lopeti Timani
6 Jordie Reid
7 Sean McMahon (c)
8 Adam Thomson
9 Ben Meehan
10 Jack Debreczeni
11 Tom English
12 Mitch Inman
13 Tamati Ellison
14 Dom Shipperley
15 Jonah Placid
16 James Hanson
17 Cruze Ah Nau
18 Jamie Hagan
19 Sam Jeffries
20 Scott Fuglistaller
21 Nic Stirzaker
22 Dan Hawkins
23 Sione Tuipulotu
PREDICTION
This is a hard one to call. The Rebels might be favourites with the bookies but the Sunwolves will feel they are in with a real chance after two honourable losses and now face up against a fatigued opponent that tends not to play well overseas. The Rebels will be desperate not to become the Sunwolves first victims and will want to keep their finals chances alive.
Both teams play different styles and are both capable of scoring tries, equally, they are both just as capable of leaking tries.
Ultimately, I think the Rebels strength in the set piece and around the breakdown will give them the edge in a close one.
Rebels by five points.
MATCH DETAILS
Date: Saturday 19 March 2016
Venue: Chichibunomiya
Kick Off: 3:15pm (AEDT)
Referee: Mike Frazer
Assistants: Shuhei Kubo, Noriaki Hashimoto
TMO: Takashi Hareda
Weather Forecast: 19º, 80% chance of rain, 85% humidity