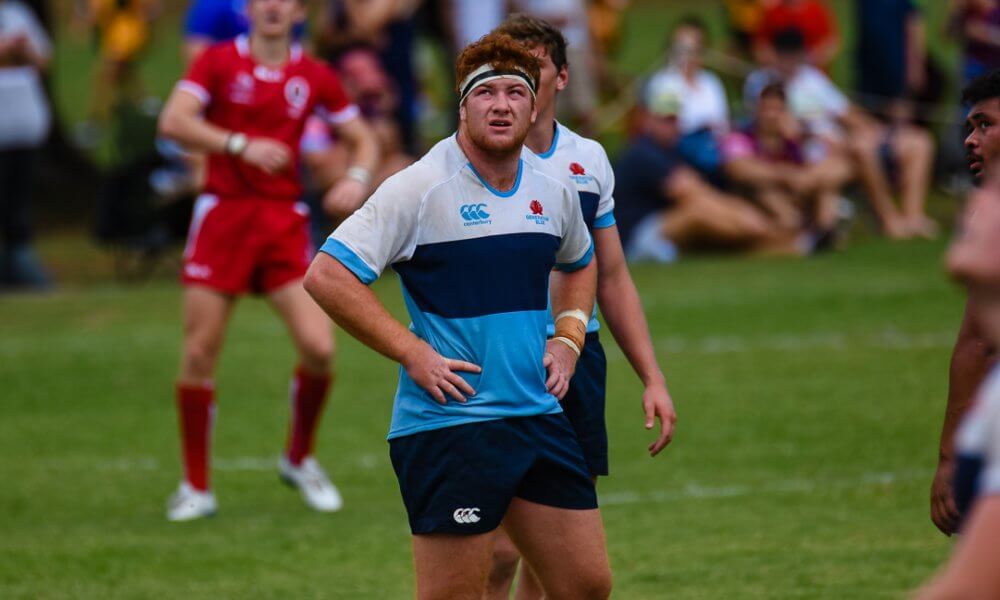 When it comes to Waratah players, few wear their heart on their sleeve as much as Harry Johnson-Holmes.
The young prop has experienced a rapid rise in Australia's system over the last few years, having been part of the NSW and Australian U20s squads, the Sydney University Shute Shield team and the NSW Country Eagles in the National Rugby Championship.
His successes led to him picking up a contract with the Waratahs this year.  Ahead of their crucial clash against the Blues, I sat down with him to talk about the Waratahs and his own progress in the game.
Transitioning into a full-time rugby role is something the twenty-one year old still pinches himself about, particularly when looking at his origins in the game.
"I started off playing rugby with my junior club in Cowra, the Cowra Eagles in Central Western New South Wales," he reminisces.
"My dad was very much involved both in the club as a player and a coach and that was the inspiration for me to give it a crack. I was playing rugby league predominantly at the time, but with the structure of country rugby I was able to play league on Saturdays and rugby union on Sundays.
"I did that for a few years before moving to Newcastle, where I started playing school games. I fell back in love with it, and started playing for Wanderers Rugby Club in Newcastle.
"I started as a breakaway, which suited my love for the tram lines and meat pies," he laughs.
"But eventually, I moved closer to the middle of the scrum."
"What I love most about the game is that there is so many little contests throughout the entire 80 minutes," he admits.
"[Rugby] takes you on a roller coaster ride, one that you can share with fifteen blokes… You go through the battles together. I think the main thing is sharing those experiences with those mates.
"I found with league it's very individual. You're always taking the ball up by yourself, it's always one-on-one tackles. There's not a lot of set piece stuff as a forward, so to speak. With union, it was more being able to actually play a contingency plan, and see those plans work when you play as a team."
Harry decided to take a chance in Sydney through the opportunity available to both study and play rugby. It was a steep progression to go from local rugby in Newcastle into the Sydney Colts program, on top of the NSW Under 20s and Australian Under 20s programs.
"I had a lot of great coaches along the way in that transition," he acknowledges.
"The likes of Darren Coleman, who coaches Warringah, he was great for me during the NRC.  Also Rob Taylor, who now coaches the Sydney University first grade team, was really important for me in terms of skill development.
"And, obviously the likes of Pat McCutcheon was very important in terms of my experience and helping me progress along, although I made a few jumps I didn't expect, from going from Colts games straight to the NRC. It really took a special coaching group to make my rugby better."
One of the biggest coaches who also helped out Harry was Simon Cron. Harry had excelled throughout the Under 20s program, earning the Dave Dennis NSW Under 20s Player of the Year Award in 2017. Cron selected him as part of the team who went to the Under 20s 2017 World Championships in Georgia.
Having Cron move into the Waratah system at the same time proved to be a big confidence booster for Harry,
"Coming into the program very young is always quite daunting," he says.
" I was very lucky enough to have Simon within the Australian Under 20s program. [Going to Georgia] was a big help in terms of getting to know him personally and finding out what kind of a coach he is. He gave me great confidence coming into the program, and knowing that we have the likes of him looking after our forwards is great because he is such a well-respected coach and is very good at what he does.
"With Daryl [Gibson], having such a great ex-player is really exciting for me.  I can really see that in the way he coaches. He always is chomping at the bit to put on the boots and get out there himself."
Harry eventually went on to make his debut against a tough Stormers outfit, a match which saw the Waratahs pick up an incredible win after the final siren.
However, the moment he is still most proud of is scoring his first ever Super Rugby try against the Queensland Reds at the SCG.
"Yeah, in the State of Origin! What an absolute fairytale!" he laughs.
"The past few times I played Queensland in the Super U20s we've always came away second best. So, it was very special to do that, at the SCG as well.
"I was just in the right place at the right time, as most try scoring props usually are," he humbly adds.
2018 has so far been a season of mixed success for the Waratahs. There are signs of definite improvement, with the team earning impressive wins against the Stormers and an in-form Rebels outfit, while also picking up a four match winning streak.
However, there have also been moments of disappointment, such as the Lions loss a fortnight ago.
For Harry, losses like that can often be more educational than winning.
"[With the Lions game] I think it was a good timing. If it was to happen, it was good time for it to happen," he shrugs.
"We had just come off the four game winning streak, and feeling pretty good about our game. Really, when that happens it might give you a false sense of security and and you might think you'll be getting away with it.  To have that loss early on in the season was a good reality check.
"There is lot of potential still left in the team…  It's all about building on what we've got at the moment. We're showing some real glimpses of greatness and our true potential at the moment. It's about putting together structures and systems, so that we can do that for the full 80 minutes and not just 20 minutes at a time.
"Everyone knows the against the likes of the New Zealand outfits, that's not going to cut it. We're completely aware of that and we're just looking at making sure as a group we start being more consistent."
The Waratahs have a great opportunity to make a statement when they play the Blues at Brookvale Oval on Saturday. Critics, fans and even rugby journalists are always quick to remind players of the dominance of the Kiwi sides.
But for Harry, it's not constructive to focus on their record and overthink it.
"We have to keep our focus in the present," he says positively.
"The whole record of the New Zealand teams against opposition isn't really fazing us; we're just focusing on making sure that we can be effective on the night to get that win, that we stick to our strengths and nullify their strengths.
"We've got the calibre of players, we've got in the combinations. That's really going to be the best way to show Super Rugby what we are capable of and that we are able to play against the best in the competition."
The Waratahs will take on the Blues at Brookvale Oval on Saturday 5th May at 7:45pm.