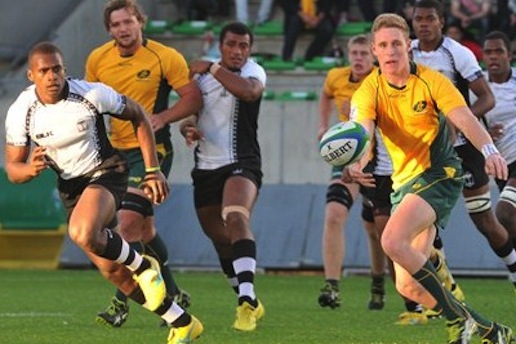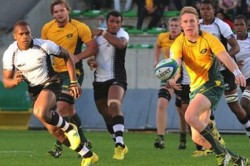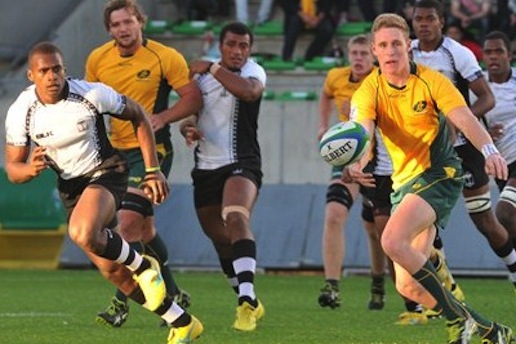 The Australian Under 20's team have deservedly recorded their first win of the IRB Junior World Championships with a strong 46-12 victory over Fiji.
After two narrow losses and after a particularly hard-fought game against New Zealand, the young men in green and gold were ecstatic with the good win.
The young Australian side showed good defence in the opening minutes when Fiji had the majority of the possession.
After some good team work and skilful passing from the backline, Reece Hodge bounced back from his near-miss penalty with a try in the tenth minute.
Fiji reacted quickly to Australia's early lead, with winger Mosese Qionimacawa scoring Fiji's first try of the tournament just minutes later.
Overall, Australia competed well with the sheer size of Fiji's forward pack and had an effective driving maul that gained them much-needed territory at crucial times throughout.
Numerous offsides and handling errors from Fiji throughout the game proved to work in Australia's favour as territory was gained and tries were scored as a result of awarded penalties.
A Fijian lock was sin binned in the 27th minute and this particular awarded penalty was the turning point for Australia as captain Curtis Browning scored a five-pointer to extend the lead to 10-5.
The final 10 minutes of the first half confirmed a bonus point for Australia, with two skilful tries awarded to Mark Baldwin and Brad Lacey.
The Australian forward pack's pressure to the Fijian line-out and scrum forced several turnovers throughout the second half which contributed to the large amount of gameplay in Australia's territory in the second half.
The 50th-65th minutes saw a breakthrough in Fiji's defence and Australia found it difficult to gain ground and score points. Fiji also scored their second try of both the match and tournament during this time as well.
Despite the 46-12 margin in the 70th minute, Fiji still showcased some good attack by making some headway towards their line but ultimately Australia's superior defence stopped them in their tracks.
This game was the ultimate consolation prize for Australia. After narrow, hard-fought losses to both Ireland and New Zealand, Australia truly stepped up and demonstrated their true potential.
Coach Adrian Thompson was proud of his team's efforts "the boys played so well against New Zealand and we came so close (14-10) so this game has shown that our hard work has paid off".
Next week Australia will be playing for two more games in a bid to gain 5th place which will be a vast improvement after last year's 8th placing.