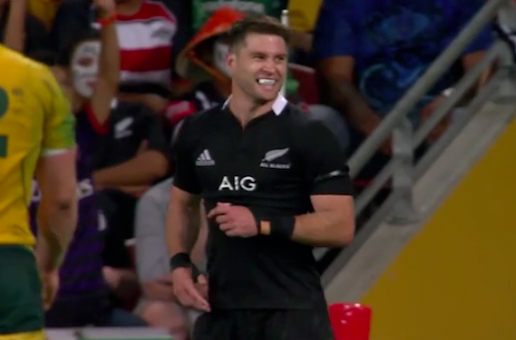 Yesterday I posted an article discussing the Cory Jane no-try from the weekend and suggested that according to what we can read in the IRB laws, Jane may well have had a closer claim on a try than we all thought (unless you're a kiwi, or deluded). There was some great discussion and I think it gave most of us a bit of a head-scratch.
Thanks to John Christophersen, a Brisbane Premier grade referee, we can all sleep a little easier. John sent us a copy of  Line Ball Your Call – a guide to assist in making line ball decisions (reprinted by the ARU in 2004 – download here as a 3MB PDF). This is a helpful little booklet — although maybe not that helpful, in that it seems that only refs have or know where to find these things.
Anyhoo, here's the scenario in said booklet that seems to answer our question:
So there you go; Jane was in touch when he finally jumped up and caught the ball over the touchline, so it was in touch.
For those who thought his juggling of the ball prior to that was a problem, get a load of scenario 6 below: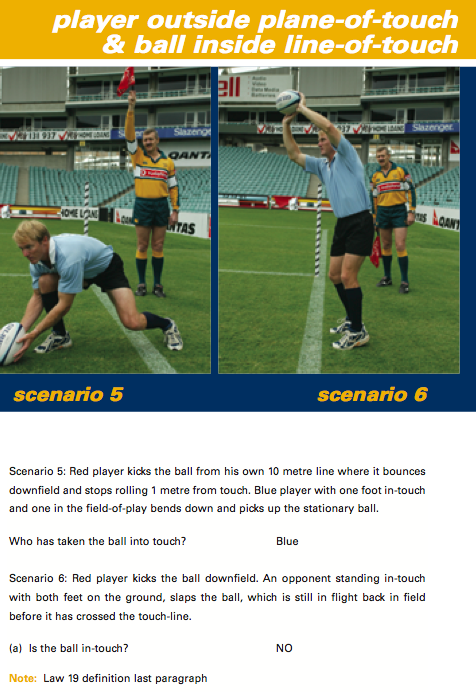 So until the final sequence, Cory was quite all right.
So I think that's all perfectly clear, then….