I think we can all almost feel it. The sweet release of getting into test rugby. This year: the Irish. Sell outs already (in more ways than one?). So, a few thoughts:
1) The Irish are worried
Here's the schedule for the top Irish players: A Lions tour; A full season of league and European rugby (Leinster won the whole thing); Then a whole year of continuous rugby, with November tour, and Six Nations, then a World Cup.
Jonny Sexton, Conor Murray et al had to have a break, and everybody thought it'd be in June 2018. But it isn't. A lot of ways to read this, but it's hard not to see this as Joe Schmidt worried that the momentum might be lost against the Pakistan of rugby: and Australian team with a few stars but dangerous at any time. Take note.
2) This will be the least experienced Australian team named in the pro era
Word came through last week that Michael Cheika had gathered 18 "senior players" to work on plans for 2018. You know, 5 or 6 are really senior players… 18 tells us that everyone bar 18 will be rookies or guys with under a year of test rugby. A squad of 30? 40% will be green. This will be an incredibly inexperienced group, which is a major cause for concern.
3) Last lessons first
It's a psychological bias: the last things you learn stick with you. In this case, what Michael Cheika will have seen last week is two things. First, Aussie teams struggling to position themselves in kicking battles with NZ teams. And second, Aussie 9s again kicking way below international standard. The Waratahs were 14-0 up when Nick Phipps decided to kick out on the full and get charged down in consecutive exits. Ben Lucas offered much the same. Oh for Nic White…
4) Izack Rodda
Can we take a moment to talk about how awesome Isack Rodda is? Everything he does shows a commitment to quality. He's already a leader in the Queensland pack, with a low error rate, super physical, and strong in all the technical areas. His partnership with Adam Coleman will be key this year. Rugby Australia should offer him a four year deal right now. Pure class. The difference between Rodda and Rob Simmons is the same as the difference between Simmons and me.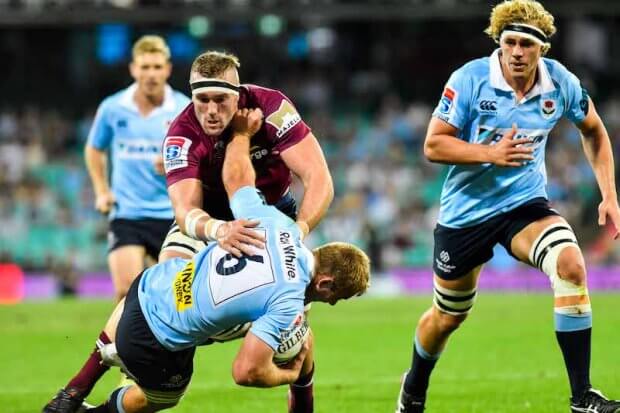 5) Bolters
As seen above, there are going to be a lot of them. At hooker, Michael Cheika will have to pick three of about 6 guys… and it really could be any three. And at 6 and 8, the stocks are thread bare. I've just bought some new boots in anticipation of the call up. But it'll be fascinating to see where he goes.
Caleb Timu looked useful in the outer channels earlier in the year, and with David Pocock better within the 15s, that might work out for him. Lopeti Timani hasn't produced this year, but has some experience in the set up. There are so many other long bets in this space.
The stage is set for a true out and out bolter – maybe not a Steve Merrick – but something close to it. Cheika might like Jed Holloway's pace out wide coupled with lineout ability; he might fancy Angus Scott-Young's physiciality; he might like the understated form of Michael Wells. None of them are great choices, but he has to pick someone. It'll be telling to see who.
It wouldn't be a huge surprise to see a guy with fewer than ten Super Rugby caps, or a guy who isn't first choice at his province (Izaia Perese) get a call up.
6) We have to research our refs
The Waratahs and Reds both played New Zealand oppositions over the weekend and lost. Both matches were winnable. As the last fifteen minutes loomed, neither played the ref.
Glen Jackson calls fewer penalties than any other Super Rugby ref. He's from the school where if you let the teams play, and don't make the calls that define the match, then you're doing your job. That means as you enter those key minutes, you want to be leading, not chasing. Choosing to kick two penalties for offences within the 5 metres… that isn't really going to help. You need to be leading going down the stretch. Sure enough, Glen didn't call much the last 15 minutes and that made a huge difference on the game. Some of those non-calls were awful… but the difference is that the Chiefs were well placed to ride that out, and the Tahs weren't.
Much the same picture for the Reds. Rasta Rashivenge is a great, technical ref. He's by the book. So at 15-15, the Highlanders simply looked to go through the phases, over and over, looking for a penalty, and sure enough, they got one. The Reds looked like they wanted to defend their way out of the key minutes… but with Rasta, that's a long-odds bet. Know your ref.
More generally, the refs simply aren't policing certain areas at all, and the Wallabies should know that. First, chasers in front of the box kick… it's like ARs aren't even looking. Second, lineout jumpers forming mauls being the first to take contact… Ditto. The refs just don't care: lifters are slipping right in front of the jumper, taking contact, and making it all but impossible to sack the maul. That means: maul.
Finally, refs are still – after twenty-five years of pro rugby – reluctant to card offences deep in a team's territory when they're not getting back onside. The Tahs got two second half penalties, on the break, within 5 metres of the opponents' line. On one, Kurtley Beale was ruled to have passed it forward out wide (a pretty iffy call, really) over an offside player. A good ref would think contextually: the opposition is deliberately trying to close the space down to stop a try being scored, and merit a yellow card. Glen Jackson, being "no call" Glen, didn't see this on either occasion, and plenty of refs don't either.
One of the best calls in recent years came from Craig Joubert about five years ago early on in a match. He saw a tackler flopping on a tackled player, from a break away, about two metres out, slowing the play down. He pulled out a yellow, and said "It doesn't matter if it's the second minute or the seventy-second". We desperately need refs to be attuned to players killing the play so as to reward the teams that try to play. NZ rugby is living off this reluctance to enforce the law right now.
The Wallabies can do two big things to manage these issues. First, they should make David Pocock captain. The refs respect him. That goes a long way. Ask Richie. Second, they should research the refs, and play accordingly. Rasta refs nothing like Glen does. And in the last phase of the game, they know that all refs are under the same instructions: "only call what is clear and obvious". The trend is towards a non-call. So, play the ref.
7) Experience
We're back to this. 18 players consulted. Out of 30 plus. That tells you Cheika will want experienced heads one year out from the World Cup. Remember 2015 when he brought back Drew Mitchell, Matt Giteau, and Dean Mumm… There's a pattern. You can't develop kids without old heads.
Jono Lance is super unloved. Wasn't loved at the Reds, or the Tahs, or the Force, where Kepler Wessels preferred Peter Grant, or the Rebels, where he was released. He's never going to be the starting 10 for the Wallabies, but he fills a role at a position where we are paper thin.
Another possible (old head, not flyhalf) is Kane Douglas. Super physical, gets the job done, reliable. And just adds to the "been there done that" quotient. Certainly better than the ineffective Sam Carter and the variable Rory Arnold… not to mention Rob Simmons.
The other guy here is Scott Higginbotham. What can we say? An outstanding athelete. Fast up in the lineout. Real pace. Creative. Inspirational. How many coaches have lost their hair trying to get Scott to perform consistently? No sooner does he go up as an A level lineout option than he presents the ball clumsily, one-handed, to the ripper. That's Scott.
But if anyone can get him together, it's Cheika. They need to head to a bar with a bottle of tequila to work out how to mainline what Scott can offer.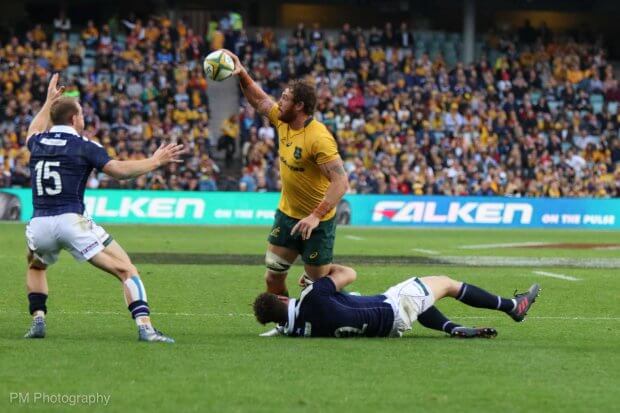 8) We're still a chance- if we play smart
Ireland are the ultimate smart team in world rugby. Few players and resources. Great coaching. Smart play all the time. We probably can't expect that from Australia – but we can hope to at least be more competitive. The scrum with Taniela Tupou and Sekope Kepu at 3 should be a problem. Israel Folau is hitting form again. David Pocock will be a nightmare.
But we still need to be smart: vary the pace of the game; scrum and maul for penalties; kick said penalties; and, above all, as all of you who have read me will know by now, Do what the opposition doesn't want you to do. Ireland love structure, and are terrible at responding to unforeseen events. So: keep the ball alive, use forwards as ball players, throw the back three into the attack in midfield at all times, and be ever, ever unpredictable.
Also, pray for my friend Alex, who is engaged to an Irish lass. This could be key in securing the spawn's fidelity/future eligibility, so let's hope the men in gold deliver.