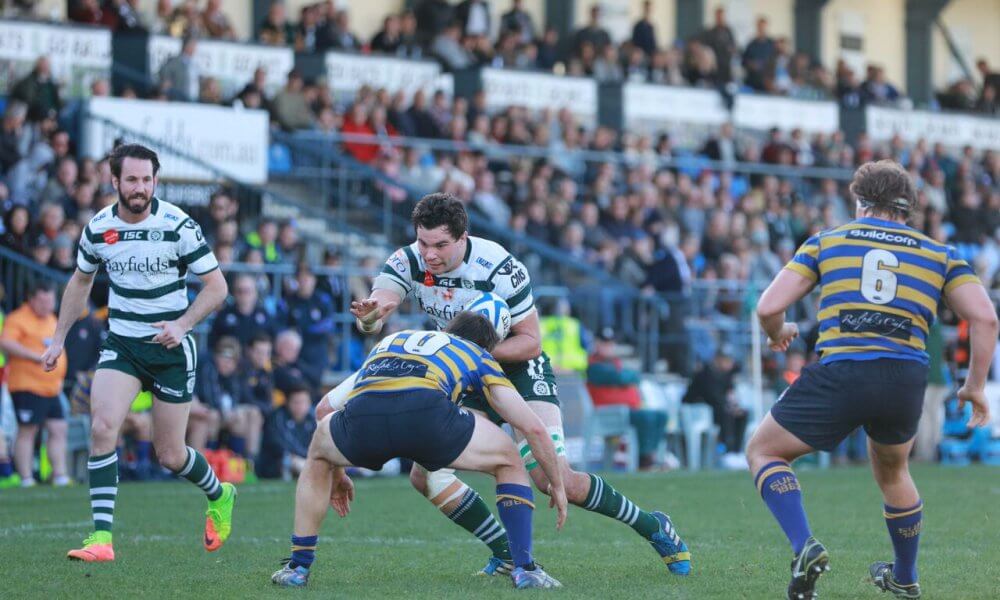 Expect plenty of fireworks this weekend in the Intrust Super Shute Shield. With only two rounds of the regular season left, many clubs seasons will be on the line this weekend.
The Table
The Previews
FREE-TO-AIR BROADCAST MATCH: WARRINGAH VS. MANLY, PITTWATER RUGBY PARK, KICK OFF: SATURDAY 3:10PM, 22ND JULY 2017, LIVE ON 7TWO IN NSW AND THE ACT FROM 3:00PM, REPLAY IN QLD. 
Yeah, with all due respect to the other matches on this weekend, let's be frank: this is the match of the round, hands down. First vs second. Battle of the Beach. Potential top of the table finish on the line. This is what Shute Shield is all about! And good thing it's on 7TWO so we can watch it!
Warringah haven't lost since round seven, at the start of May this year. They are on flying form! But, particularly the last few rounds, they have been playing a whole other level of rugby. It's easy to forget what a tough year it has been for the club, but they are determined as all hell to turn that around, if their performances have been anything to go by. They will be dangerous, and they will certainly lift for this match.
As for the Marlins, they know what's at stake this weekend. They have seen their lead at the top of the table get slashed in half over the last fortnight, and if they lose here it could prove huge in the context of their season. They have not been playing their best rugby, but if there is any match to galvanise them, it's this one. Nothing gets better that the bragging rights for the beach, so they will be pumped to get revenge on the team who beat them at home for the first time in a decade last time. Check out the highlights of that game here:
Prediction: It's the battle of the beach, and probably the biggest game of the Shute Shield outside of the Grand Final. You have to watch this one. I'm expecting a tight arm wrestle but I think the Rats are going to bring it home. Warringah by 7. 
Gordon vs. Randwick, Chatswood Oval, KICK OFF: 3:00PM
The Highlanders have been playing some good footy the last few weeks, but they were blown off the field by a ruthless Northern Suburbs side last week. It was the first time in a while they were comprehensively beaten. That being said, they still played some good footy, and I reckon they may prove a handful here. Finishing off their season with three home games, Gordon will want to try and at least get some wins in this time, and who better to do so than against third place?
But yeah, the Randwick boys will be pumped to get a big win here. With first and second fighting it out, should Warringah lose the Gallopping Greens will jump up to second if they win here, and will be a legitmate contender to take down Manly. This is a match they can't afford to drop, particularly with a dangerous Southern Districts side only just behind them on the table.
Prediction: Gordon are always a handful at home, but I think the Wicks are a step up too far for the Highlanders. I think Randwick should take this one. Randwick by 10. 
Southern Districts vs. Penrith, Forshaw Rugby Park, KICK OFF: 3:00PM
Oh god. Yeah, I don't see how this is going to go any other way. The Rebels are in flying form, and you don't knock over Manly for nothing. They're going to want to win big here.
However, in all respect to the Emus, while they haven't got any wins they have proved a handful over the last few weeks for Gordon, Parramatta, an in-form West Harbour side and even for Warringah in the second half of their game. But this match will probably be a good indication of how far they have come this year. It'll probably come down to how small the points margin is by which they lose, but hey, they've been playing good rugby the last few matches.
Prediction: Yeah, this is a foregone conclusion. With all respect to Penrith, it's going to be a long eighty minutes against a side in as good a form as this Southern Districts outfit. Southern Districts by 40 or more. 
Parramatta vs. Northern Suburbs, Merrylands RSL Rugby Park, Kick-Off: 3:00pm
The Two Blues, aside from their close win against Penrith a fortnight ago, haven't been at the best the last few rounds, and it was pretty much a bloodbath when they headed over to play Randwick last weekend. They always do show more fight at home, and I hope that, with nothing to play for except pride, they can put in a good performance to finish the season off on a high. These guys can play footy, but their form shows how much confidence and a mental edge matters to a rugby team.
The Shoremen FINALLY showed the form are capable of last week when they put fifty past Gordon. Despite not playing their best footy, they are still sitting in the top six, but if they play like they did last week again, expect them to make a sharp climb up the table in the last few rounds. They will sense another big victory here, and I think they're gonna get it.
Prediction: Sorry Parra fans, it's gonna be another long day for you guys. Northern Suburbs by 15. 
Sydney University vs. Eastwood, Sydney University Football Ground, Kick Off: 3:00pm
The Students have been hanging on the edge of the top six for a while now, but have started to look dangerous again. While they didn't get the win against Warringah last week, they did prove to be more than a handful, and produced a good performance that will hopefully do much for their confidence. To play up against an out-of-sorts Eastwood side that is clinging onto it's top six position, it's an opportunity the Students can't miss. This match will define their season. It's now or never.
As for the Woodies, the same goes for them. Confidence has been at rock bottom for the club until last week, when they put on a good performance against a tricky Eastern Suburbs side. If they can do that again this week they will be in with a shot to win this one. They have the talent and the firepower to do it, it really depends on if they turn up. If they don't, they could see themselves losing their finals position.
Prediction: It's a do-or-die clash for both sides this weekend. I reckon, however, with homeground advantage and the better recent form, the Students will take it. Sydney University by 5. 
Eastern Suburbs vs. West Harbour, McKay Oval – Centennial Park, Kick Off: 3:00pm
The Beasties haven't actually been playing that bad this year. They've always been competitive, such as with their close match against Manly a few weeks ago, but they haven't been able to get the wins. With their season all about pride now, they will sniff an opportunity here to derail Wests finals campaign, while also giving the Easts faithful something to cheer about.
Wests are currently on a impressive four match winning streak, and haven't lost since early June. They've timed their run to the finals late, but they are still in with a chance to make it, as long as they keep winning every game. For them, their confidence has been growing with every match, and it'll do much for them to get that fifth win in a row. Put in a big performance here, and they'll get home. Lose, and (permitting other results) their season is effectively over.
Prediction: I reckon this is going to be another tight one. Easts have got some fight in them, and have the firepower to take the game, but I reckon Wests are going to want it more. West Harbour by 4.