Welcome to Hump Day fellow G&GRs. A day when we can start leaving the despair of the weekend behind us and start building up the hope and anticipation of the weekend coming. Or can we? With the plays that went on last weekend do any of us really have any expectation of a change this coming weekend? It seems to me that we've been spending a lot of time hoping for some positive changes, dreaming of wins we should actually expect but ever more falling further and further into the despair of having our expectations dashed yet again. As a Kiwi with the Wallabies my No 2 team I used to at least be happy that my No 1 team would be OK, but, now I'm experiencing what you've all had for the last 8 or more years and, like Piglet, I'm tired of it too. Let's look at a couple of things we all know but wish we didn't.
McKellar confirms that actually it is OK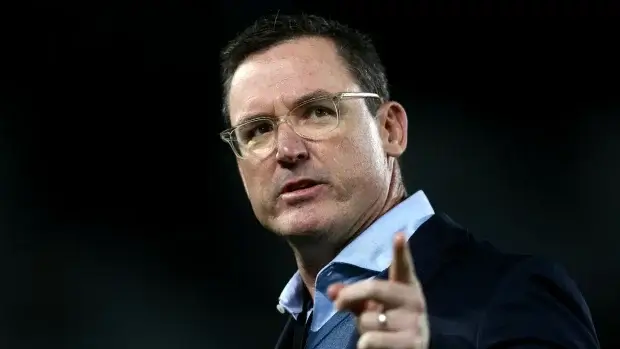 Tom Decent in SMH here reports that McKellar doesn't believe it is all bad. Yes the team "let the country down" he says. The team knows the criticism being directed at them and isn't happy with the result either. "I don't think I've been in a more disappointed dressing shed than Saturday afternoon in Florence." he continued. Apparently the players who didn't get on the field and the staff were "all shattered" after losing to Italy.
Stirling Mortlock who captained Australia in the 2007 World Cup (beaten in the Qtr finals by England) stated "There is no way that we are going to win the World Cup next year. We are no chance of doing that," Furthermore he believes that the result against Italy is "…not a blip. It was a trainwreck.".
McKellar acknowledged that this was Mortlock's opinion and was gracious enough to admit that "Everyone's got one. He's allowed one," However he also said that the 33 players who will be picked to go to France are certainly good enough to win that trophy. He further said the coaching staff are on the same page and determined to improve the sides 33% (yep 33%) win record with wins over Ireland and Wales. McKellar believes the coaches are a tight group and has been impressed at how calm and composed Dave Rennie has been despite the issues the Wallabies face. On the selections he reiterated that "Dave doesn't pick the team on his own. There's a whole lot of others than carry responsibility around selection." and that the selections were partly because of the need to develop players and that picking "the same 15 [players] week after week would be irresponsible"
Now to be fair, there's a lot of truth in some of his comments. But, sorry, the facts actually don't back up a lot of what he's saying. Sure it's irresponsible to pick the same players week after week. Almost as irresponsible as developing a 10 by playing a guy for a few weeks, publicly lambasting him, leaving him weeks without games, then throwing him into a team with a forward pack that doesn't compete, a half that sprays the ball worse than a sprinkler and then backing that up with bringing on a player in his first game with only 5 minutes to show himself.
I think the main problem with Lolesio is that he's now so scared of failure that he's too afraid to play his game. Every time he gets the ball he's more concerned about doing wrong and being hung out to dry for it than he is of just playing his natural game. As for beating Ireland and Wales – well, good luck McKellar but with the coaching and selection we've seen so far this year my money's not going on that.
Where are the Wallabies going?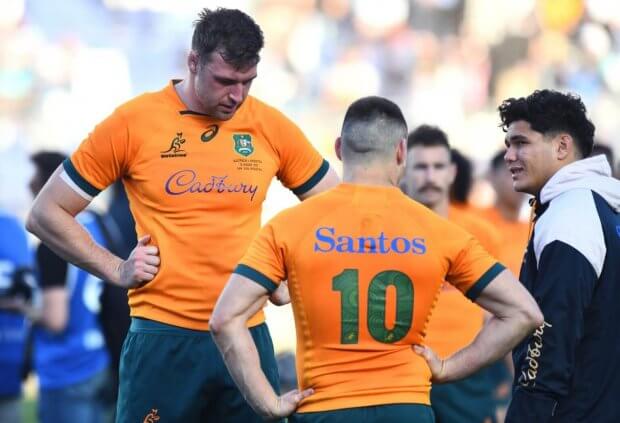 That other site occasionally does put out some good stuff and here Brett McKay writes a nice summary about the damage being done by the Wallabies to themselves.
He's concerned about the direction the Wallabies are going saying "We've all seen disappointing performances from this Wallabies playing group, but that maiden loss to Italy was comfortably the worst I've seen under coach Dave Rennie. It was listless, it was ill-disciplined, it was poorly conceived and selected and then executed, it lacked direction and even the slightest hint of clear thought, and in the end it represented a complete failure across the touring squad." To be honest I couldn't sum that performance up any better. So many players seemed to be just not in the right space to play test rugby.
Now, as OLSL said yesterday maybe the issue is that they are just too tired from a long season. When you look at it: Super Rugby Pasific, June internationals, Rugby Championship and now this tour. And that cycle has been going on and on for a few years without a lot of rest for the top guys. Maybe that's part of the issue, I don't really know. But what I do know is that the performances by this team under Dave Rennie haven't been to the standard I expected or that I'm happy to accept.
As Brett further states "There was nothing from this performance to take to Dublin this week" and asked the question "When do the coaching staff conclude they're trying to implement a game plan that the players have repeatedly shown themselves incapable of following?"
Here, I'm agreeing with Hoss that the results are systematic failure that can't be allowed to continue. Is it completely Dave Rennie's fault that the results are so bad? Well actually YES IT IS! He's the head coach. Sure, he has a team of assistant coaches around him, and dieticians, physios, doctors, baggage boys, condition trainers – and god knows what else, but when you're the boss the responsibility stops with you. He's actually demonstrating that he can't take this team forward, that he hasn't got the ability to react with them in a way that gets them to stop giving away stupid penalties, stop passing or offloading to a team mate in a worse position when under pressure, stop playing away from possible support and leaving themselves open to turnovers, commit to an attacking breakdown or offer some sort of cleanup support, stop conceding a turnover almost half the time they take the ball into a tackle.
I guess we'll see at the end of year review if RA can see anything that I can't in all of this.
Who's not hot?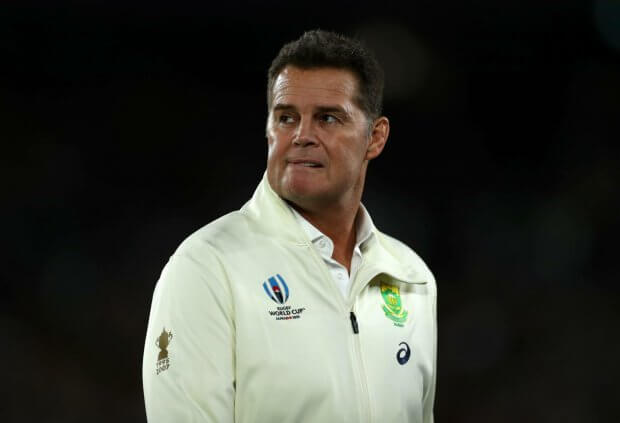 The weekly Planet Rugby Who's Hot and Who's Not shown here rightly criticises that twat Erasmus for his continuing campaign to prove he's the smartest guy around when it comes to watching rugby. Noting that the d!ckhead he's now gone for a more subtle approach with a perceived heartfelt caption while continuing his criticism of referees and highlighting supposed mistakes they have made, especially when his team loses – happening a bit now, too.
Now Planet Rugby is all for "accountability and fair decisions" (I presume from referees as South African coaches and directors of rugby apparently have none) but suggests that he's walking a tightrope and that World Rugby will have to address this if it continues noting that "It's surely time for him to grow up as it's embarrassing now."
Obviously, as a totally one-eyed referee, I'm of the opinion that World Rugby should have sanctioned him last week, let alone allowed him to stay and continue this week. Some on twitter appear to agree and are responding to this as well with Tim Percival saying here "If you want to see the result of the poison that Rassie Erasmus' video injected into the veins of rugby discourse, just take a look at rugby twitter now." Of course the tweet is followed by a load of comments from other South Africa fans complaining about the referee, poor tackles, the wetness of water and everything else that caused the Boks to lose against France – except of course that fact that they weren't good enough.
While I agree that World Rugby needs to look at how they can make it easier to understand referees' decisions and do a lot more to explain why decisions were made so that, even if people disagree, they'll at least understand what a referee may have been thinking of or seeing while such a decision was made. And while I think they also need to be a lot more transparent about the selection of referees and the way they are reviewed after a game, this sort of behaviour is doing the game damage that will take a long time to get over. Players, supporters and other coaches are now going away from what has been a tenet for the 57 odd years I've been involved in the game: respect the referee's calls. Sure we get it wrong at times. Players do so why would we not? Players make mistakes that cost games a lot more than referees do but yes at times we do. The game is too dynamic for perfection and it's something we need to live with and embrace, not run away from.
But regardless of all this World Rugby needs to absolutely find a way to shut this man up. SA fans have obviously taken the lack of a response to mean that in some weird way WR must agree with him and so are being more and more vocal about perceived injustices their precious pumpkins apparently receive on the field. All this is just driving a wedge between the supporters and I think is taking rugby down a dark place.
My only consolation is that the comments are making referees angry and I think that SA will find less and less of the 50/50 calls going their way in future games. I don't think this will be a conscious bias, as that is actually harder to do than you might think, but when something occurs that could be seen two ways the chance of it going South Africa's way will become more and more unlikely.
Is all the fault at the Wallabies?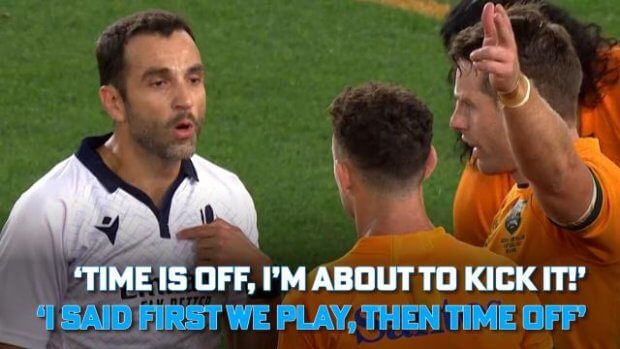 These last few weeks years have been tough. The Wallaby standings have gone up and down the world rankings like a yo-yo on a weak string, bouncing occasionally but always falling back down. There are issues on discipline, tactics, abilities, basic skills and attitudes. Injuries have meant that teams have inevitably not been the one most would want on the field. The team will show glimpses of magic but fail to deliver this either constantly or when required.
We constantly hear about how well the players train and how well they contribute to meetings, but somehow none of this translates to good performances on the field.
The development of players to build depth has been so poor that we are constantly bringing back players past their prime who do well for short periods but then get injured (probably because like me they're too old) or revert to some of the poor play they did when they were last selected, or look good in one area of the game but fail in so many others.
Quite rightly a lot of criticism for this has gone onto the current coaching team. I'm guilty of that and I stand by my accusations that I think they're failing.
BUT! Is it all their fault? Rugby players, coaches, referee and administrators in Australia come up through pathways that haven't changed that much since players left Randwick one week and played for the Wallabies the next.
While there's an absolutely critical place for club rugby here the lack of a pathway that delivers players with skills, confidence, rugby smarts and a good culture into the Super Rugby teams, and then into the Wallabies seems to be missing. Those players not pinched by the NRL or AFL are protected beasts that get special treatment all the way through. Unfortunately, as we have learnt in the army, you need people to suffer adversity so that they can develop resilience to overcome the tough times that will happen.
When rugby went professional the governance and administration of the game here remained under the same umbrella that it did when the game was amateur. The only real change was the money available to pay players and then be wasted by the governing body on ill-conceived and failed experiments with league players and overstretch of resources.
I could go on but it's late and this post needs to go out. I don't see anything improving much at the top until the base that supports it undergoes a complete review and change. Unfortunately I can't see the egoes of those running this organisation allowing that to happen and I think we have further years of hardship in front of us.