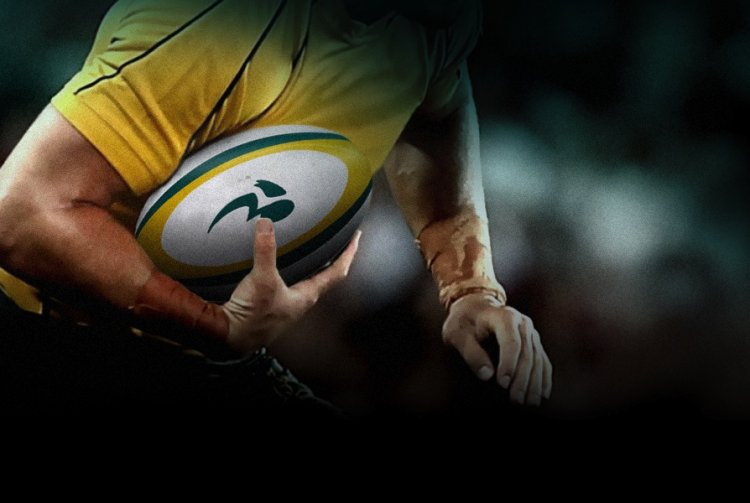 Ok, so we are a little out of order here as the 84 Grand Slammers played Scotland last, whereas this year's lot play them in the penultimate test on tour.  But change is good,
so let's work with it. This next try is one of my all time favourites, so let's get into it.
Enjoy the full highlights, and there are many in this game – Slack's pass to Campo's first try is a ripper; Mark Ella's try, for his own Grand Slam of tries, was special; Nick Farr-Jones's snipe down the front of the lineout;  but I love this try. So make your way to the 5:28 mark. The match and the Grand Slam are well in the bag at 31-12 so the Wallabies are certainly enjoying themselves. So enjoy this try:
[youtube]http://www.youtube.com/watch?v=xXyWYXOLPRE[/youtube]
It all begins with Roger Gould [15] putting in one of his booming punts down field, which lands just inside the field of play. The Scottish fullback, Peter Dodds, fields it well enough and returns serve.  Gould catches the kick and passes it straight outside the David Campese [11] and it looks like there is space out wide. However Dodds and Jim Calder [6] are putting pressure on him so he kicks down field. It isn't a great kick as it is to the openside and does put the Wallabies under some pressure.
The Scottish 12, Alexander Kennedy, retrieves the kick and decides to counter. A good decision as he doesn't have much gold in front of him and has Peter Steven [14], John Beattie [8], Keith Robertson [13] and his skipper Roy Laidlaw [9] in support. Kennedy manages to step inside the chasing Peter Grigg [14] and outpaces Michael Lynagh [12]. Now Gavin Baird [11] and John Jeffrey [7] appear in support. In fact there are blue jerseys coming from everywhere!
Kennedy is able to draw Gould and passes to his outside to his tight head prop Iain Milne [3], who decides to catch and pass as Nick Farr-Jones [9] stands in front and he has PLENTY of support. Except…. here comes Grigg, back into play, running towards his own try line to snag the intercept.  Milne actually doesn't seem to be passing to anyone in particular, and Grigg appears and nonchalantly taps the ball back to himself to secure possession, and possibly make up for his missed tackle.
Still running 'backwards' he passes on the Mark Ella [10] who is beginning to loop infield.  Still running backwards, or laterally at best, Ella looks wide and delivers to Campo on his own 22, with the Bird Steve Tynman [8] outside. This situation is made for Campo and watch the lines he runs to draw in the defenders. A quick in and away commits one Scot as Campo off loads to Bird in support. Campo doesn't allow himself to be taken out of the play though and fights to stay on his feet to support Tynman and to stay in the game.
Tynman just runs the right line to keep the cover committed to him, all the time with the ball in two hands. This makes it easier for him to them pop the ball then back inside to Campo, in the tackle of who I think is Douglas Whyllie [10]. And then it is all Campo as only Beattie is chasing. Watch him use the side line to absolute perfection.
Just beautiful. Whilst the match would represent the culmination in one of the most significant and joyous moments in Australian Rugby, it would also be one of its most disappointing. The game would be Mark Ella's last in Wallaby colours at age, 25, where he could have conceivably gone on for another 7 years. Imagine him in that 1986 Bledisloe team? The 1987 World Cup team? Even stretching it out to the 1989 British & Irish Lions series in which he could have mentored the teenage Timmy Horan sitting on the bench.  As it turned out Ella was the James Dean of rugby, leaving us too early but with some amazing memories.
Match Details:
Scotland v Australia
Murrayfield Stadium, Edinburgh
8 December, 1984
Wallabies: Roger Gould, Peter Grigg, Andrew Slack [c], Michael Lynagh, David Campese, Mark Ella, Nick Farr-Jones, Steve Tuynman, Simon Poidevin, David Codey, Steve Cutler, Stephen Williams, Enrique Rodrigez, Tom Lawton, Andy McIntyre.
Scotland:Peter Dodds, Peter Steven, Keith Robertson, Alexander Kennedy, Gavin Baird, Douglas Whyllie, Roy Laidlaw [c], John Beattie, John Jeffrey, Jim Calder, Alan Tomes, Bill Cuthbertson, Iain Milne, Colin Deans, Alexander MacKenzie.
Australia 37 (David Campese 2, Mark Ella, Nick Farr-Jones tries; Michael Lynagh 3 conv, 5 pg) defeated Scotland 12 (Peter Dodds 4 pg)