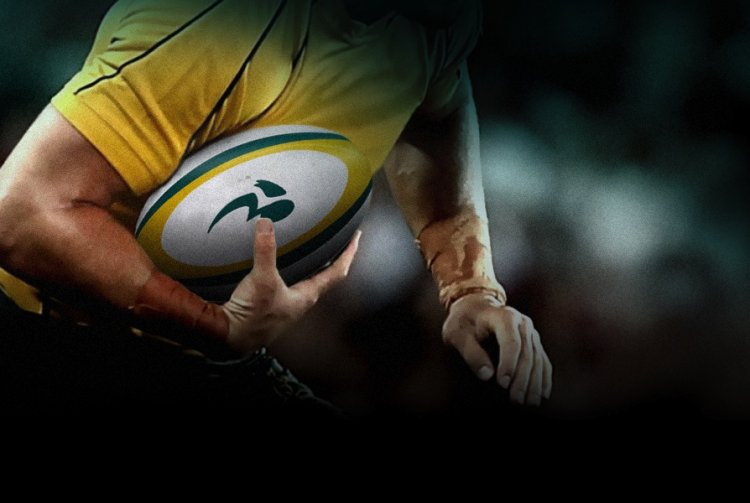 The first half of this game was scrappy as both teams seemed to push to hard to turn position into points. Drop goal attempts went wide and the score at the break was all tied up at three apiece. Not too long after the kick off to the second half, we eventually find ourselves (as in the Wallabies) with a scrum 5m out from the try line in a great position. To see how we got into this position, check out the video below from about 2:36 to see the class that is Brendan Moon.
Anyway, as we would see latter in the tour, the 1984 scrum was very strong with big boppers up front. Enrique "The Mole" Rodriguez [1], Tommy "The Turtle" Lawton [2] and Andy "no animal nickname" McIntyre [3] were the muscle, with two man mountains Steves, Williams [4] and Cutler [5], bringing weight from behind.
So the Wallaby backline were pretty confident of getting decent ball. Which they did at about 2:55 on the below video. Scrumhalf Nick Farr-Jones [9] again gives a master class in passing from the ground with a beautiful ball to Mark Ella [10]. Ella dishes off immediately to his inside centre Michael Lynagh [12] and wraps – close and flat! Now the move is called "leaguie" and was meant to involve a pass behind the outside centre to Roger Gould coming back on the angle and using his size and strength to catch the defenders off guard. However Ella's ability to think on the go made the try.
Firstly we see Wallaby captain Andrew Slack [13] angle run and draw/commit (take out?) some defence. The English defender Lozowski [13] has his eyes on Ella but is committed to his drift defence and moving towards Gould. Expecting the pass to come from Ella Losowski moves forward out of the line to pressure Gould. Meanwhile the inside defence has been drawn in by, firstly, the loop with Michael Lynagh and, secondly, the angle of the Slack run. Thus the gap opens up for Ella who is able to straighten and beat a tackle of Lozowski and cross the line in the cover tackle of Butcher [8].
This try would set the scene for the rest of the test series. A strong Wallaby scrum, crisp passing, a well executed game plan and some Mark Ella brilliance.
[youtube]http://www.youtube.com/watch?v=bQLL9se9ay0[/youtube]
And now, especially for our loyal G&GR readers, a BONUS episode of the try analysis.
Firstly, keep watching the video above after the Ella try, to see another variation on the "leaguie" move. Just keeping things simple, with basic variations.
Anyway, onto about 3:38 on the above video. It is obviously the same half, and the Wallabies are up 9-3. As maul ball 20m out from the Aussie try line, comes loose, Farr-Jones clears to Ella. Once again, watch for Farr-Jones staying low to the ground throughout the pass. Beautiful. Once again, Ella's first move is simple. Catch, pass and follow.
Lynagh runs sideways to the right, however Slack runs the inside line as a dummy runner and is able to commit some of the covering defenders. Lynagh's sleight of hand is special in that he is able to dummy inside to Slack behind his hip, away from the Englishmen, drawing the defense, but still spreading the ball wide to a straightening Roger Gould.
Gould has the replacement winger (for Brendan Moon) Matt Burke (no, the other one) outside him, but Lozowski and Rory Underwood [11] from England in front. Lynagh wasn't tackled so stays alive following. Gould angles outside the English 13 is able to draw the Underwood to pass to Burke. The English fullback, Stringer [15], is flying across in defense, whilst Gould has all but taken Lozowski and Underwood out of play.
Meanwhile Ella and Lynagh remain alive inside. Lynagh begins to straighten his running line, probably due to a lack of speed to get outside. Burke running with ball in hand, jinks off his right foot to straighten and beats the man on the inside. Lozowski and Underwood are now back in play, however Lynagh has now repositioned himself to the outside, thanks to Burke's straightening run. Burke has beaten is man initially but his then well tackled, whilst Gould has stayed on his feet inside and fights his way to support Burke. Burke is then able to off load on the inside to Gould who is taken by the English 13 but is still able to draw and pass to Lynagh on the outside. Lynagh is then able to 'streak' away, with Ella in support on the inside, and only the English #8, Butcher, coming in defense, and score his first test try in his second test.
Match Details
England v Australia
Twickenham, London. 3rd November, 1984.
Australia: 15 Roger Gould, 14 Brendan Moon, 13 Andrew Slack [c], 12 Michael Lynagh, 11 David Campese, 10 Mark Ella, 9 Nick Farr-Jones, 8 Steve Tuynman, 7 David Codey, 6 Simon Poidevin, 5 Steve Cutler , 4 Steve Williams, 3 Andy McIntyre, 2 Tom Lawton, 1 Enrique Rodriguez. Replacements: Matt Burke.
England: 15 Stringer, 14 Carleton, 13 Lozowski, 12 Barley, 11 Underwood, 10 Barnes, 9 Melville [c],  8 Butcher, 7 Rees, 6 Hall, 5 Syddall, 4 Redman, 3 Pearce, 2 Mills, 1 Chillcot. Replacements: Brain.
Australia 19 (Mark Ella, Simon Poidevin tries; Michael Lynagh try, 2 conv, pg) defeated England 3 (Barnes pg)