This was the first weekend of the return round in a season that was the closest for years. The three top teams: Scots, Riverview and King's, had lost only one of their first five matches—to one of the others.
None of them wanted to lose this weekend to one of the three bottom feeders, Newington, Joeys and Shore, who had only three wins amongst them in 15 games.

Scots
v Shore

by "former flanker"
The Scots and Shore crowds are deathly silent. Two minutes are showing on the stopped clock. Scots' flyhalf Nic Shannon is lining up a penalty directly in front of the posts and 24 meters out.
The score is Scots 26 Shore 26. If he kicks this, his team wins. If he misses, Shore will have created a legendary draw.
YESSSSSSS shout Scots supporters. Scots 29 Shore 26
A wonderful game for two mesmerising halves of contrasting strategies led up to the pressure kick from Shannon. In the remaining 60 seconds Scots rumbled the ball up professionally and slumped to the ground when the full time whistle sounded.
Shore players were stunned by the result, having just played the game of their lives but coming up short in the final minute.
In one of the best GPS games seen on Scots Main for many years, both teams exhibited good handling, strong defence, clever strategies, and courage.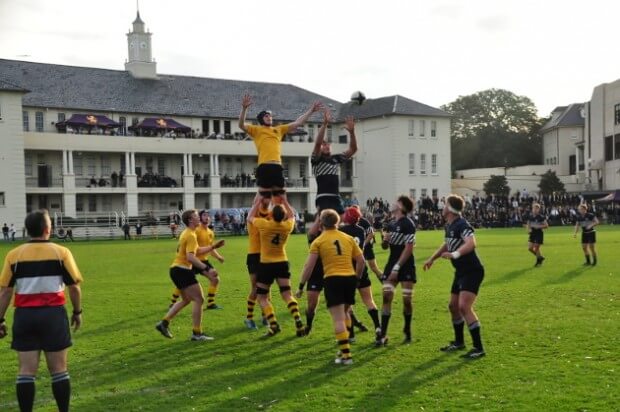 First half
The first half was a titanic battle up front, with pick-and-go from the breakdown a key plank in the Shore plan. They mixed that up with inside passes and some wide attack to confuse the defence. This led to a forward crashing over after multiple phases to score their only points in the first half.
Scots worked hard in the first half in defence, going without the ball for some time. When they did get a sniff of the tryline, it was winger Tom Yassmin who stepped through and over defenders only to brought down short. A yellow card against Shore's fullback Luke Rixon for a cartwheel tackle allowed Scots to mount attacking pressure. A well constructed rolling maul off an attacking lineout led to a five-pointer.
Shore looked to have scored in the right corner prior to half time but the pile of bodies gave the ref no chance to make a ruling and play continued.
Half-time score: 5 – 5 in the battle between equal first and last place on the GPS ladder.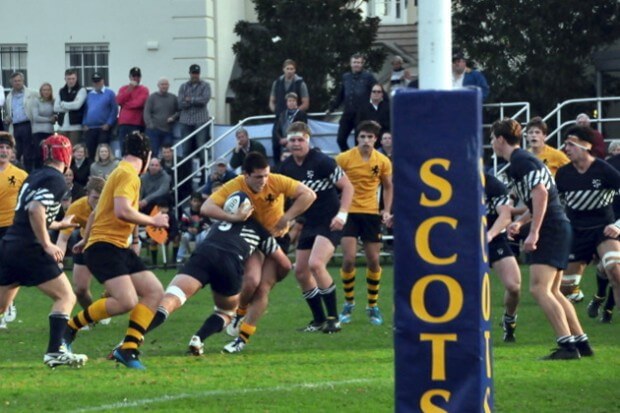 Second half
Just three minutes after oranges Scots executed a slick backline move which led to a long break down their right flank and Yassmin calmly ran through the cover defence to score under the posts.
Not to be outdone, Shore soon scored a try down their right flank after top speed by Rixon and an interchange of passes with winger Jack Stinson. Max Sinclair converted from the sideline.
Scots 12 Shore 12, and 27 minutes to go.
Scots scored next with a chip and chase from 30 meters out, blindside flanker George Miller finishing off the clever movement under the black dot. Shannon converted and Scots had hit the front again. Their offloads at pace in the tackle situation were making big inroads into the Shore defence.
Shore drove the play strongly towards the Scots' line and after being rebuffed once with a "held up" call, managed another fight back try under the posts, which Sinclair converted.
18 minutes to go; Scots 19 Shore 19.
The dominant player during the second half was Shore's Rixon. He timed his bursts into the backline with uncanny accuracy, and was so fast that he was able to run around the Scots backs with deadly effect.
With eight minutes remaining, Scots split the Shore outside backs again and put speedy Yassmin away for his second try. Not to be outdone, Rixon accelerated around a Scots winger again, kicked ahead, and the team was awarded a penalty try when he got tackled prior to falling on the ball over the line. Conversion successful.
Three minutes to go; Scots 26 Shore 26.
Then it happened. In one of the few moments of the game when a player was penalised, a breakdown infringement by Shore was noticed and Shannon stepped up. The rest is history.
Full time: Scots 29 defeated an excellent Shore team 26.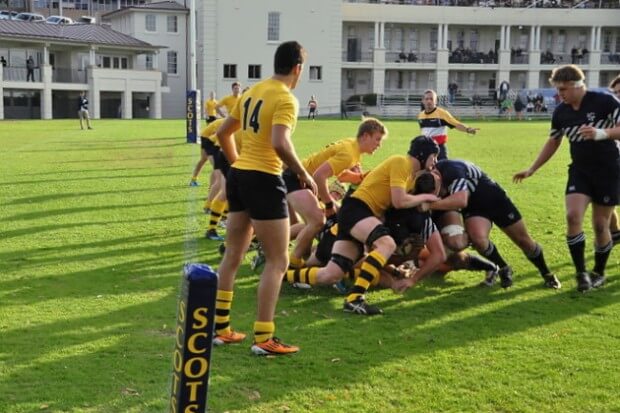 The players
Player rankings:
3 points Rixon (Shore). Most exciting player on the field.
2 points Yassmin (Scots). 2 tries and one vital turnover off a re-start.
1 point each Rory Suttor (5) and Luke Edwards (1) (both Shore). Most dominant forwards in defence and in-close attack.
Wrap-up
Scots remain as joint leaders of the Championship with four rounds to go.
Scoring
Scots 29 (T. Yassmin 2, H. Green, G. Miller tries; N. Shannon 3 cons, pen) def. Shore 26 (L.Edwards, R. Allen, L. Rixon, A. Nother tries; M. Sinclair 3 cons)
Other result:
2nd XV: Scots 40 – Shore 0.
Photos of Scots v Shore by "Not in straight"
---
Kings
v Newington
by "OAUI"
While most interest may have been at Riverview for match of the round, there was plenty at stake at North Parramatta.
Newington would have been keen to keep their improving form going after a slow start to the season, while the Kingsmen were hoping to turn around some recent average performances against Riverview and Shore.
Despite the forecast of poor weather, the conditions and the White Oval were perfect for rugby.
First half
The first half did not produce too many highlights with both teams tentative and a lot of poor handling. Kuenzle, who many would suggest has been a factor in Newington's improvement since returning from a broken arm, went clean through Kings' defence but his 25-metre run lacked support.
Early scrums were unwieldy and it seems Kings front row were struggling against their bigger opponents.
Newington's Taukamo found himself in a bit of space out wide but Kings towering fullback Osborne shut him down.

Kuenzle featured again kicking a penalty in front for Newington to lead 3-0. From the restart Kings were on the attack and Pietsch, who had been well-handled up till then, made a break. The ball was quickly recycled and spread wide and it looked like Osborne could score or at the very least put his support over but chose to grubber the ball over the line for Kings' first try. The conversion was missed.
Simonsson began to get himself into the game and Newington earned themselves another kickable penalty and they led 6-5.
Soon after good play by Simonsson on a short blindside put Taukamo in space but a classic low tackle by Orpen snuffed out the threat for Kings. Then with nothing much on, Kings found themselves with numbers on the left; there were plenty of Kingsmen in support which lead to Kings' second try just before half time.
Half-time score: Kings 10 – Newington 6
Second half
The second half was a much better spectacle with both teams prepared to throw it around. Newington dominated the first 10 minutes which lead to Simonsson getting outside Kings #13 and Newington scored. Knunzel missed the kickable conversion. 11 – 10 Newington.
New did not deal with the restart and found themselves under pressure 12 out from their line. A low but catchable ball went to Kuenzle to clear but a very untidy fumble saw Kings #1 Hicks pick up the spilled ball and go over untouched. The extras were missed again but Kings lead now 15-14

A short time after the restart, Newington were short of numbers at the break down and some smart play by Miller saw Kings steal possession and again the ball spread wide quickly for Pietsch to seize the opportunity and stroll over from 25 metres out to take the score to 20-14.
Both teams were having trouble recycling possession leading to a procession of turnovers. A typical straight strong run by Orpen had Newington going backwards and then Kings managed to put together some phases for a try out wide.
It was Newington's right side that was struggling in defence. Brown finally found his rhythm to convert well and the score was now 27-14 with about seven minutes to play and Newington looking spent. But to their credit they fought on and had the better of the last minutes camped in Kings quarter and Simonsson finished off a strong all round game forcing his way over beside the sticks.
Final score Kings 27 – Newington 21.
The players
Newington – best were Simonsson by a long way. Helu and Halaufia were hard for Kings to handle but should have made better use of their size and really dominated up front. Serhon played a good captain's knock.
Kings -Peitsch was in a class of his own but well supported by Ryan at #7 and Lombardi best of the Kings front three. Orpen's defence was outstanding and sure it inspired his team. Osborne was solid at the back and it was his defence and composure that was on display.
Scoring
Kings 27 ( D. Hicks 2, J. Lynch, D. Pietsch, C. Steele-Park; K. Brown con) def. Newington 21 (J. Turner, B. Simonson tries; B. Kuenzle 3 pens, con)
---
Riverview
v Joeys

   by "TahsPark"
First half
A portent of some of the jittery play that would afflict both teams' performances saw Joeys kick out on the full from the opening whistle (Joeys repeated that error in the first half).
Given View's early domination of both territory and possession, Joeys were probably relieved that the opening score was only a penalty goal. Soon after Joeys evened the ledger and it was 3-3. View then produced a well worked line-out move and #7 C. Scott claimed the opening try. View 10-7.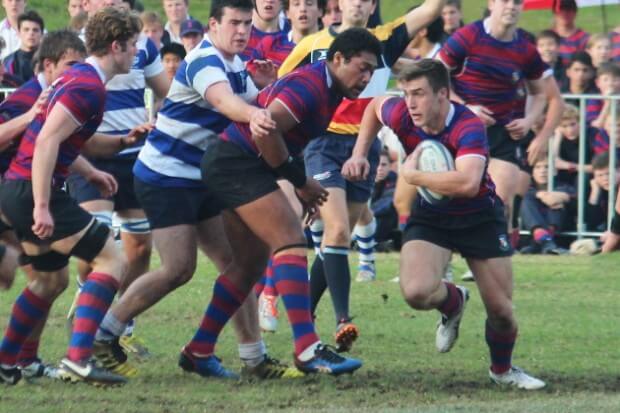 More possession to View and prolific try-scoring forward, C. Rorke #6, was in to see View extend its lead to 17-3.
Joeys' ever dangerous fullback, McTaggart, put on a shimmy and a step and laid on a try for the equally impressive #13 Jaffer-Williams to cross out wide. View 17-8.
View returned to the business of rolling up the middle before going wide but on this phase, before earning that right, an errant pass saw great anticipation by Jaffer-Williams to snare an intercept for his double. View's strong lead almost evaporated and a vision sprang to mind of the corresponding fixture last season when a late intercept try ended View's hopes.
Half-time score: Riverview 17 – Joeys 15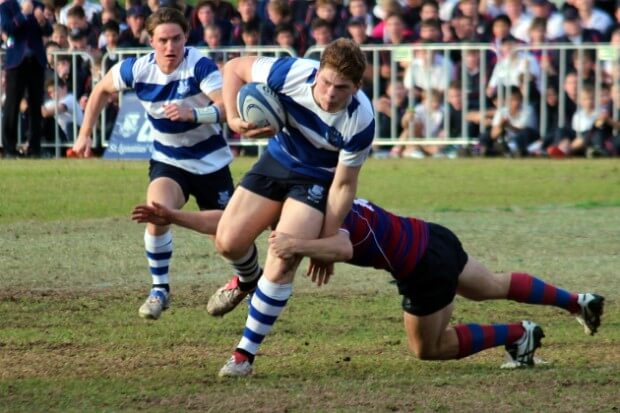 Second half
Shortly after the resumption, Joeys took the lead for the first time when McTaggert sprang into action again to give Day a rails-run to the line and then the try scorer converted his own try from a tricky angle. Joeys 22-17.
Joeys had scored three consecutive unanswered tries and View had to arrest its decline. View pushed forward and with some crisp catch and passing, #12 D. Easy, had no defenders to confront and his converted try saw the scores levelled at 22-22.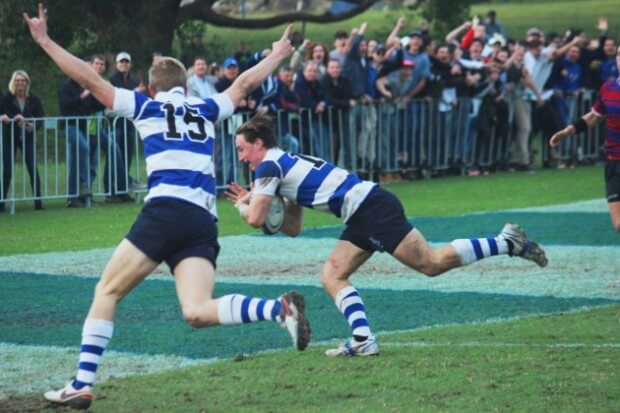 The game then settled into a nervous litany of missed opportunities between the respective 22 metres lines, with penalty kicks failing to find touch (View also kicked one dead), forced passes and an assortment of coach killing moves by both teams. A View knock-on close to half-way invited a well worked backline move by Joeys who stripped View on the fringes and Tse #14 dived over. Joeys 29-22.
View would not be deterred and continued many raids that were oft thwarted. Just when it seemed that Joeys had built an impenetrable defensive wall, #11 J. Pirina, showed his class by producing a swerve and change of pace for a superb solo try. Replacement kicker, #16 O. Clarke, was up to the task and we were again locked up at 29-29.
Bad light would've stopped play for the summer sport on this field and there was a sense that a draw would be a fitting outcome. However, that would under-estimate the drama that these schools conspire to produce.
View couldn't find the game manager that was imperative to sniff out Joeys' chances to claim victory. With the clock stopped and with under three minutes to play, an unfortunate forward who was changing his line saw the Gilbert drop agonisingly to the turf. The ensuing scrum saw Joeys penetrate and the cover defence couldn't resist the temptation to be off their feet at the breakdown in the desperate scramble for the pill.
Joeys were awarded a penalty and Day stepped forward for the almost inevitable final play of the game. The angle was acute but he calmly went about his routine, seemingly oblivious to the frayed nerves of the respective supporters. It was a sweet strike and he knew at the moment of impact that he had nailed it for Joeys to win 32-29.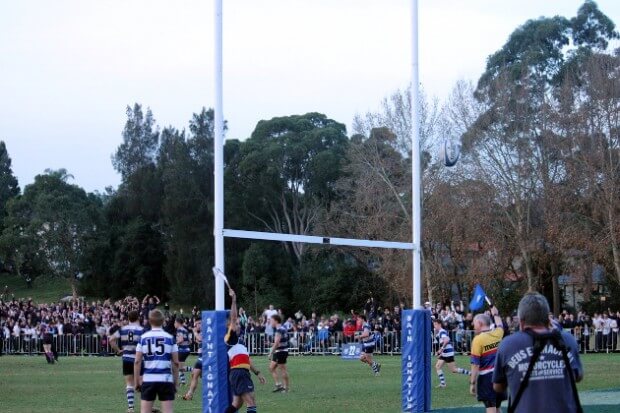 The players
Joeys
3 points: M. McTaggart: Joeys' go to man in attack who produced several telling and match winning runs – almost certainly wouldn't have won in his absence such was his impact
2 points: Y. Jaffer-Williams: Backed up the deeds of his fullback with an excellent running display.
1 point: L. Day: A try and goals kicked from all over the park in a wonderful display of self-belief.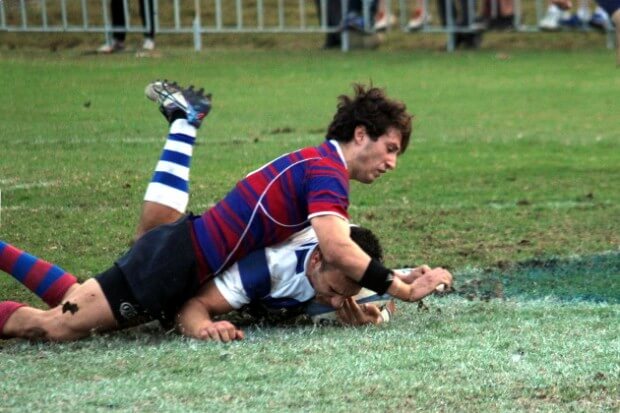 Riverview
3 points: C. Rorke: Another strong display and a try to add his season's tally. Well supported by his fellow forwards.
2 points: M. Fenn: Maintained his rumbling forward momentum for the duration and rolled up his sleaves for all the hard yakka.
1 point: J. Pirina: Produced the equaliser late in the game in a fine solo display to give View a chance to advance its premiership hopes.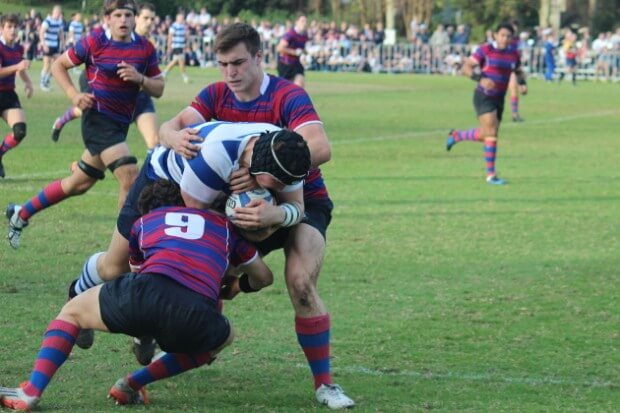 Scoring
Joeys 32 (Y. Jaffer-Williams 2, L. Day, A. Tse tries; L. Day 3 cons, 2 pens) def. Riverview 29 (C. Scott, C. Rorke, D. Easy, J. Pirina tries; T. Lenehan 2 cons, pen, O. Clark)
Photos of Riverview v Joeys by Lee Grant
---
GPS 3rd XV Competition Round 5

by "Huly"
Joeys vs Grammar
Grammar were unable to sustain their first half lead and went down to a courageous Joeys side at Hunters Hill. Grammar's talented back line performed brilliantly in the first half, producing two tries out wide off the back of slick ball movement. However, Joeys' intensity exceeded that of Grammar in the second half, as they were able to force mistakes and capitalise on opposition errors to put them ahead by two points at the final whistle.
Final Score: Joeys 17 – Grammar 15
High vs Riverview
Riverview employed a tactical kicking game to systematically break down High's poor transition defence. A strong attacking performance by Riverview's #10 McCredie secured their first win for the season.
Final Score: Riverview 28 – High 0
TAS vs Newington
Two tries to winger Eddie Pitt and an overall stellar defensive performance enabled TAS to secure another win at home against Newington, rendering a TAS premiership for 2016 as increasingly probable.
Final Score: TAS 25 – Newington 0
Scots vs Shore
Scots head into the holidays with a comfortable win over Shore at home.
Final Score: Scots 24 – Shore 8
Ladder points: TAS 10, St Josephs 8, Grammar 6, Scots 4, Kings 2*, Newington 2, Riverview 2, Shore 2, High 0*
*Kings and High are yet to play their Round 4 fixture, which was washed out.
Representative Selections
Congratulations are in order for the following boys from the 3rd XV competition selected in GPS representative squads. The large contingent of players validate the strength of the competition this year:
Alec Sheldon (Grammar) – GPS 1st XV
Joshua Smith (Grammar) – GPS Blue XV
Samuel Jackson-Bolton (TAS) – GPS White XV
Daniel Cheung (Grammar) – GPS Reserve
Thomas Chadwick (Grammar) – GPS Reserve
William Mallett (Grammar) – GPS Reserve
Joe Kingham (TAS) – GPS Reserve