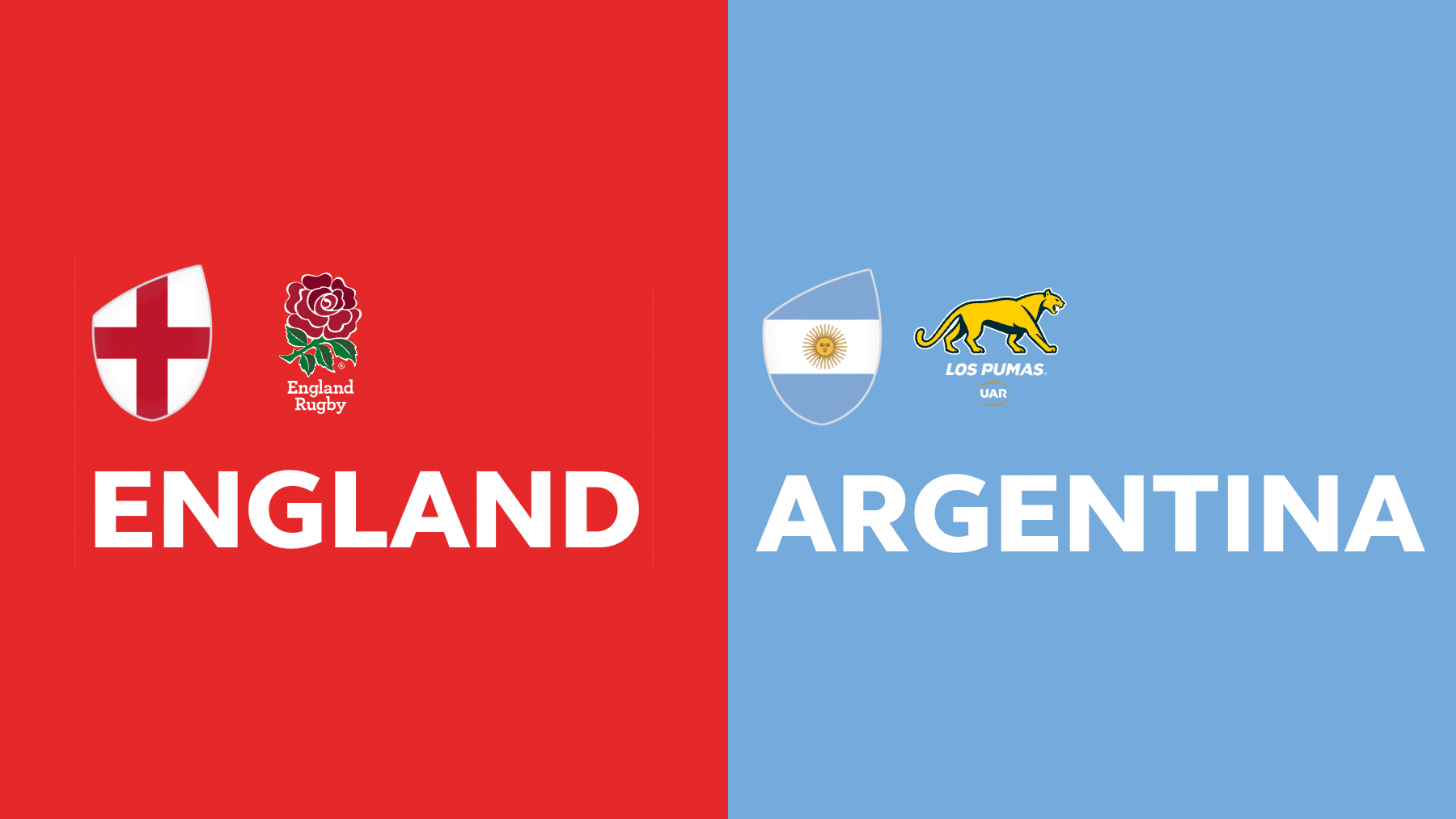 Well Gudday Cobbers,
Welcome along to Pool D match 5 and the 26th properly recognised iteration of test match rugby between England (Poms/Roses/Butchers) and Argentina (Pumas/Argies/FISM – Falkland Islands Silver Medallists), this time dressed up as each team's opening salvo of the Rugby World Cup 2023 edition.
Background
It's a little known fact that these two mobs first butted rugby heads in 1978. But, given the Butchers didn't award caps to their players for that match it wasn't really counted as a full historic test. The first agreed test was a 19 all draw in May 1981. Their next meeting was in the Falklands the following year, obviously won by the Poms, and that may explain why the 2nd proper test wasn't played until 1990.
All up, the formal record between the protagonists is 25 tests played with the Poms taking 19 wins to the FISMs 5 wins and that 1 shared draw. And interestingly, their last meeting was November last year and was a 30-29 win to the FISMs at nothing less than Twickers itself.
The Lineups
The Poms come into this match somewhere between a mess and a shemozzle and desperate for a win. After sacking Eddie Jones in December last year (who clearly sucked with 59 wins from 81 starts for 73%), new coach Steve Borthwick is under all sorts of pressure posting 2 wins from 5 starts for 40% since his Clive Woodward-inspired instalment. And they are currently slumped in 8th place in the world rankings following their loss to Fiji at Twickers a fortnight ago.
To add to the woes, Bortho's men come into this match minus two major strike weapons with both Owen 'dem arms' Farrell and Billy 'Aussie' Vunipola both on the naughty chairs for the opening rounds due to illegal tackling techniques being displayed in recent outings.
For the FISMs, under Michael Cheika's renown gentle and unemotional stewardship since 2022, they have nothing but little bags of optimism in their luggage coming to France. Currently sitting 6th in the world rankings, in the last year or so they have defeated New Zealand in New Zealand, Australia in Australia and England in England. So they can play. They love world cups in France (remember their 3rd place in 2007?), their squad is chockfull of experience and ability, and they are fit, focussed and fractious. For mine they are the true dark horse of this World Cup.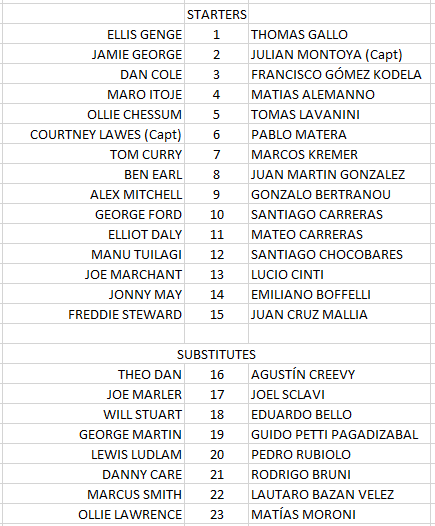 So there you have it folks. With the match to be whistled by Australia's favourite Mathieu 'we play now' Raynal, it's all guns loaded for 2100hrs Frog time (0500 Eastern Ocker time) at Stadium Stade de Marseille. The Pumas will look to run the Roses about and exploit their lack of confidence, whereas the Roses will just be desperate for a win after a horror last month.
So let's get it on. Feel free to rip into the comments below and I'll do the rest of the article after full time.
Nutta's Pre-game tip: FISM by 10.
H1 Comments:
Good early pressure and quick play by the FISM had the Roses in all sorts of bother. This was driving over-commitment and poor decision-making by England, typified by Curry being early and over-enthusiastic to a kick-defence situation and getting himself a cheese/vino spell for a head contact (sent to full vino on review) and sending the Roses to 14men for the duration. Boffelli didn't miss the penalty shot and it was 3-0 to the Argy's at about 5min. However Carreras then got himself binned for the FISM and that allowed Ford to step-up, level-up and steady the ship at 3-3 at about 10min.
With England giving away 5 penalties in opening 15min, the Puma's were camped in the Butchers quarter but were not converting the pressure. Thus the Poms were lucky to still be at 3-3 by about 20min.
But then George Ford started dropping goals, landing 3 from 3 attempts in 20mins. And thus oranges came with the tally at 12-3 to the Butchers.
For the English, Ben Earl had a busy half and Ford was proving Johnny Wilkinson-deadly with the droppies. But the Roses were otherwise wasting ball in-hand opportunities. Whereas for the Pumas, their forward-rushes and short passing was finding holes and metres around the English rucks, and Boffelli was looking sharp with his kicking form, but they weren't respecting the pill nor running the English around enough.
H2 Comments:
The FISM started H2 really well, repeatedly surging upfield through their forwards. But they weren't making the extra man advantage count and this led to frustration and fumbling. This was typified by Argy offsides, so allowing the English to survive and for Ford to keep regularly slotting 3ptrs. Thus England were generally just strangling the match and nullifing their red card noose.
From there, despite the likes of Kremer having very strong games for the Pumas, the match failed to open up (much to the English design and advantage). And on the back of admirable grind from the Butchers forwards, Ford made the Pumas pay for their frustration repeatedly, stretching the lead out to 27-3 at the 75th minute. The Poms ability to wreak havoc on the FISM scrum and spoil their lineout was complemented by the pressure created by the high ball and the likes of Tuilagi to flatten people both with and without the ball.
Finally in the 79th minute the Argy man-up advantage and forwards short passing game jagged a try to Bruni, converted by Boffelli, but it was all too little and way too late.
The Match Result: 27-10 England.
The Game Changer
It should have been Curry's red card to allow the Argys to go 1 man up and run the English about. But it's one thing to create chances, and it's another to take them. Cometh the moment and up stepped George Ford. He was immense as he posted all of England's 27pts. He took his chances as they came and just didn't miss.
In the wash-up, Cheks will be 'spewin' (technical coaching terminology) about the FISM inability to capitalise on chances created, get his forwards raiding down the midfield with short passing and their failure to run the Roses silly. I expect Argy training to be hellish this week.
On the other side, Bortho will be euphoric to just get the win after his last month of horror. But Bortho is a realist and won't get carried away so he will know that having George Ford kicking field goals won't be enough to get him out of the pools. So he's happy, but he's not blindly so.
The Man of the Match/Standout Player
Best for Argentina was Kremer who just didn't stop all night. For the English, being a man down they had to graft and grind. And strangle the game they certainly did. Jamie George and Dan Coles were rocks, Lawes was huge and Tuilagi was a weapon both with and without the ball. But clearly the MOTM was George Ford, grabbing his chance with both hands.
The Details
England points: 27
Tries: 0
Conversions: 0
Penalties: 6/6 Ford + 3/3 Drop Goals & 0/2 attempts by Daly
Argentina points: 10
Tries: 1 to Bruni
Conversions: 1/1 to Boffelli
Penalties: 1/2 to Boffelli