Fridays Rugby News sees amazing headlines, Wallaby stalwarts on the move, Ma'a speaking and Porn.
---
[one_half last="no"] 
Kiwi drought won't happen again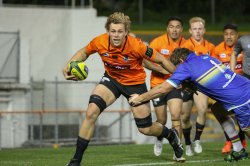 'Wallabies star vows that Kiwi drought won't happen again for Aussie Super sides' screamed the headline and I cringed thinking some mug had shot his mouth off about our chances this season. But, thankfully, Ned Hanigan hadn't said anything like that in this Stuff.co.nz article and I, had been the victim of a clickbait headline again.
This from the article
Waratahs back-rower Ned Hanigan, who won 20 test caps for Australia from 2017-18, said the team had not spent any time thinking about losing streaks or last year's results, but were hoping to make a stronger stand on behalf of the Australian conference.
"If you worry too much about what happened in the past you're worrying about the wrong stuff. You go into what you can control and let the results take care of themselves," Hanigan said.
"I hope, as everyone does in Australian rugby, that that doesn't happen again. We're going to do everything to make sure it doesn't."
That paints a slightly different picture, doesn't it?
Hanigan goes on to talk about the Hurricanes.
"They're quite quick off set-piece, they get up in your face. They're a fit side as well and have a few skilful guys there in the backs," Hanigan said.
And his team mates.
"It's hard to say and all a bit interesting," Hanigan said of the back-row equation. "Demo is good around the field and a genuine option in that lineout, so we'll see what happens later in the week."
Still shaded by most teams on size, Hanigan said they would continue to carve out a reputation for mobility up front.
"Definitely you want to be big and fast but the style we want to play and the playmakers we have, we want to give them as much front-foot ball and be able to work inside and outside them," he said.
"Mobility and speed around the field is definitely still at the forefront of our minds."
The Waratahs take on the Hurricanes Saturday at Brookvale Oval.
[/one_half]
[one_half last="yes"]
Fardy Could Be On The Move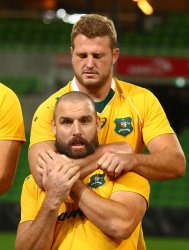 Scott Fardy might be leaving Leinster! But not heading back to Australia like we all hoped!
The word in this article is Fardy's being headhunted by wasps to fill a hole in their back five. It goes on to say,
It's believed that Fardy, who turns 35 this summer, wants to remain on in Ireland. However, with the IRFU seldom keen on keeping big money players on its books as they near the end of their careers, a switch to Wasps could be seen as good business even though it would potentially leave Leinster short of second row and blindside cover while Irish Test players are away at the World Cup.
Leinster have form for losing popular veteran locks. Nathan Hines was previously moved on unceremoniously when the province were previously winning European Cups.
Fard's hasn't been helped by Irelands foreign player rules that restricts Australian and New Zealand players in the matchday squad. Fard's was the main man last year but now he's the third wheel. Kiwi Gibson-Park becomes Irish eligible under the three-year residency rule later this year but that will probably come too late to save the popular Aussie. How much more time Fard's has left in his 35-year-old body must also be waying heavily on Leinster's mind.
[/one_half]
[one_half last="no"]
Ma'a Nonu Tells Us What We All Knew!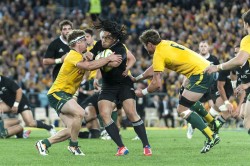 Ma'a Nonu has broken his media silence to tell us, shockingly, that he's still keen for an All Black gig. Nonu, who has 103 test matches under his belt and two World cup winning medals is now 36 years old. As we know time stands still for no one but Ma'a is hoping for a crack at a third world cup and has taken his first step this week he's been named ahead of All Black incumbent Sonny Bill Williams at inside-centre for the Auckland Blues.
But Nonu did concede he had things still to prove in Super Rugby that were also big motivators for him this season.
"Yeah, I haven't won a Super Rugby title before, have come up short twice, and played in a lot of semifinals for the Hurricanes. It's another driver this year," he told a large media contingent.
He admitted it was "surreal" to be re-entering the Super Rugby arena after such a long absence, but said finishing his playing career was something that had not yet entered his thinking.
"There are a lot of young players playing, and a lot of great players playing, and I'm stoked to be running around. I haven't thought about stopping. Hopefully, I can still play at this level and that's the challenge I'm looking forward to."
[/one_half]
[one_half last="yes"]
US Carcassonne Are Here To Clean The Pool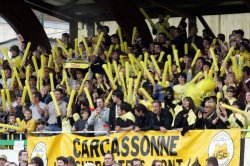 French Pro D2 club US Carcassonne picked up a unique club sponsor March 1 game against Biarritz in the form of porn website  'Jacquie & Michel'!
The website enthused in a statement, "Commitment, power, endurance and vigour are all values that Jacquie & Michel share with (Carcassonne coach) Christian Labit's men."
The club said that they had already seen an increase in demand for tickets for the game on March 1.
"It's about being part of a fun and offbeat communication," said Carcassonne general manager Christine Menardeau-Planchenault.
"There will be nothing that will shock anyone. Today, like many clubs, it's hard to get people to the stadium, so we thought about a way to create a buzz and decided to partner with them."
The Carcassonne players will wear shirts featuring the website's logo during the warm-up, but will stick to their traditional strip for the game itself, while there will be advertising in the stadium.
The site also sponsored the reserve team of Belgian football club Villers-devant-Orval in 2015.
[/one_half]