ACT Brumbies legend, Melbourne Rebels pioneer, and former Wallabies captain Stirling Mortlock announced this week that he will retire from rugby at the end of the 2012 Super Rugby season.
This is a tribute to a player who was one of the greatest of his generation, a figure respected and admired by friend and foe alike, a man who helped me fall in love with this great game.
Enough will be written about Stirling's achievements between now and when he signs off in Cape Town on the 14th of July. Plucked from obscurity at club side Gordon to tour Argentina with the Wallabies in 1997, he began his Super Rugby career in 1998 with the Brumbies. He became an integral part of one of the greatest teams in provincial rugby, joining forces with the likes of Gregan and Larkham to deliver Australia's first Super title for the capital in 2001. In 2002, he was the Super 12 Player of the Year. And in 2004, he succeeded George Gregan as captain of the Brumbies, and led the franchise to its second title in the same year.
In 2000, he made his debut for the Wallabies. In an incredible year, his lethal combination of attack with the ball in hand and skills with the boot led him to become the fastest Australian to reach 50, and then 100 Test points. He scored the most points of any Australian in his first five Tests, and was the first to score 20 or more points in four or more consecutive Tests. While his boot let him down in the 2000 Super 12 finals, it would later create one of his greatest moments — a penalty from the Durban touch line sailing through the posts to deliver Australia our first Tri Nations trophy. Stirling had arrived.
In 2003, he had an incredible World Cup on home soil. That match. That try. What more needs be said?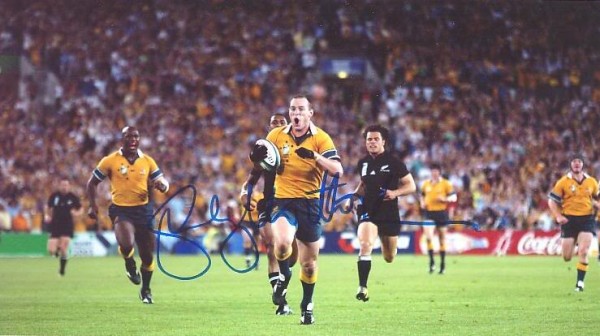 In 2006, Stirling became the 73rd player to captain his country. Throughout his international career, nine years and 80 Tests long, he scored 489 points, placing him fourth on the all-time list of top scorers in green and gold.
In 2010, after 117 caps and 1,019 points, Stirling Mortlock announced that he was leaving the franchise where he made his name. He signed with the newly minted Melbourne Rebels for three years, and became their debut captain.
Here's where my story cuts in.
I have played rugby in Melbourne since I was in Year 5, so, a bit over 13 years. I have no family or cultural connection to the sport, it just looked interesting, and as a big bloke, gave me a sport where I could be an asset rather than a liability (although my skills usually make me a liability anyway — but that's not a discussion for now).
Having rugby heroes in Melbourne was difficult when I was growing up. Usually I would look close to home, like Br McCarthy, the Christian Brother sports-master who taught me the game; my coaches, who encouraged me to keep going despite my lack of skills; my teammates, some who are destined to go on to big things in the sport. Following the professionals, however, was hard, because it just wasn't covered here.
I have an aunt and uncle who live in Canberra, and, as I grew up, we went over regularly to visit. One such time, when they learnt I had taken up the sport, they organised to take me to Canberra Stadium to see the Brumbies (I forget whom against). As far as I remember, it was my first live game of rugby union. All of a sudden, I was sitting in front of the likes of George Gregan, Stephen Larkham, George Smith and Joe Roff. I was dumbstruck.
Then, I saw this one player come barnstorming into a contest. No thought for his own well-being, he laid a tackle that I felt in the stands. Throughout the game, he just seemed to be everywhere. Running, tackling, running, kicking, running, scoring, running. He was a monster. He played with the attitude and skill that I dreamed I could. I learnt later, he was Stirling Mortlock. I knew then that the Brumbies would be my team. Most weeks I had no idea how they went, but they were my team.
I went on to continue playing rugby, whenever I could, however well I could, all the while dreaming of being this barnstorming player. I kept thinking I could because there was this player who was making it so easy, and having so much fun doing it. Stirling is the kind of player whom you appreciate more and more each time you see him, because you realise just how diverse his game is, and the ease with which he pulls it all off.
The 2003 Rugby World Cup was special to me, as it was my first chance to really sell my family and friends on this awesome game I had discovered. We went to matches at Docklands and they were great spectacles. My friends had fun deciphering the rules, the games were of a high quality, and all in all, it was a quality event. However, as it was wrapping up, and the focus moved to Sydney, I could feel their enthusiasm starting to wane. They just wanted the cricket to start up again. I needed something special to stamp the significance and brilliance of this sport.
I managed to convince them to watch the semi-final between Australia and New Zealand. And again, it was Stirling who delivered. My brother, a staunch Aussie Rules man, still brings up that night in 2003 like it was yesterday. It is a try of such significance, that it can just be known as that try. It showed the rugby world just how brilliant this man is at this game.
Stirling continued to take the rugby world by storm, with courage in spades and a gentlemanly attitude the likes of which some feared lost to professionalism. He continued to perform for the Brumbies, taking a second title in the process, and led the Wallabies through a difficult progression with aplomb.
I was surprised to hear, in 2010, that he was finishing up with the Brumbies. Although he had been playing for years, I never really envisaged a Brumbies side without him in it. Of course, this was around the time where I too was planning to leave the Brumbies, jumping on board with the newly created Rebels. Call it naiveté or stupidity, but I didn't quite connect the dots.
When I heard that the Rebels had recruited Stirling, my jaw dropped. It was a perfect match, a name that had unmatched currency in a new and critical market; someone who could corral Victorian business and fans around the sport; a leader of men who had the gravitas to set the example, and build a team and a culture from scratch. Some said he was not a valuable recruit, a place in the squad poorly spent on someone past his prime.
I am lucky enough to have had a close relationship with the Melbourne Rebels since their birth. I have seen Stirling fully involve himself in fan days, court business leaders into handing over considerable sums in sponsorship, and training and mentoring young Victorians in the sport. I defy anyone to look at the Rebels now — the enviable culture they have built off the field, and the growing success on field — and say that Stirling was not a key part in creating that. Any successes the club tastes from here on in will be his as well.
Of course, the greatest memories I will take from Stirling's time in Melbourne will be those flashes of brilliance. The first try, a great attacking run topped off by the receipt of a Hail Mary from young Cooper Vuna to etch his name even deeper into his new club's history books, as the Rebels notched their first win. Those big hits, although more wide-spread in his twilight years, were a constant reminder of how great a footballer he is.
Finally, there was Stir Wars Episode 2: Return of the Intercept. Earlier this year at AAMI Park, Melbourne-born Crusader Ben Franks mistimed a pass, right into the hands of the captain. He charged through the line with Swiss precision and offloaded to Cooper Vuna, who looked to be heading towards the in-goal. Vuna was tackled on the last line of defence, but again offloaded to Mortlock, who, though he looked like he was running through molasses, flew over the line with his trademark dive, to deliver the Victorian franchise their most significant victory. How a 35-year-old could pull this out of his hat is astounding, but for Stirling, it was nothing.
I won't wax lyrical any longer; suffice it to say this:
Thank you, Stirling, for everything you have done for Australian rugby. Thank you for the example you set, not only as a rugby player and sportsman, but also as a person. Thank you for putting your legacy on the line to help build the Melbourne Rebels. Thank you for providing the figurehead and the hero that Victorian rugby needed as it hit the big time, and thank you for sticking around next year, to help us as we push to become the biggest club in the land.
Most of all, Stirling Mortlock, thank you for helping me fall in love with rugby. Thank you for setting the bar ridiculously high, for making the impossible look pedestrian, and for making me think that, through rugby, I could do the same.
I owe you one, mate.