What a series.
Two good teams trading haymakers for three weeks, with the Irish just edging it in the end.
We've learned plenty, so let's get stuck in.
It's a fine line…
…between pleasure and pain. The Divinyls penned the soundtrack to the third test, with the series coming down to the final play on the Irish line. We had the numbers, but it was well defended by the Irish backs and we didn't use the space as effectively as we could have. Bernard Foley goes for glory with a speculator pass, but it wasn't to be.
It's hard to reconcile as a fan when the margin between a win for the ages and a crushing loss is so close. Did the series hang on that one play? Does our inability to convert a one-man overlap make the series a failure? If we scored, does it then become a success?
This is why the three-match series format is so bloody good. That final play had a backstory that lasted a month, a slow crescendo that ended in a deafening roar. The Wallabies lost the game and the series, but the real winners were us, the fans.
At least that's what I tell myself as I sob myself to sleep for another night…
Standing ovation
The third test was such a great game, too. It was played with a World Cup intensity, and neither side could be too disappointed about how they played.
The Irish threw their big ballrunners at us for the first 60 minutes, and we somehow held the line. The score was 17-9 at that point, but it could easily have been 30-9. Conor Murray was marshalling his forwards and hitting them flat at full speed – Tadhg Furlong, Devin Toner, CJ Stander. A full-frontal barrage that many teams would have been unable to halt.
Somehow we turned the tables, and finished the game with a wet sail as we did in Brisbane and Melbourne. Instead of Furlong, Toner and Stander it was Tolu Latu, Taniela Tupou and Lukhan Tui charging onto the pill.
I'd encourage you all to watch the game again, it was genuinely one of the best games I have seen. The error count was low, the physicality was great, the set piece was hotly contested. It was rugby at it's finest… if we don't talk about the TMO.
So let's pause for a minute and bask in the glow of an amazing series played by two good teams. I'm not sure anything will be able to top it until the World Cup.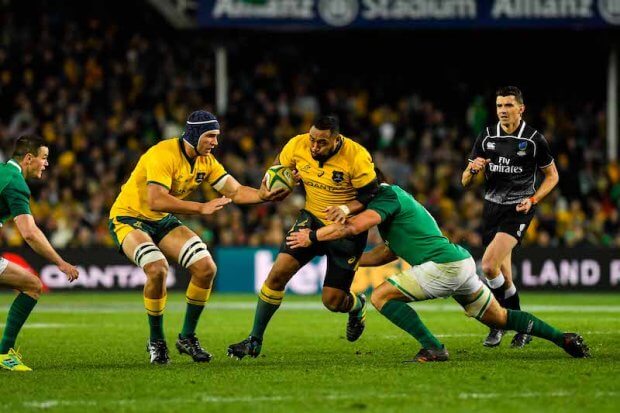 At the ground
The atmosphere at Allianz Stadium was incredible. The stadium announcer did a great job over the speaker, and the Irish crowd down the Southern end were brilliant. Everyone was wearing green or gold, and it was bloody great to be a part of it.
The stadium experience, though, left a lot to be desired. It just can't cope with a crowd of 44k. It took me 15 minutes to get to the turnstile, and another 10 to get to my seat. God help you if you wanted to go to the loo or get a beer. Getting out was a similar hassle.
The organisers owe a great debt to both teams – nobody could feasibly say they didn't get value for money.
The Coach
Let's get down to details, and we'll start with the performance of the coach. Michael Cheika and his team were on the ropes at the end of 2017, after a few insipid performances characterised by odd selections, brainless tactics and appalling discipline.
They have bounced back really well, and rebuilt the fortunes of the team. It's hard to find fault with the teams that were selected – he was patient and allowed combinations to build, and his decision to elevate Lukhan Tui in the final game was inspired. The bench was used strategically, and we absorbed the injuries to Will Genia and Michael Hooper as well as could be expected.
As for the tactics, I think we've left ourselves room for improvement though it was a noticeable step up from last year. We mixed up the point of attack well, and our accuracy at the breakdown was impressive. In particular, our defence was laudable, only conceding three tries across the whole series.
Our kicking game still needs work, and our backs were too flat in games 2 and 3. Our discipline is better but we are still prone to conceding 2-3 mindless penalties every game. And in those final minutes we lacked the patience and composure to put the game to bed. It's a mixed bag, but heading in the right direction.
The Players
For a group who only assembled at the start of June, they handled themselves fairly well.
Our forward pack played with a physicality that is great to see. Adam Coleman and David Pocock are genuinely world class players, and lifted the team time and time again. Our front row unit (starters and bench) did everything that could be asked of them – our scrum was clearly superior and our lineout improved exponentially as the series went on.
Lukhan Tui was the revelation of the series though. His performance in Sydney was that of a future star – taking nine hit-ups and making metres on every occasion. I can't wait to see him against the All Blacks, and if he can adapt his game to a faster, looser environment.
Our backline were stifled by the impressive Irish defence, and after starting impressively in Brisbane they fell off the pace in the final games. Bernard Foley is a riddle wrapped in a conundrum. He does some things so well – his short restarts to Israel Folau are brilliant, his grubber to Marika Koroibete was pinpoint and his defence has noticeably improved. But when cool heads were needed he was below his best. We know what he's capable of in the big moments, and it was disappointing that 'the Iceman' didn't step up when the game was on the line.
Samu Kerevi showed flashes of what he's capable of, but I think he was a little too quiet across the series. Likewise Israel Folau, who struggles when he's not running in wide open spaces. But in Koroibete and DHP we've got two bloody good wingers who rarely make mistakes.
We've got depth and we've got skill, and even a bit of mongrel. Now we just have to win some bloody games.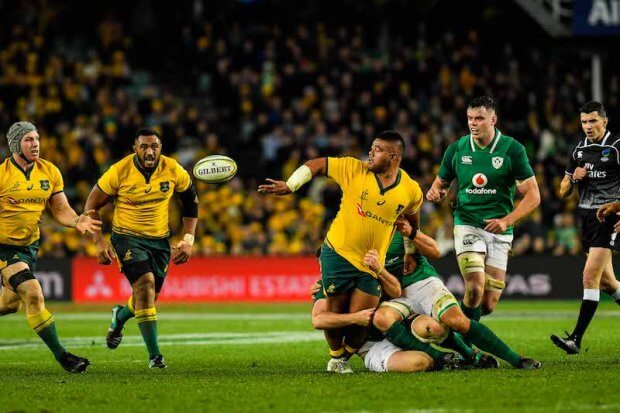 Ireland
Let's take a moment to acknowledge Joe Schmidt and this great Irish side. It's easy to forget they were without Rory Best, and then lost Garry Ringrose, Dan Leavy, Sean Cronin and a few others along the way. Not to mention stand-in skipper and standout player Peter O'Mahoney who departed early in the decider.
They play a narrow, physical style that strangles you like a boa constrictor. Wave after wave of attack, marshalled by Murray and Sexton who I'd argue are the best 9-10 in rugby right now. Even with a changing side they produced their best games when it counted, and can be really optimistic about what the future holds.
The series was also played in great spirit, without the incidents and niggle that was seen in the two other Southern Hemisphere series this month.
Well played Ireland. Enjoy the warm glow of victory, and remember what it feels like. You are going to need to draw on these memories when you're knocked out in the Quarter Finals of the World Cup… again.
The officials
I don't want to harp on this too much, as it's been covered well elsewhere.
My only observation is that the three referees that have taken the whistle this series have performed pretty well, but have been sorely let down by the TMO and by World Rugby. Yes the men in the middle have missed a few calls, but that's rugby. It happens and it always will. Tolu Latu was unlucky in the 76th minute, but we had a few go our way as well (Pocock won a holding penalty when he was on one knee).
Sadly the game on Saturday was once again marred by mindless stoppages that were never explained to those in the ground. It deflated the atmosphere on at least six occasions and it needs to stop.
Get. Back. In. Your. Box.
On to NZ
Can we beat the All Blacks? I don't know. They have stuttered a bit in their series against France, but won every game quite comfortably.
After the last two Sydney Bledisloes I don't have my hopes up. If we can go into half time down by less than 30 I think I'll be happy.
If we can play to our best we have a side capable of beating the All Blacks, and for once I think we can do it by beating the living daylights out of them in the forwards.
I'm feeling good about our team though. I'm feeling good about the game. We lost the series but the usual emptiness and frustration isn't there for some reason. Just another turn on the emotional rollercoaster that is supporting the Wallabies.