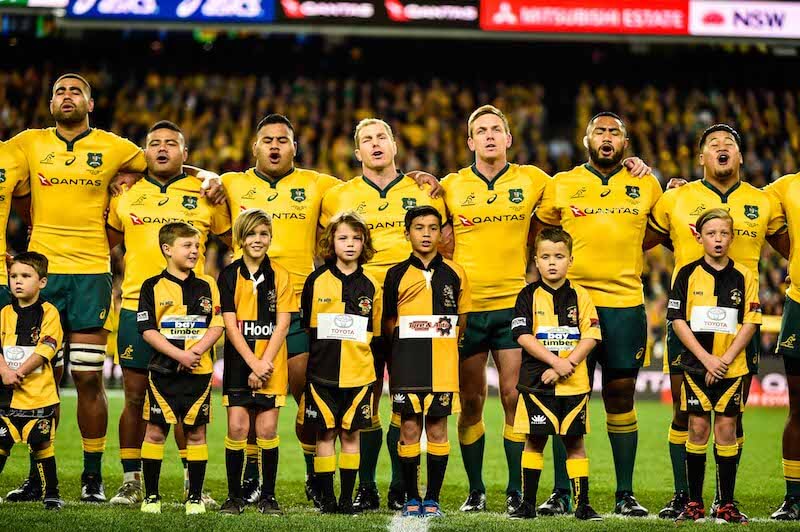 Tuesday's Rugby News covers the Hooper's injury and what it means, Folau in hot water, a squiz at the latest rankings and Pocock generally being a legend.
---
Hooper Injury

The fall-out from Saturday night's test against Ireland continues with Australian and Waratah captain, Michael Hooper, ruled out for up to four weeks with a hamstring injury.

Hooper suffered the injury 16 minutes into the final test and he was forced to leave the field immediately.  Replays show him getting what could best be described as folded in half while competing for the ball at the breakdown and although he walked from the field unassisted it was clear he wasn't at all comfortable.  It was a real shame for the home team, the breakdown was an area that Australia were dominant in the first test and had been kept quiet in the second and Hooper's injury stymied the Wallabies' ability to disrupt the Irish phase-play.

Speaking about Hooper's injury, Wallaby coach Michael Cheika was seemingly unfazed, "It doesn't look too bad, he's got a fair bit of movement in there, but obviously with those things he'll need to wait (un)til it settles down, go for a scan and then see if he'll be back for Super Rugby in time to partake with the Waratahs in their run to the finals".

While there are no tests coming up until the Rugby Championship the injury is bad timing for Hooper's Super Rugby team who are looking towards a potential finals campaign and will be hoping the skipper is back on deck in time.  Their first match in the post-test run home is against the Rebels who will also come into the game nursing a test hangover in the form of Genia's broken arm and Adam Coleman's dodgy leg.  While Genia is definitely out, Coleman seemingly remains a chance of playing, Cheika was again not worried describing the injury as a 'bruised hip or groin'.

"He got a bruised hip or groin, I can't be 100 per cent sure at this point, there's been a fair bit going on post-match, so I haven't really had a chance to talk to him yet,"

-Cheika on Adam Coleman's injury.

The match holds extra importance for the two teams with them both vying for the top position in the Australian conference and with it the right to host a quarter-final.
Folau Facing Disciplinary Hearing

Australian full-back Israel Folau will face a disciplinary hearing by World Rugby, drawing their ire after separate but similar high-ball incidents on the weekend.

Due to the, at times, confusing nature of World Rugby's regulations Folau is *technically* being cited for an earlier collision where he brought down Irish Player Peter O'Mahony rather than the 31st minute effort that saw the cross-code star given a yellow card.

While it could be suggested that Folau's timing in the air could maybe use a little work the real victims of Folau's bad timing are his club team, the Waratahs, who are already facing a month without their captain, although as yet, no date has been set for the hearing.

Quizzed after the match if World Rugby need to further clarify the laws around contested kicks, Cheika alluded to the muddy waters that officials often have to navigate through when considering their decisions in these cases, "The key word these days is 'clear' and 'obvious', isn't it? I don't know anything that's clear and obvious in a game of footy. Nothing, right? But they run with it'.

The Waratah assistant coach Simon Cron was somewhat less backwards in coming forward on the issue, branding rugby a "nanny state" over the citing.

Cron seems to be reading directly from the law book with his take on the matter, "My understanding of the law is that when you're both competing for the ball, you're both competing for the ball", however his ideas about preventing the issue from coming up again a little more 'reactionary voter-ish' in nature, suggesting, "The only way around that is maybe we change the sport and say you're not allowed to leave the ground and turn it into under-12s. I'm not sure."  (to remove my journalist hat for sec, can I just say, we all aren't sure mate, but that's probably not the solution).

The reality of the situation perhaps lies a bit closer to Cheika's summation-

"Rugby, there's no black and white in this game. It's a lot of grey and it's about the interpretations in the grey so, yeah, I don't know how they can clarify it, so there's not much point in me asking about clarification."
Updated World Rankings

With a number of matches being played over the weekend between similarly-ranked nations the overall standings have had a bit of a shake-up.

Let's have a look at the winners and losers after the June internationals.

The seemingly unstoppable All Blacks are still comfortably on top, despite accruing no points for their third win over France they still lead all comers.  With a score of 93.99 they are nearly 4 points clear.  Ireland edge a little closer courtesy of their win in Sydney and Wales, who sat the week out, round out the top three.

A third home nation fills the next position with England's win over the Boks catapulting them into 4th position, displacing both Australia who fall to 5th and South Africa, now 6th.

Rounding out the top 10 for last week in June are Scotland, France, Fiji and Argentina, who've all had their ups and downs over the last few weeks.

After their to-nil victory over Georgia and a one-all test series against Italy, next year's World Cup hosts Japan remains firmly planted in 11th place.  The Brave Blossoms did have an effect on the table in another way though, by knocking off the Rugby Europe Championship winners The Lelos, combined with Tonga's win over Fiji, the Pacific nation of just over 100,000 people jumped two places to 12th.

Georgia and Italy both slip a place to 13th and 14th and the top 15 is rounded out by the undefeated in 2018 (and therefore WORLD CHAMPIONS) USA Eagles.

The Top 20,

New Zealand  93.99  

Ireland             90.12  

Wales                85.94              

 England           85.68              

 Australia         84.48

 South Africa  

 Scotland        

 France

 Fiji     

 Argentina      

 Japan 

 Tonga

 Georgia         

 Italy   

 Usa    

 Romania

Samoa

 Uruguay

 Russia

 Spain 
Pocock's Masterclass Continues

(Pretend we've just done the weather and this is the feel-good piece at the end of the news, ok?)

Just in case his stance on marriage equality, environmental protection, charity work and massive biceps weren't enough to make you like David Pocock he's gone and pulled off another coup d'état (or should that be coup de grâce?  Not even French is classy enough for this guy), this time revealing his mateship with Irish scrum-half Conor Murray.
In 2005 on the Australian Schoolboys tour of UK and Ireland we were billeted out with families in Limerick. The family I was billeted with: the Murrays. I don't think @ConorMurray_9 or I were thinking we'd go on to face each other in test rugby. Great to catch up after the game. pic.twitter.com/MRF9BRsQY0

— David Pocock (@pocockdavid) June 24, 2018
The pair trace their roots back to a 2005 Australian Schoolboys' tour of the home nations where the Zimbabwe-born breakaway was billeted with Murray's family during his stay.

Captioning the post on his Instagram Pocock was typically humble, "In 2005 on the Australian Schoolboys tour of the UK and Ireland we were billeted out with families while in Limerick.  The family I was billeted with: the Murrays.  When this photo was taken I don't think @conormurray9 or I were thinking we'd go on to face each other in test rugby. Great to catch up after the game. Congrats on the win and enjoy the off season!"

To add to his social media presence, Pocock was similarly all class addressing the media after the match.

In his return series to international rugger, he described the loss as incredibly disappointing but was also full of praise for his team-mates, particularly the replacements, "I thought the finishers came on and really lifted. Tolu was great, Taniela was great, really lifted the energy, good to see Ned back out there".

The opposition didn't escape his kind words either, "Credit to Ireland this series.  Their game management's been pretty good.  You don't become world No 2 for nothing — it finishes a really good year for them".

While the officiating and some other issues may be a source of frustration for many fans, let's not lose sight of what the sport we all love is really about.

It truly is a hooligan's game played by gentlemen.