Now don't be alarmed by the headline, I'm not saying sack Eddie today! But, at the end of the World Cup, he needs to quietly submit his resignation, and exit stage left. If he doesn't resign, then Phil Waugh needs to have a 'Come to Jesus' conversation that says "You can resign or be fired publicly, your choice!" And while Eddie is quietly sulking on the way out the door, take Hamish with you. When did anyone ever think that sacking your coach eight months prior to the RWC was going to bear fruit in any way?
The Premise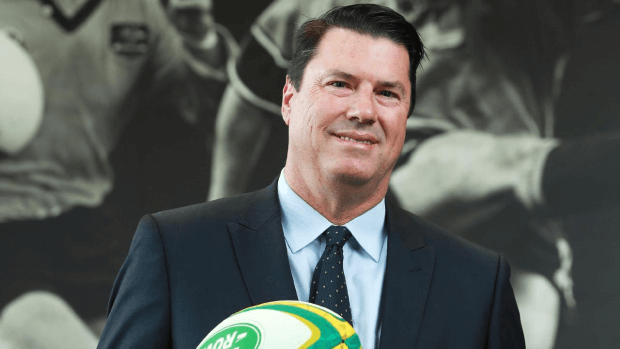 When England sacked Eddie Jones, RA Chairman Hamish 'The Knife' McLennan did something that Chairmen of the Board should never do: he acted unilaterally. Out came the knife, and Dave 'Nice Bloke' Rennie was sacked in less than a professional manner, as Hamish said, to rid us of the dreaded 'Kiwi Disease!' Our winning percentage was 38%, and RA, and particularly McLennan said this was unacceptable. (Gee, I'd kill for 38% now).
To quote Hamish, "We stumbled during the spring tour. The world changed when Eddie got let go. The team has made progress but we need to develop a harder edge. There's no more experienced campaigner out there than Eddie. We had to take advantage of that. He's ruthless and tough and has that twinkle in his eye. The profile of rugby has gone through the roof already and fans, sponsors and players will react accordingly. I absolutely believe we can win the World Cup, and I think it could be the greatest comeback ever," McLennan told News Corp Australia. "This thing can be fixed, and he'll be a big part of it, our turnaround. Buckle up, it's going to be a fun ride."
The premise was we would grab Eddie, and do a smash and grab job on the World Cup! Eddie had the experience and the 'runs on the board' to deliver us from our current state of malaise. The opportunity to pass on Eddie was just too good. Or so RA would leave us to believe. But anyway we signed Dr Evil to a five year deal, and that my friends is the ball game.
The Timeframe
So, nine months out from the Big Dance, we followed the stupid moves of Wales and England and knifed our coach. Roughly 270 days before the first game of the RWC, and 5 practice tests including the Rugby Championships, we changed coach, coaching team, strategy and game plan. Changing any of those singularly would have been a difficult feat with that little time. But to change all of these, plus then go with a youth only policy for player selection. Wow, that's a degree of difficulty 9.9 off the 10 metre tower kind of dive.
If there was ever a chance of pulling this one off, Eddie would have stuck with the core of the squad, the core of his coaches, and a similar game plan. But Eddie went large, revolution instead of evolution. Was his plan ever to target this World cup? Well, Hamish said 'Smash and Grab!' So according to the Uber Overlord, yes.
Coaching Staff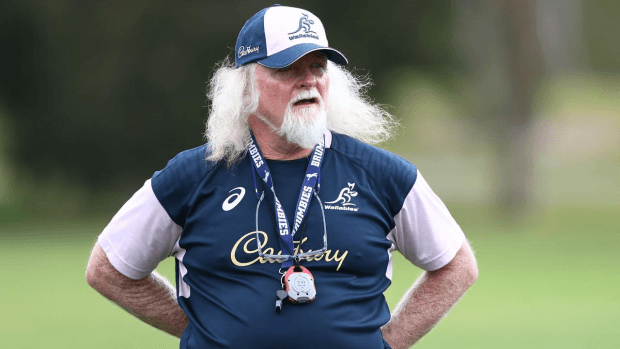 Interestingly none of the existing coaching team stayed, or were invited to. Lord Laurie Fisher and Dan 'Chuckles' McKellar being the main two departures, Scott Wisemantel another prominent one. Although, Scott's still there as a part time assistant/consultant, whatever that means. Dan McKellar headed off to Leicester, and Lord Loz into retirement via the Aus A series. Brad Davis the Wallabies the attack coach quit on the eve of the World Cup citing personal reasons. Which is really code for 'I don't want to work with Eddie!'
There was plenty of discussion around this when these things happened, but I still think a lot of people were still sucking on the Eddie Kool-Aid at this stage, so I think this requires revisiting. Why did so many of them leave? Chuckles was an obvious one, as he was next in line to Rennie to be Wallabies coach, him being bypassed and a drop in being picked in front of him, made him consider his options elsewhere; Leicester was the go. And I'm sure he'll be keeping his options open to return when the Eddie empire falls to poo.
Lord Loz, probably should've been the one they really aimed to keep. Loz and Eddie have a very long and often complex relationship. This became evident when Loz, as assistant coach of Aus A, had a bit of an unload on the Wallabies coaching structure, game plan and selections. In particular his comment about defensive structure that are being planned and coordinated by a person who has never played union before. Laurie's understanding of set piece play and the dark arts of the rolling maul are second to none. Having him in the coaching set up to assist the players and work on their drills and skills, techniques and plays would have been a wonderful addition to the squad. But Eddie didn't want him. I wonder why?
During Eddie's time in England he went through a myriad of coaching staff. According to the UK Times, Eddie went through 18 assistant coaches from 2016 til when he was fired; in under 7 years he was going through almost three assistant coaches a year. What does that tell you? Turmoil. A work place full of people not being led, not understanding their brief, and a coach who when things falls apart sacks his underlings but remains in charge. Gee this is starting to sound like someone else we know. Anybody thinking Putin?
Do we think Eddie's tenure at the Wallabies is going to be any different to what we saw when he was coaching England?
Selections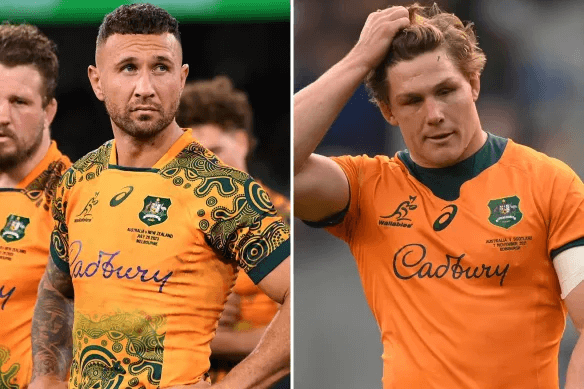 This is probably the one that really gets my goat the most. There has been much commentary on this site, and all the other rugby sites on Eddie's selections and particularly his 33 man squad. Even watching foreign Podcasts and YouTube channels such as The Good , The Bad and the Rugby; Eggchasers; and Two Cents Rugby channels who are well versed in most things rugby but outsiders to the Aussie rugby scene, were scratching their heads!
That is nothing compared to the domestic audience. The Australian fans fell into two camps. The Eddie acolytes who were all for renewal. And the rugby fans who were going WTF? But regardless of which camp you fell in everyone raised risks about the selections. A very inexperienced flyhalf who has a questionable kicking game. An ex-leaugie who has done very little on the paddock since changing codes. A utility back who was not wanted by his own Super team at either 10 or 15, just to mention a few.
These selection risks have come home to roost in a big way. Do we think QC 2.0 would have played this Fiji game out the way the Wallabies did this morning? No Skelton on the paddock, No Tupou, no Tate. None of the leadership group. No wise head or playmaker on the paddock. Donaldson did what could. Not his fault he was put in this situation, but he didn't know what to do or how to do it. Eddie also has stuck a backrower as a utility bench cover for lock and back row. This also created angst for us in previous games. His choices are 'selection lotto'. High risk, high reward! Or in this case, high failure!
You select the best player in their position and put them in the team. I am sure that Eddie probably had a fair idea who his best players were. But instead tried to be all Machiavellian and instead screwed the team and himself.
If we are going for renewal, wait to the beginning of the next World Cup cycle. In fact if we were going for renewal, run Rennie out of his contract. Save yourself the payout, and also don't be held to ransom by Dr Evil.
Behaviour
The thing that irritated me most about the Cheika era, other than his ongoing selection habit of playing favourites, was his behaviour. The outbursts at press conferences, the smashing of things. The petulant outbursts. Eddie has picked up on this past theme and run with it. I understand that Eddie likes to say brash things to deviate the attention away from his playing squad. This keeps the rusted-ons happy, and plays well with the media pundits, as click bait. The RA board are happy as there's media attention for Australia's 3rd string sport. But for most people it's just childish and boorish behaviour. It's not the displays I or most people wish to see from Australia's head coach.
The example it sets for the players is not a good one. How long til a Wallabies player is seated in a press conference and decides to mouth off like Eddie? Just following my coach's example, would be a fine defence. But alas it wont be! I dread every Eddie Jones press conference, almost as much as the reporters do.
Eddie, like with his assistant coaches, doesn't play well with others. This isn't a surprise. His reticence to answer what are very fair journalistic questions without launching into some tirade is becoming common place. The questions were spot on then, and after the loss to Fiji are even more spot on. Front up like a professional and answer the questions. Stop the theatrics, stop the crap, be brilliant at the basics and get the team better.
What are we going to do now?
Well, not much really. As long suffering Wallaby fans, there's more suffering to come. To quote a DC movie "Darkness, the truest darkness, is not the absence of light. It is the conviction that the light will never return. " Well boys and girls that's where I am. And while Eddie stays so will the darkness, and no KARL, I'm not talking about the All Blacks this time!
I genuinely believe we'll get beaten by Wales, so this RWC is pretty much over for us. And to be honest this was going to be the case the moment they fired Dave Rennie. So now we are building for 2027 and the BIL tour. As mentioned previously we could've done this by not changing Rennie and not having to pay top dollar for Eddie.
Let's get to the end of the World Cup and bring in a real change agent, someone that understands the environment and what bringing in a change program actually means. I think there are probably a number of options, but my first call would be across the 'dutch' to Joe Schmidt. But I'm sure there are a number of options.
But Eddie has to go! He's not part of the solution, he is in fact the problem!
Over to you G&GRs! Have at it!