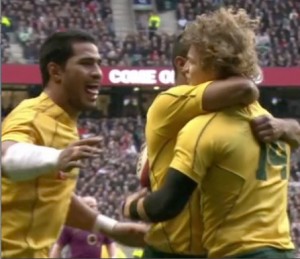 They say that a week is a long time in politics. Judging by the complete turnaround in Australia's performance this weekend in London, it's a whole lot longer in rugby. Not that the Wallabies put on a super-class performance; they were good — but they were unrecognisable from the team that capitulated totally against France, just seven days before.
How did this happen? Well, for starters, I had said that they couldn't win. Nothing is more certain to produce a performance from this Wallabies team. In fact, from now on, I am going to predict a thrashing each time they play a team of any quality at all.
Next, team selection was better. Some selections were forced or permitted, with injury or recovery playing the important part, others were form based, but the team looked better to me. Additionally, we had the sensible 5/3 split on the bench after the ludicrous situation last weekend with six forwards available to sub for the original starting eight.
Further, we used our bench to some positive effect, although Brett Sheehan once again was forced to sit throughout and watch Nick Phipps's horror passing performance. Sheehan must wonder just how poor a player the Wallabies staff must rate him. I'd be confident that he's thinking, 'I can do a lot better than that!' Not that Phipps is without qualities – he tackles well and often, covers excellently and he did make the excellent break for Cummins's try — but he is devoid of most of the fundamentals required for quality scrum-half play.
Radike Samo, after a sterling cameo performance last weekend, also sat this one out. Maybe his reward for last week was a rest this weekend. But, beggars can't be choosers and our bench front row got to contribute positively for a reasonable period.
From the personnel point of view, the biggest positive for me, even if was forced on our selectors, was that we had an inside centre who can threaten the line with good footwork and good acceleration. He even passes the ball sometimes. This was vital to our performance.
Kurtley Beale was also a lot better  — maybe Ben Tapuai gave him some options — and the possibility of the 'pass' option moved way up the list for our ball-carriers. In one fateful moment, just as the ball-carrier was loading up for a return bomb following receipt of Danny Care's box-kick, the pass and counter-attack idea surfaced. I'm hoping that some vision and a loud voice was the cause, but whatever the reason, a try – and a good one at that – was the result.
From a performance point of view, there were two standouts. First, our scrum was very good and that won us the game. Ben Alexander did get popped once and was penalised, but that should have been a penalty to Australia. Vunipola (who looks good by the way) went in on a huge angle and up and under Alexander – I thought that it was a shorter and darker Bill Young reappearing after a sabbatical! Once the ref decided to come onto that side of the scrum, it didn't look like happening again. (The ref's assistant – otherwise known as the 'free match ticket' – was clearly asleep at the time.)
Next, and at last, we had numbers with body-position and leg-drive at the tackle contest and we gained considerable advantage in this phase. We would have had more advantage had the ref insisted that the England forwards retreat behind the off-side line with the Wallabies' counter rucking. His failure here cost the Wallabies on two important occasions.
I wrote in my notes, at the end of the game, 'Good Win'. I've seen England play better, but they are a side to be reckoned with. I've seen us play a whole lot worse – and quite recently! So we should breathe a sigh of relief and be reasonably happy.
I rate our players, as follows;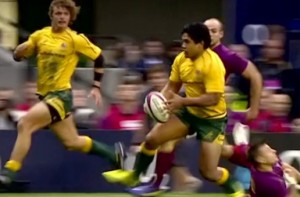 Six front-rowers were all good. Nearly time for a start for Stephen Moore; TPN looked very shaky at lineout time.
Sharpie was good, but not as good as his recent games – might be getting tired.
Timani was OK, but I've seen him more prominent. Needed the run.
Cliffy and Hooper both excellent – we will be a lesser team without Hooper. Selectors please note.
Dennis was also better, but I'm not sure he's up to this level.
Phipps. Enough said.
Beale. OK, but not a natural fly-half. Better wider out with more room.
Tapuai. At last, an inside centre!
AAC. Our mainstay!
Ioane. Tried hard to get involved and contributed, but opportunities went to the other wing. Will be better and also needed the run.
Cummins. Rates with Samo for urgency and enthusiasm. Selectors should note that he was 'very good' at outside centre for the Force. Like Tapuai, has footwork and acceleration.
Barnes. Always worth a place in the squad, but I doubt that he will ever be considered for World XV selection. Reliable kicker – not foolproof, but reliable.
I'm a hell of a lot happier than I was this time last week, but we still have a long way to go. Let's not confuse result with performance!