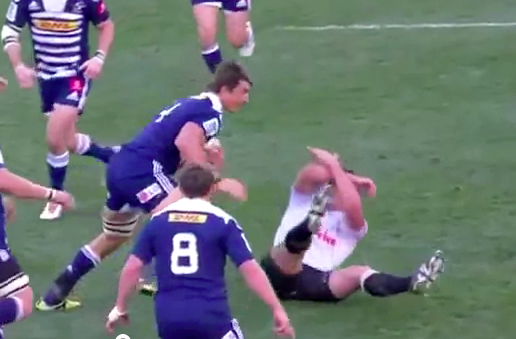 'We're just looking for a good set piece and applying a lot of pressure.' This was the response last weekend to commentator  Brendan Cannon's pre-match question to champion Sharks hooker Bismark du Plessis.
Clearly, this is the simply-stated-but-more-difficult-to-achieve plan for success in finals rugby. The Chiefs and the Sharks were able to achieve both these goals, each in the most testing of arenas. Both the losing teams went close, but not quite. Surely, these matches were as intense as rugby can get – I'm thinking just outside of the very highest level of international matches.
Chiefs v. Crusaders
Pre-match thinking was that the Chiefs would be under the cosh from the all All Blacks front-rowers (four of them) of the Crusaders, but Taumalolo's focus at the first scrum was clear for all to see. His performance followed and stayed in place for the 80 minutes. On the other side of the scrum, Tameifuna's work was equally admirable and he made some amazing tackles for a 120-plus-kilogram 20-year-old in his first season of elite rugby. He is one right out of the box. And so one of the Crusaders' most powerful advantages was somewhat nullified.
The Chiefs played the game at an almost frantic pace, in both attack and off-the-line defence ,and this, together with their clearly no-nonsense attitude in the contact zones, appeared to unsettled the Crusaders. McCaw seemed a bit off-colour at times and Daniel Carter was not quite up to his usual very high standard. When did he last miss-kick a crucial, relatively easy (for him) shot at goal? On top of this, the loss after 15 minutes of Luke Romano was significant. Sure, Tom Donnelly is an All Black, but Romano has been in top form and, in the tightest of contests, every single per cent counts.
I loved the physicality of the contest – even though Craig Joubert didn't, at times – and the speed of recycle and use of the ball. The dreaded pod system was nowhere to be seen – praise the Lord – and urgency of realignment meant that defences were always stretched. Passion and commitment, however, allowed that, for the most part, scrambling defences were up to the task. But consistent, maximum-level pressure exposed the slightest flaw and I, from the comfort of my living room, had my heart in my mouth for pretty much the whole game. It was fantastic!
Cruden has gone ahead in leaps and bounds. He is now a mature player with great innate skills. His uncanny footwork is a great foil for the more direct, but equally talented, style of SBW and Kerr-Barlow, on either side of him. Add Retallick, Messam and Robinson and, at home, the Chiefs could go one better in their second Super Rugby final.
Stormers v. Sharks
Meanwhile, back in South Africa, the Sharks continued their phenomenal run after a less than encouraging start to the season. To travel to 'Fortress Suncorp' for a win over the Reds, then back to Newlands for victory again, is something to be proud of. Coach John Plumtree spoke of his team's 'growing' as they've cleared one hurdle after  another over the last weeks. Now they have momentum and perhaps this vital commodity can somewhat balance out the huge load of yet another long flight and an eight-hour time difference. Hardship can harden the resolve and these Yappies are seriously tough hombres.
The midfield threat of the Sharks is balanced by the singularly non-South African qualities of Freddy Michalak. He has never played better and, I figure, has developed even more under the disciplined, never-say-die attitude of his new home. He may yet have a lot more to offer the French national team. For my money, JP Pietersen is also in the best form of his career and he would have been my man-of-the-match. He would not be out of place at centre for the Springboks and they do have a few wingers. They have a few centres also.
The Sharks front row is an enormous advantage to them, even though, in this match, Bismark du Plessis was somewhat handicapped by a huge knock after only 5 minutes (see video below). There was some thought that he may have to leave the field, but his courage and durability prevailed. That advantage will be vital against the Chiefs and I hope that next week's referee does a more accurate job than Joubert and his assistants. I continue to be amazed – along with a few NZ commentators – that the Crusaders avoid consistent penalties at their scrum.
The Sharks' game has nowhere near the same speed – in terms of ball use and movement — as that of the Chiefs, but they will impose their own game, whenever they can, and their huge physicality can carry this slower approach. They also have a bench that can make a significant contribution – and they'll need it.
This will be a great final and, if the Sharks can win it, it will be the greatest of all Super Rugby championship victories.
[youtube id="ZCHFsHlKpoo" width="600″ height="350″]