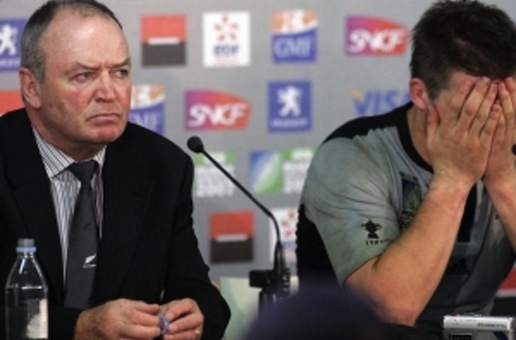 Think you'd read just about all the Kiwi sour grapes there could possibly have been following the All Blacks' loss in the 2007 World Cup quarter? Think again.
Sir Graham Henry has just released a book in which he claims the stats against his hard done by All Blacks were so one-sided  that something 'bizarre' had taken place.
He told them he believed, given the graphic video evidence available, that the NZRU should pressure the International Rugby Board to institute an inquiry. He also emphasised that it was incomprehensible that the IRB did not have strategies in place to investigate bizarre matches. And when it came to bizarre, this World Cup quarter-final was an absolute doozy.

As far as Graham was concerned, the major reason the All Blacks had lost was not because of conditioning or rotation policies or decisions by his captain, but purely and simply because the officials had refereed only one team, to a degree unprecedented in the history of the sport.

He knew if a comparable situation had occurred in other sports, it would be investigated. But there existed a blissful purity about rugby, or at least that's how everyone wanted to perceive it. It wasn't politically correct to even suggest the match officials might have favoured one team.
Apparently there are even stronger allegations coming via a radio interview.
@SkySportsJimmyG I've heard what he says on radio mate. Goes a step further. Asked NZRU to push IRB for inquiry. Uses the word "cheating"

— Jim Kayes (@JimKayes) July 28, 2012
The piece of imagery I like the best, though, is that apparently Sir Graham spontaneously chundered upon seeing the video replay of the game in question while on holiday with his wife  in Hervey Bay, Queensland. Vomited.
'Yeah, a cuppa tea would be….aw, BLEEUUGH!'
It urns out, though, that Graham isn't alone. According to SA Rugby Mag, South Africa's last head coach has also cried 'Fixed!'  — in a typically muddled way (he admits he has no evidence) about the semi they lost to the Wallabies last year.
Does this make the two losers of last year's Tri Nations competition officially the biggest ref-bashing moaners in world rugby?