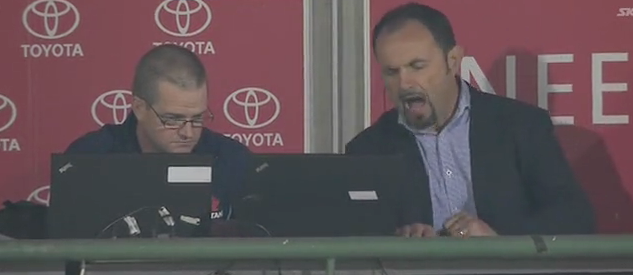 With the extended Wallabies squad for the June internationals is to be announced at the end of it, and in a round of matches where performances were expected to count for plenty, many players let their chances slip. So many, however, that the selectors would have been forced to disregard a lot and to look to earlier matches and even to last season to arrive at final decisions. Not that this is so bad, anyway; if you've done it before, chances are you can do it again.
The Rebels were awful, but the Hurricanes can punish any team if their defence is not spot on – and the Rebels defence was certainly not spot on. Bringing your fullback up onto the end of the line is not a bad idea, but so flat and so early and with no cover in behind, is just suicidal. Is this the same team that gave the Crusaders a genuine hiding? Of the Rebel candidates, Pyle and to a lesser extent Neville were not up to their best, but, vitally, their potential should be rewarded.
Phipps worked hard and made numerous covering tackles, but threw a couple of his regular "miss everyone" passes. We must have some others who can take his place. Cooper Vuna again showed his freakish ability to make the most of the smallest attacking opportunity, but his defence is often childish. Can someone explain why our converts from rugby league – the self-proclaimed citadel of great defenders – are regularly dreadful defenders in rugby union?
Just a footnote on Matu'u, the Hurricanes replacement hooker. It is "a high and dangerous tackle" if your shoulder drives into the ball-carrier's chin – even more so if there is the merest hint of arms involved – no matter what the ridiculously biased NZ commentary team says about it. He should be cited and suspended for a decent stretch.
The Brumbies and the Reds much awaited match-up was grossly disappointing, as these crucial local derbies often are. Both teams seemed terrified to do anything positive at all and the Brumbies looked especially tentative and fumbling. The Reds scrum, after an initial shock on their first feed, really stood up and this was an important factor in their final victory. I have always favoured Hansen over Fainga'a, because of Hansen's superior scrummaging. Not any more; Sai looks bigger to me this season. Now, if he can just stop him giving away stupid penalties!
Morahan certainly improved his standing and his defence, whilst not put under any great pressure, looks to have tightened up. Gill and Hooper were both of their normal excellent standard. Gill, perhaps sensing that Hooper carries a lot more effectively, took more yards than he has in the past. I can't not say this; despite the fact that he again took some very good lineout ball, I have never seen an international level backrow forward contribute less to his team effort that Scott Higginbotham. Joe Tomane looks a genuine prospect and an international in waiting.
The Reds had the better of the scrum and the lineout, with Moore strangely astray with his throws. Their defence was also better, although the Brumbies offered very little in attack, and in the end they probably deserved their win.
The Waratahs scored four tries in the first 35 minutes, including a couple of beauties. Then they, once again, seemed to lose focus and scored a lone penalty in the remaining 45 minutes. This consistent inconsistency must drive their coaching staff mad. To me, their great fault is their lack of urgency ON THE BALL. The dreaded "reload" takes precedence over any interest in the ball and the "what's happening now". This can only be a factor of their practice sessions – "Only perfect practice makes perfect!"
Kepu's scrummaging has improved out of sight and he has his moments around the pitch, but Deans and co need to take a whip to him. My potential world-class lock pairing of Timani and Douglas again did well and will continue to develop. Poor Sarel Pretorius came on – again – when his forwards had gone into their customary "let's stand around looking totally disinterested and get in the scrum-half's way" phase. If I was him, I would let them know exactly what I thought – before, during and after the game. Foley has great running skills and could be a constant threat from the back – if everyone in the team had the same idea, all of the time.
The Force played well enough in a game of ordinary standard. Cummins in his 50th showed me that he is worth a look at squad level. I like his acceleration, footwork and size, especially at outside-centre, but Rob Horne's belated return to some sort of form may cost him a spot. Nathan Sharpe was outstanding and will be important for the Wallabies this year. Pocock, as usual, was great – his body position, which enabled his team-mates to attach and drive him over the line was an exemplary lesson and the obvious productive alternative to the futile "voluntary tackle" flop – and Cowan and Hodgson worked very industriously. Salesi Manu and Willie Tupou are both worth keeping in mind for the future.
Not really a great weekend for Aussie team performances, but the sum total of individual performances will produce a Wallaby squad with a lot of talent. Now, it's over to our new coaching staff.