When G&GR first approached me about writing for the site was a bit hesitant as most of my tweets are a bit controversial at times. Then i thought it'd be a great way to set things straight + give u a better angle of where i'm coming from.
You'd be surprised how many of us read the Social Pages and I've always taken it as good fun banter. So here I am to answer any questions you may have! Have at it!
What are you thinking?
I actually joined twitter to keep in touch with my mates around the world and have a laugh of course!
People who know me know that I have a quirky sense of humour and I take almost anything in a different way to find a humorous angle to it. I like making fun of myself, and my mates know that I'm joking, and that I'm posing for photos so that I can make them laugh and get a reaction out of them.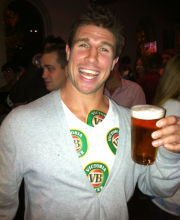 Unfortunately to people who don't know me, it comes across that I'm a bit of a raging party-animal with no self-control.  Don't get me wrong – there's a time and place for all that, but that time is not in the middle of the season, that place is not in Melbourne where we're trying to establish a rugby team. And there's no way I'd post it up on twitter! I've since learned that my sense of humour doesn't always come across well in 140 characters, and I've given the guys at the Rebels a few grey hairs so far…sorry bout that!
What's with Lock 'em up?
Lock 'em up comes from a guy call Radar who lives in Double Bay in Sydney. Radar would be 65+, he's ripped up big time, spends his life either tanning or in the gym, and he cuts around in Speedos all day. He's absolutely killing it, and he doesn't care what anyone else thinks and I reckon he's awesome. He walks around the gym saying "lock up your daughters, lock 'em up, lock 'em up" as if the only way young, good-looking women will be able to resist him is if they're locked up. Haha its too funny!
What about the campaigns?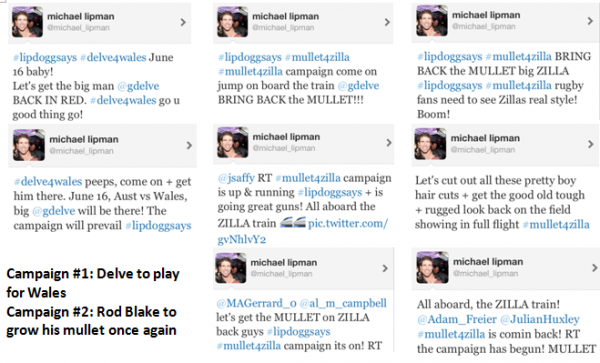 #delve4Wales
This one I was actually serious about. It didn't work out, but it could have, and it should have. There is no doubt in my mind that G.Delve is one of Wales' best three No. 8s. No doubt. His form, especially over the past 6 weeks, has been sensational. His experience playing alongside, and against, the best Southern Hemisphere teams would be a huge help  to a Welsh side looking to build on a 6 Nations Championship.
I'm a big believer in picking the best squad you can, regardless of where in the world they are playing, and if you have a No 8 in career-best form leading his team around in the toughest provincial competition in the world, you HAVE to pick him.
Let's look at how it could've worked: the Rebels play on June 1st against the Brumbies at home. Wales play the Barbarians at home on June 2nd, then they'll fly to Australia the next day to play the Wallabies in Brisbane on the 9th.
The RaboDirect Pro12 season was over for most clubs last week (May 5th), with Ospreys to take on Munster this weekend. This means that when the Welsh take on the Barbarians in Cardiff on the 2nd, it will be the first game in a month for many of them (and the second game in a week for some). If they don't get a run against the Barbarians, then they'll be travelling to Australia without having played for 5 weeks.
If they'd picked Gareth Delve in the touring side they would get a player who prepared by playing 8 days earlier against a side that will be close to the top of the Super Rugby ladder. They would get a player who flew 2 hours and 10min to Brisbane to meet the team, not 22 hours and a stopover. A player whose leadership qualities, attitude, and on-field performances are a very large part of any, and every, success the Rebels have had over the past two years. They would also have a player who has spent the past two years playing alongside and against the people he's marking up against while Wales are in Australia.
#mullet4zilla?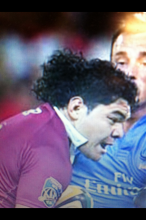 This was just as serious for me, but it was more successful, probably because it was pretty easy to pull off. Like all of us, the big man takes pride in his hair, but he seemed happy to go along with it. Lloyd Johansson shaved it in last Thursday, and I think we can all agree that big Rodzilla is a magnificent beast with a mullet. Also he definitely looks a little scary which always helps. The big Zilla rarely gets angry but at least now he'll be pretty damn scary Donning the Mullet when he does eventually get angry. He's growing it for the rest of the year so it'll only get better.
#coops4Aust
THIS ONE WORKED!! Named in the Wallaby squad and well-deserved!
What's next?
So now I want to know what you want to know. I'm not good at talking about myself, so  there's a thread in the forums here that might give you a bit more of an idea. You can ask your questions on twitter using the #asklipdogg hash tag, in the forum post, or in the comments of this post.