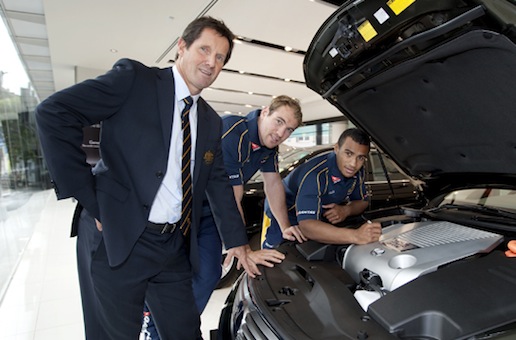 'I've always been black. I've been playing black all my life.'
This was celebrity rapist Mike Tyson's confused response when asked a question about New Zealand's national rugby team. While Mike doesn't know about the All Blacks at all, the Wallabies wish they had that luxury. It was less than a week ago that they got a jolly good thwacking at Eden Park.
A lot has been written this week in the Kiwi press about Dingo's admission of All Blacks dominance and SBW's imminent departure from New Zealand. But it's no surprise that during the past week the big story on everyone's mind has been Dingo and his apparently imminent demise, particularly in the Aussie papers.
Now I don't want to crack a Kiwi fat for Dingo's comments about the All Blacks being a bridge too far. The reason being is that anything could happen between now and the next World Cup. Teams do catch up and teams can peak too early, yet I've seen little of this introspection in the Kiwi press, which is surprising as it's happened to us far too many times before for us to be smug.
The All Blacks, while being stoic, are saying they haven't reached their peak yet and still seek to improve their game.  The reality is it was some good Aussie defence that caused many of the All Blacks' errors on offence. Steve Hansen practically said as much. Sure, Hansen may not be the most liked Kiwi across the ditch, but as a coach he's actually a pretty good gauge of where the ABs are at. Indeed, Hansen's comments in general rarely raise an eyebrow in the Aussie media; there's only one coach the Aussies have an eye out for and that's his opposite Dingo.
What the New Zealand press seem to be rabbiting on about is the gap between us and the rest of the world by using the Wallabies as a barometer. This is some extremely dubious logic. It remains to be seen if the Wallabies really are the number two team in the world.
Now, what follows may be a little rugged. But there is a little hope for you Wallabies supporters, as we shall see at the end. If we take a look at the remainder of the Aussies' home games for this series, Ben Horne of the NZ Newswire pointed out their next opponents South Africa need only to beat the Wallabies in Perth on 8 of September to leap into third place. The Springboks are followed very closely by England and France in the IRB rankings.
According to AFP, Deans apparently has four Tests to save his job. Dingo, however, may have something of a lifeline as the Springboks have been hit with a woeful list of injuries this season, which have matched his own. We should also factor in Australia's dominant record at home against the Springboks, not to mention Deans's good track record against them .
The result — all barring some colossal screw-up [like Scotland or Samoa? – Ed.] — really should be a no-brainer. Thus this game likely won't be the watershed moment for Deans as John Connolly said to Fox Sports. Nor will that moment come from the Argentinians. The Pumas play a similar game to the Boks', though not quite as well. Thus I can see the Aussies winning the game in Brisbane pretty comfortably.
The watershed moments for Deans will likely be the two final Rugby Championship games of the season. I suspect these will be the most important fixtures for dear old Dingo. He has to front up against the Boks at altitude in Pretoria and then the Pumas in Buenos Aires; both teams have rabid home support and are notoriously difficult to beat in their own backyards.
If Deans can somehow navigate this minefield, he likely won't do so unscathed; the hard pitches and sizeable physiques of the South Africans and Pumas forward packs are a readymade guarantee for injuries. He then faces the All Blacks in Brisbane on 20 October, in a rehearsal for the obligatory European tour.
Will Dingo be on that plane? Well, here's the good news for all of you Dingo haters: I severely doubt it. Even if he survives the overseas legs of the Championship he'll likely have an exhausted and injured Wallabies pack getting stuffed by an All Blacks team chafing at the bit to put a really big score on them. AFP missed this little nugget in its article.
In summary, Deans has had some unlucky moments with injuries, player attitudes and a lack of depth. Australians also forget that for the past decade all teams have had a pretty miserable record against the All Blacks, so maybe it's not a fair gauge — a point of view shared by Simon Poidevin.
If he doesn't survive this period, the post mortem for Deans in the Aussie press will likely read as follows in the next few months:
Deans has fallen flat by not embracing traditional Australian backline play. Its cunning and inventiveness have long kept the Wallabies in games, when their forwards were out on their feet. It's also had the ability to turn lesser players on paper into world beaters.
Deans has failed to provide a front row that can at the very least get parity when it counts.
Nor has Deans developed a Plan B or game change, as has been pointed out by Scott Allen at GAGR.
Pundits in the Kiwi and Aussie media who once lauded Deans's arrival in Australia stand shamefaced. They all forgot that Deans was part of the disastrous 2003 RWC All Blacks coaching team. In that losing semi-final there seemed to be no Plan B and there was nothing to counter the Wallabies. It was a display of attacking rugby even more hare-brained than any by the Wallabies against the ABs in recent memory.