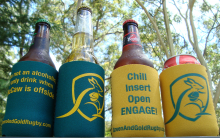 Do you, or someone you know drink beer (or anything else in a can or bottle)?
Do you live in a climate that inconsiderately varies outside of 3-5 degrees Celsius?
THEN YOU NEED THE GREEN AND GOLD RUGBY STUBBY COOLER (PICTURED)
Made in Australia from quality materials, the G&GR Stubby Cooler is of the flat pack variety that fits nicely in your back pocket making it easier to take to the rugby.
In short, this stubby holder is just as awesome as Green and Gold Rugby itself!
We have two styles of cooler:
I'm not an alcoholic,
I only drink when
McCaw is offside
and
Chill,
Insert,
Open,
ENGAGE!
Both will be included as a mix when you order two, four or ten coolers.
Head over to this page to order your G&GR Stubby Cooler.