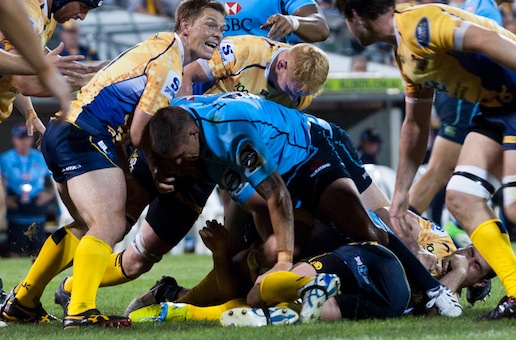 The Brumbies attack so far in 2013 has been really good and there are a number of reasons behind that. If you haven't seen the first 35 minutes of their match last week against the Sharks, I recommend you find a way because it was very special.
The only way a team can play the up-tempo attacking style the Brumbies are playing is if they work hard to re-align quickly on every phase to give the ball carrier options for a pass or an offload and to get numbers into each breakdown to ensure quick, clean ball is available.
In the following video I've analysed just one of the Brumbies possessions in that first half against the Sharks, 25 minutes into the first half. The possession started from a lineout and carried on for 15 phases. Whilst it didn't end with a score, it demonstrates how the Brumbies are supporting in attack this year.
As you'll see, at most breakdowns the Brumbies have the ball carrier plus three others in to make sure the opposition cannot achieve a turnover or slow the ball down. When they can't get good numbers into the breakdown the ball is moved very quickly from the base of the ruck to deny the opposition any chance to counter ruck. Keeping this up over 15 phases or more is difficult but the Brumbies have obviously tailored their conditioning program to this style of play.
I imagine this is what Michael Cheika's trying to achieve with the Waratahs but at the moment there is a massive difference between how the two sides are executing this style of play.