Each fixture of Round 4 featured a stamping of authority. The Southport School were able to clinically undo a strong Churchie outfit. Toowoomba Grammar put Downlands College to the sword. As for BBC versus Gregory Terrace, authority was sought defiantly and came heralded by the shrill of the referee's whistle.
The Southport School v. Anglican Church Grammar School (Churchie)
TSS came into the match on a high, back at home after unseating the vaunted Nudgee College outfit at Nudgee the previous weekend. Conversely Churchie, still seeking their first win of the season, must have been feeling the pressure. An early trial match between the teams had been a close affair (TSS getting the spoils 19-12). The match was shaping up nicely.
Barring an early penalty to Churchie (well kicked by 15. James Watson in a strong cross-field breeze), the sides could not be separated for the opening twenty minutes. Wherever one team eked the slightest dominance, it would soon be undone or countered – Churchie's pack had an upper hand at the breakdown, while TSS a definite edge in the scrums.
Finally, the try line was crossed. With TSS on the counter, Churchie 14. Sam Hyne swooped on a floating pass by TSS 12. Nili Fielea and sprinted 40m to the corner untouched. 10-0 to Churchie after 22 minutes.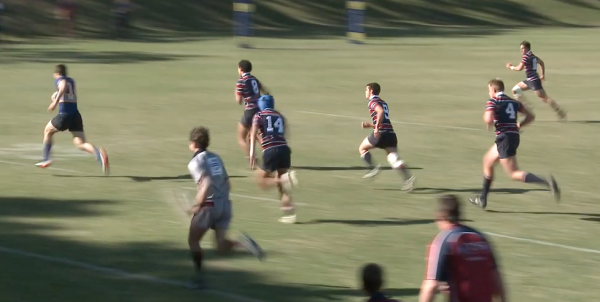 As if awoken from a slumber, TSS were suddenly spurred to find another gear. Attacking the line with more spark, they soon found themselves with a lineout on Churchie's 22. A handful of phases later they were over, busting through poor Churchie ruck defence.
Churchie hit back with another penalty, but again TSS soon worked their way back toward the Churchie line and, seven minutes after their first effort, got over the line a second time – again through poor defence around the ruck. 13-12 to Churchie at halftime, though two-tries-to-one in favour of TSS.
I mentioned last week that Churchie had an effective pack in attack – well drilled and efficient – though noted that they did not compete as well in defence. Again this week, their body height and spacing around the fringes was becoming an issue. Having two tries scored owing to the problem merely added emphasis, but it permeated their play throughout.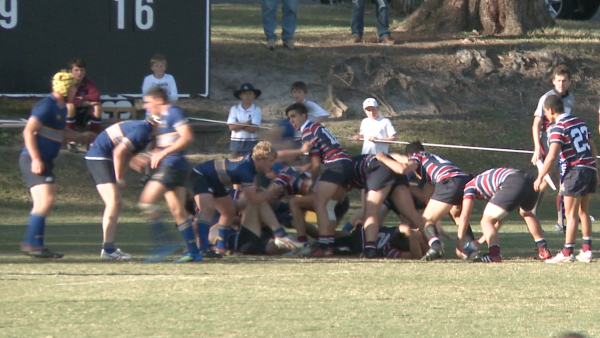 That aside, good performances were on display. 6. Michael Gunn continues to impress with his positional play and strength in contact, and 7. Douglas 'Digger' MacMillan was playing well. 9. Vinnie Quigley also was playing confidently after an average effort last weekend.
Similarly, TSS had players in key positions performing well. 2. Jake Lyon had been immense, while 6. Joel Brown and 8. David Findlay-Hennaway were getting stuck in. 10. Mitch Third was organising well and 12. Fielea was dominant in midfield. The second half was set to be a great one.
Again an even contest early, Churchie kicked a penalty five minutes in. This time however there was very little wait for a try. TSS captain 13. Vincent Cooney and 14. Brock Anderson combined well down the right flank to get Anderson over in the corner. 19-16 to TSS.
It looked like Churchie would soon hit back and retake the lead, though despite being camped in the TSS 22 for the next ten minutes of play, they were unable to get over the line.
TSS having held firm in defence, pounced on their first half-chance with the ball. Churchie were again caught short around the fringes on more than one phase in the lead-up to a well-earned try. 26-16 TSS and the floodgates were open.
TSS scored twice more in the next three minutes, each time capitalising on Churchie defence that was too slow to arrive and largely ineffective when it did. While Churchie were able to tighten things up again in the final five minutes and score a consolation try, the match was long gone. 38-21 to TSS at full time.
While competitive up front, Churchie just couldn't match the firepower of TSS out wide. Churchie 13. Jaidon Schafer went missing, and few options were offered to playmaker Darcy Eason throughout. That said, 15. Watson had his best game of the season so far and looked more confident at the back.
For TSS, Jake Lyon played a superb match at hooker, with great work in tight, as well as some big hits, strong runs and more-than-able link play in the backs. He was a standout.
With Nudgee and Churchie now comfortably accounted for and the season half gone, TSS will be looking to continue their solid form and ensure that the Round One loss to Ipswich Grammar was but a blip.
Downlands College v. Toowoomba Grammar School
In Toowoomba's annual grudge match, the boys from across town took to the field contesting the O'Callaghan Cup for the 62nd time. Downlands were seeking their third win in as many years, while Toowoomba looked to continue to build momentum. At least 6,000 spectators filled every vantage point around the field.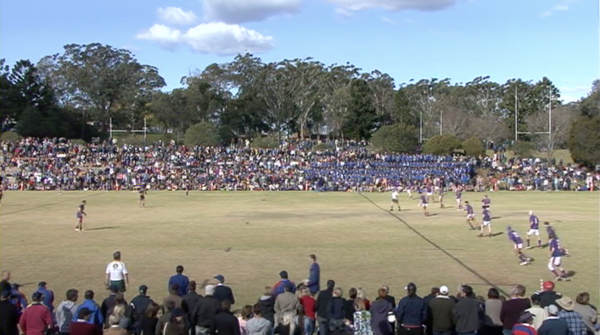 It was a typical country grudge match. No quarter was given, but plenty of bruising hits were made. The opening twenty minutes saw only three points scored (by Downlands) and a handful of early walking wounded. TGS lost 15. Jonah Placid, one of their best in recent weeks, in the opening ten minutes to the blood bin, though his substitute in jersey 18 stepped up well.
In the first genuine chance of the match, Downlands looked certain to score in the 21st minute, with a 3-on-2 overlap butchered by 11. Christopher McIllhatton who, despite being only metres from both the try-line and touchline, ran high and was easily bundled into touch.
Eight minutes later, TGS finally got on the board. In a strong movement from inside their own half, the ball went through many pairs of hands before being driven over. 7-3 to TGS.
Soon after, and again after applying plenty of pressure, TGS went over again through 9. Adam Deck with a quick dart from the scrumbase. 12-3. Deck again played his hand minutes later with another sniping break from the 22. Half time, 19-3 to TGS.
Both sides were contesting well and were tough to split. Downlands 10. Bill Thompson was playing well, with a number of deft chips behind the line creating opportunities for his side. 15. James Dempsey was doing well at the back, while 3. Harry Littleton was also getting through a good amount of work.
Similarly, TGS were reaping the benefits of a captain's knock in the engine room, with 4. Phil Potgieter in everything, ably assisted by 8. Anton Minenko. Out back, 10. Thomas Kidson and 13. Jordan Drew looked good with ball in hand.
see more (including BBC v. Gregory Terrace)…