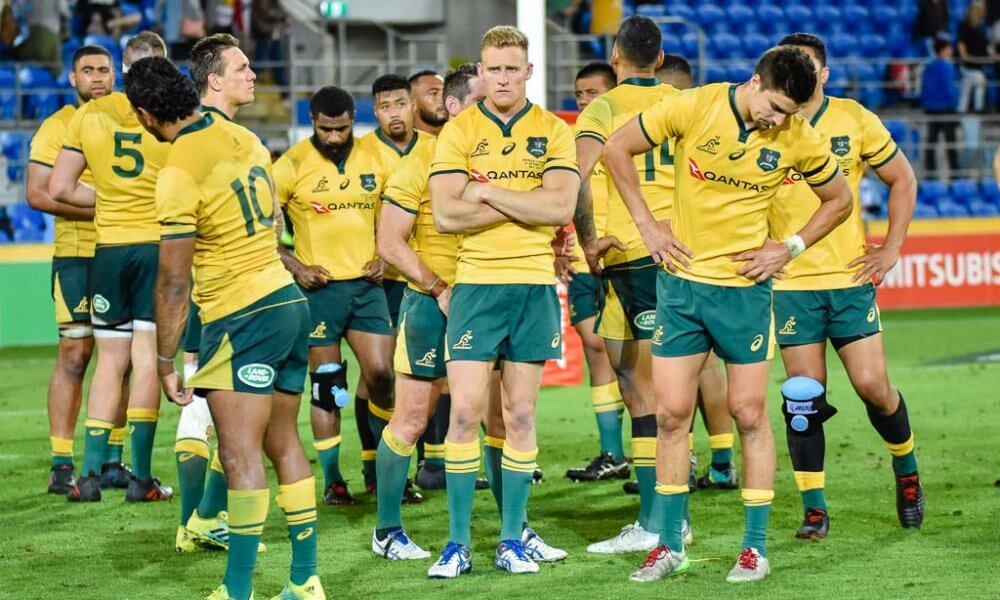 Introduction
It's been along time between drinks for Argentina in Australia with their last previous win in 1983. I was at Ballymore watching that game as a schoolboy and I vividly remember the legendary Hugo Porta kicking the Wallabies into submission. This Puma victory was a completely different type of win. Since Graham Henry spent time with them a few years back they have transformed the way they play. They're now an ambitious team prepared to spread the ball and use their zippy outside backs. Whilst it hurts from a Wallaby perspective it's great for world rugby that the Pumas are evolving their game. In this analysis we're going to look at some key clips from the match.
NRL Shift
The Wallabies started fast scoring a peach of a try thanks to a hit back play right out of the NRL playbook. It started with a simple keep going pattern and turned into a hit back play. As the Wallabies rolled across the pitch they reloaded on the blind side to set up a 4th phase set play. In NRL terms it was a "shift" play on the 4th tackle to launch Dane Haylett-Petty and Reece Hodge down the right edge. The play was perfectly executed as Haylett-Petty drew two defenders and Hodge then passed inside to Will Genia to score. Watch the clip a couple of times and look at Genia's support line. He's actually in front of the ball anticipating the bust and this is a great lesson to all young halfbacks.
Puma Pop Passes
Argentina scored two very good tries thanks to some good coaching and their desire to keep the ball alive. In both instances a key component to scoring was their collective understanding of how to keep the ball alive with pop passes off the deck. The first of these tries was scored by Sanchez with a pop pass from his centre deep in Australia's territory. The other started off as a simple exit play and turned into a scoring chance for Delguy after his backrower popped a pass off deck. In both instances the play would have died had the ball not been kept alive. Enjoy these clips and look for the quality support lines.
Izzy's Right Foot
It was a bitter sweet performance for Izzy Folau. He started the night scoring one of the best individual tries you'll ever see using his beautiful right foot step multiple times. This play started off with Izzy launching a lineout play running a hard line off Kurtley Beal. He targeted the seam between the Puma's back row and backline defence and once he poked his nose through the line his instinct took over and his right foot step embarrassed about 5 defenders. Having scored such a brilliant try in the first half it's no wonder he backed him myself to score the match winner in the last second of the game. Clearly the tape shows Foley was unmarked and should have received the ball. I guess even world class players can struggle to make good decisions under pressure in clutch situations. In Izzy's defence it was his comeback game and he had success backing his right foot in the first half. The lesson to all young players – if someone is unmarked give them the ball. Even the great Leo Messi lives by the principle.
Conclusion
The pressure is on the Wallabies and the coaching team and unfortunately there are lots of unwanted distractions. The only way forward for the team is to focus on performance and keep things really simple. There are clearly good things from the last effort they need to keep doing – the scrum was good and the structured attack created tries. There are a number of things they need to stop doing – no team should concede a line break when their opponents are looking to set a target when exiting. Then there are things we should start doing – I think we could be more ambitious in our kick return. If the Wallabies can focus on improving performance and shut out the noise they've a good chance of winning their remaining two games on the road. It won't be easy but it's what is needed.