In the next few weeks Green & Gold Rugby will post some excellent season previews on various Super Rugby teams.
They will be well-researched and will give some interesting insights and provide excellent analyses of their strengths and weaknesses.
Readers will be well-served to bookmark some of these gems.
However this is not one of those. This is a rant by Green & Gold's resident idiot clown, "Dismal Pillock", a long-suffering Blues' fan with an axe to grind.
And no, I don't know what he is talking about some of the time either; so don't ask me.   [Exit – stage left]
---
Auckland Blues 2016

Hello.
Resident Rugby Expert Dr D.Pillock here.
Well, the Auckland Blues pre-season is now in full swing:
"14th out of 15 last year. Why bother, f**k this, let's get naked!"
Seriously though.  No more arsing about.
Blues 2016 Preview
Let's face facts; the 2015 Coronation Season came slightly derailed after about 10 minutes due to blatantly racist refereeing decisions.
There, I said it. Sometimes it takes someone spectacularly brave, like me, to openly confront the ugly, ugly truth head-on.
Anyway, here in 2016, as usual, the Blues are champions-elect on paper.
Just look at the loosies:
Blake Gibson
Akira Ioane
Jerome Kaino (c)
Steve Luatua
Look at that. Packed with talent, ready for some rock-hard K-Road rotation, I reckon.
Although, being the Blues, they'll probably all get injured by Game 3 and it'll be left to Jack Ram and poor old Tanerau Latimer to work like insane drongos in the muckface en route to eking out a beleaguered 5 and 11 record.
The Locks – Will be praying for the emergence of another Tuipulotu.
Hookers? Props? – Who gives a sh*it. Just push, you fat bastards.
Half backs – Bryn Hall and young Sam Nock should surely be sh*t-hot. No more Jimmy Cowan handbraking the goddamn mother-f**king volcanic fire power of Li, Melanie and Visinia out wide. Surely first-five Ihaia West will benefit from having no f**king Jimmy around.
[Editors note:  Mr. Pillock does not admire former Blues' half back, Jimmy Cowan.  Read on; it gets worse]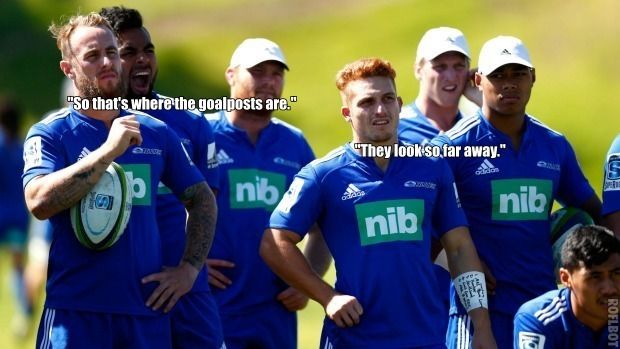 Backs:  Everyone having a massive tug over the prospect of a Moala / Ranger midfield, all the while forgetting one thing; this is the Blues. It won't work.
It always works on paper but as the season unfolds, racist conspiracies are germinated by vicious biased referees conspiring en masse to quell the raging blues cock fire of imagination. By week 3 it'll be Hamish from Northcote paired with Tana himself.
[Don't ask – I have no clue what that meant either,  I trust it is neither rude nor libellous – Ed.  ]
Oh well, on the bright side, at least the Blues have moved out of last years High Performance Centre: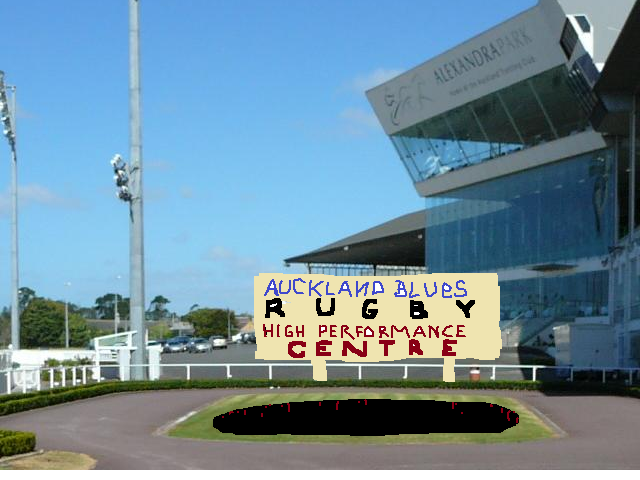 The flash new digs:
Frankly speaking, as a rugby expert, I have pored over the statistics and they ALL point to a belated resurgence in Auckland Blues rugby: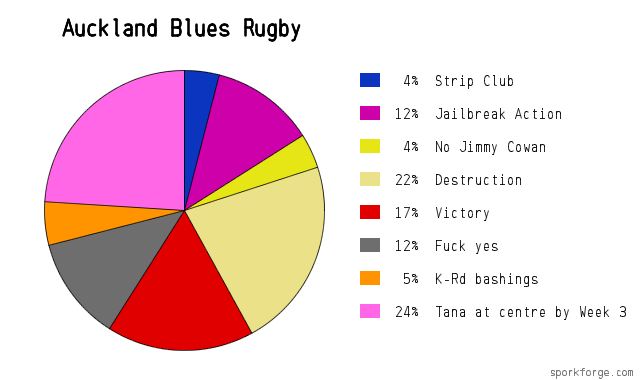 Exclusive interview
Finally, in closing, here is an exclusive interview as conducted by new GAGR intern Gene Gunston of Wollongong:
"Yeah righto. Gene Gunston here. Today I've been dispatched all the way to 'New Zealand' by some Green & Gold idiot to interview a sports coach. 'Tana Umaga', he calls himself. This is him:

GG: "Gidday mate."
Umaga: "Who the hell are you?"
GG: "Gene's the name. Here to interview some bloke about some foreign rugby football carry-on."
Umaga: "Can I ask you something?
GG: "Sure. Just don't ask me about rugby though. I follow the Sydney Swans – know bugger-all about all that psycho game of rugby."
Umaga: "Why are you wearing mittens?
GG: "Oh, these; Aunty Doris taped them onto my hands. I get belted around a lot because I flip people the bird too much. Aunty says that this way, when I flip the bird at them, it just looks like I'm waving at them."
[Umaga abruptly stands up and walks out of the room]
[I told you he was an idiot – Ed.]
.