The Australian Rugby Union have revoked James O'Connor's ARU top-up deal after a string of off field incidences including being escorted by police from Perth Airport three weeks ago.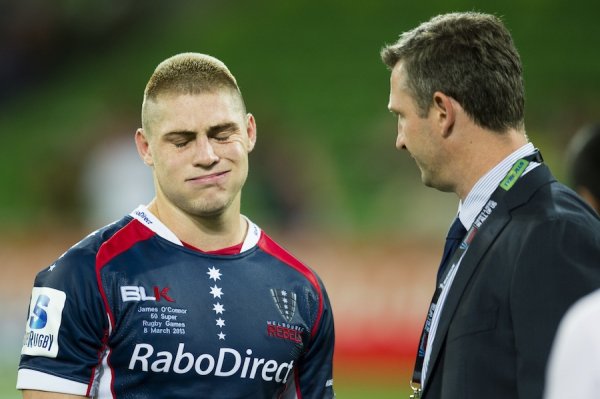 The ARU have released O'Connor from his contract, which was due to end at the end of 2014. This means he is unable to receive an ARU top-up until 2015.
In a statement O'Connor admitted he needed to rectify his attitude.
'I realise I need to earn back a lot of respect, and that is exactly what I plan to do both on and off the field.'
The Qantas Wallabies Twitter account tweeted
ANNOUNCEMENT: #ARU & James O'Connor reach mutual agreement for early release for 2013 contract. ARU won't offer national contract in 2014.

— Wallabies (@wallabies) October 2, 2013
CONT: James is eligible for #Wallabies selection in 2014 if he plays @SuperRugbyAUS, behaviour reflects values & his form warrants selection

— Wallabies (@wallabies) October 2, 2013
Although both parties have mutually agreed to move on from the incident, the agreement to revoke his top up deal was, in fact, not mutual, but a direct decision form the ARU.
'The Australian Rugby Union and I have mutually agreed to put the past behind us and move forward from today
'As a professional, I am focused in developing as a person and as an athlete and intend to do everything possible to put myself in the best environment to do that.
'I want to apologise for any issues that I have caused and I want express my respect for my teammates, the Wallabies and the jumper. There is nothing more important and rewarding to me than representing my country.'
'I want to say again that I do appreciate the impact that some of my actions have had on my team and the sport in general.'
'I recognise that given my actions and the circumstances it is best for the team and myself to go in different directions in the short term.'
Despite his off field indiscretions it appears negotiations are still in place for O'Connor to take up a deal with the Western Force.
'I will also continue discussions with the team at the Western Force in Perth who has shown incredible faith in me of which I am very grateful for'
ARU CEO Bill Pulver commented on the incident.
'After assessing evidence of numerous incidents, we have an obligation to uphold values of our game and James understands that'
'This has been a difficult decision for all parties. James is a player who can make a long-term contribution to our game'