Once again we take a look at some of the key moments in the first Australia vs England match up in our Anatomy of a Test series.
We start at the very beginning.
Kick off – 4:20: Two sides laid bare.
As with most tests we can tell a lot from the opening exchanges, and this is no different.
From the kick off Greg Holmes gets pinged for rolling away and England clear their lines and from the ensuing lineout England work two phases before Fardy rips the ball from Vunipola and Australia immediately counterattack.
Straight away we see the plan is to take England on in the wide channels pulling England's compressed defensive structure wide to the touch line.
Australia recycle but here we see England's trump card come to the fore, line speed – with Haskell smashing Pocock.
Is it man in the air?
Perhaps, but it's uncompromising and as much as Australia's opening salvos is showing their intent is to move this compressed English defence around. England are showing they are going to try and cut Australia off before they can do it.
We all knew the script but it's no less fascinating to see how it pans out
Australia continue to move England from side to side, racking up 8 phases, getting out and around the English defence by using screens in the midfield.
Until Holmes gets isolated and who should pounce? Maro Itoje.
England run two phases and Youngs clears the lines.
From the following lineout Australia again mount pressure and this time as Joseph goes low on Kuridrani and Farrell goes high Robshaw pounces and wins the penalty.
First blood at the breakdown to England – 4 minutes, 2 penalties and 2 turnovers.
08:39 & 15:15: Hooper and Folau are scoring Tries for Fun
Hoopers Try
Australia get ascendancy and build phases, again pulling the England defence out to the touchlines, using Screened passes to get around them.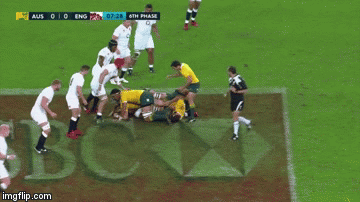 As they move back on their 9th phase they again use a screen to get Folau into the wider channel.
We can see that as the line comes up Burrell is struggling to make a decision in should he shoot or should he tread water to try and make up the numbers. He ends up doing neither allowing Folau to attack Vunipola.
The outside inside swerve comes and Folau breaks Vunipolas tackle.
Hooper is hauled down short, but one hit infield and as Phipps comes back against the grain Watson and Burrell bite in on the wrong players and Hoopers in.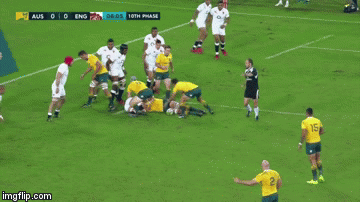 Folau's Try
Fast forward to 15:15 minutes and to Folau's try and we again see a screen used to slow down that defensive press, and Burrell make a poor decision.
As we can see Farrell is leading the line speed looking to close down Folau man and ball. Aggressive line speed only works if everyone buys in the problem is that Burrell doesn't follow up and this is the space Foley attacks, and Farrell realising this frantically back peddles to try and close that gap.
Allowing Folau to drift out late and take the space and 10-0 up Australia are in complete control.
But there is an interesting sub plot going on behind all this, and while Australia are ripping England to shreds in the wide channels, England are showing incredible discipline.
We're now over 15 minutes into the game and even under this intense pressure from Australia England haven't given a penalty away – they've conceded a solitary free kick for messing around at the first scrum.
But they haven't conceded a single pen, in fact they haven't even conceded a pen advantage for Australia to exploit – the defensive system is failing, but England's discipline is intact, they aren't panicking.
In fact it takes 24 minutes for England to concede a penalty, and in that time Australia have surrendered 5 pens and allowed england to score 3 points.
31:27 – Joseph's Try
Australia discipline is causing them serious issues, England have gone from one end of the field to the other twice now off the back of penalties – 31 minutes in and Australia have conceded 8 penalties 5 of which are at the breakdown and England have racked up 9 points from this.
Foley and Folau have been having a field day but disaster strikes.
As we can see in the below example, pretty much every high kick Folau has received this half has come with 4 chasing England players, England have effectively taken Folau out of the game by putting him at the bottom of the ruck:
He's been targeted, and driven to the side line with the English kicking strategy. So you can understand why, when England kick a fraction too long, he gets a taste of a counter attack and goes for it.
But it's a wild pass, and Foley loses it, getting Farrell in his back for his troubles. Kerevi then compounds the problem by making an almighty hash of dropping on the ball.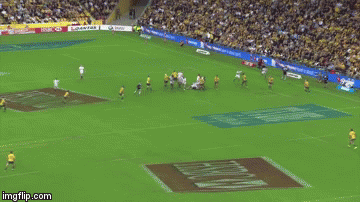 Joseph ever the poacher fly hacks through and takes his chance.
16-10 and suddenly Australia have gone from domination to farce and ultimately head into halftime 13-19 down.
10 minutes that decide the game?
At 45:49 – England spin the maul from a line out and Haskell peels off to go close save for a superb covering tackle from hooper. England recycle and Ford floats a sublime pass over the Australian defence for Yarde to scoot in unchallenged.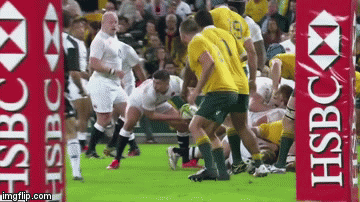 Straight from the kick of Australia steal the re-start and bag themselves a penalty on the 22 from Itoje not supporting his own weight at the ruck.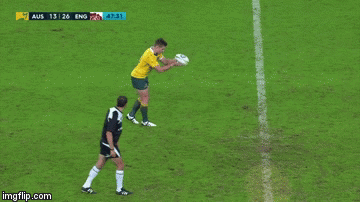 However Moore turns down the goal for the lineout.
Australia lose the ball, and from the subsequent scrum conceded a penalty.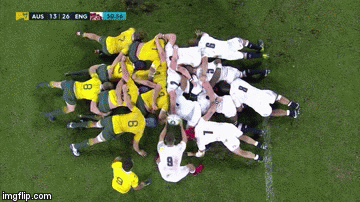 England win a Scrum penalty and clear their lines.
Then comes the yellow (watch Holmes reaction and lip read what he says): you can read Matt's excellent scrum analysis here
England again kick down field and at 54:29 – Fardy Collapses the Maul giving England another shot at goal.
England have gone try line to 22 and scored 3 points purely off the back wallabies ill discipline and Moore's decision to kick for corner.
Moore is subbed after this.
57:55 – Hooper try – a lifeline
England again box the ball onto Folau, but Australia recycle and work across the field:
And after recycling the ball move it wide, and who should do the damage but Folau in the 13 channel.
Watch how Watson bites in trying to shut down that 2 vs 1, he gets bounced and Hooper scoots over:
Australia are back in it.
63:24 – Haskell wins turnover – up on feet and England clear lines
It might seem presumptuous to put a whole game on a turn over, but in my mind this is one of the most important points in the game.
Australia are back in the game and building a fantastic head of steam, working around the corner and getting on the front foot, they are breaking Englands defence down easily.
Mumm comes around the corner and Haskell takes him low, gets to his feet and steals the ball.
Now, this is a controversial moment, so let's break it down:
The tackler can get to his feet and play the ball as long as no ruck is formed – so Haskell is entitled to steal that ball, as there is only Horwill at the breakdown there is no ruck formed (think Chiefs no ruck tactic).
The question is whether or not Polota Nau's clear out on Hartley constitutes forming a ruck. It's debatable, it's not a contest for the ball, and it's not directly over or around the ball.
In truth it's a fraction of a second decision by Poite – I personally don't have an issue with it, but then i'm English and it benefited my side.
It does however have a huge impact on the game. England clear their lines, Australia go quick with the throw and England again turn it over and clear further down field.
For me that's the game, sure Australia score again, but it's too little too late.