LATEST: ALL BLACK SQUAD FOR MELBOURNE NAMED – 
John Afoa, Anthony Boric, Tom Donnelly, Corey Flynn, Ben Franks, Owen Franks, Jerome Kaino, Richie McCaw (captain), Keven Mealamu, Kieran Read, Brad Thorn, Victor Vito, Samuel Whitelock and Tony Woodcock.
Daniel Carter, Jimmy Cowan, Aaron Cruden, Israel Dagg, Cory Jane, Mils Muliaina, Ma'a Nonu, Josevata Rokocoko, Conrad Smith, Benson Stanley and Piri Weepu.  Alby Mathewson will also assemble with the squad as cover for Weepu who is preparing for the arrival of his first child.
All Blacks 31 Springboks 17
In a match with some eerie similarities to last week, the All Blacks showed tonight that there is a resurgence with their rugby and it's something not to be sneezed at. 
The win wasn't as spectacular or as comprehensive as last weekend, mainly due to the conditions and a more hardened attitude by the Bokke, but a bonus point win was achieved with some elan. 
It was back to the future for the wearer of Springbok jersey No 4. I think the quote earlier in the week was "I'd imagine he won't be wanting to be sent off in his 50th test match" (like Bakkies was on Saturday). 
Unfortunately, the Irish referee – how can you be Irish with a name like Alain Rolland – saw fit to send Danie Roussow to the bin for a bit of slap and tickle on His Highness Field Marshal The Untouchable Sir Richie McCaw, Order of the NTBYC (Never To Be Yellow Carded).
How can you send someone off for this? How soft is rugby becoming? Sacre bleu et merde, get a grip on yourself Alain you snotklop! It was kak and it changed the game. 
Not only did it lead to a reversed kickable penalty but two tries were scored by bro'Town while Danie was profaning in his plastic chair on the sideline. 
And it all started so well for the Boks. The hot Japie chick with the big tietkops and peroxide hair looked and sounded great belting out Nkosi Sikelel' Jongi Nokwe iAfrika. 
It's a pity Percy wasn't still around because he'd have had buxom Antjie behind the changing sheds before the warmup…. 
This game was in effect a continuum of the last test. Same tactics, same result. Wellington is a beautiful place on the one day and night each year that its fine. Unfortunately, tonight wasn't the night. 
Did you see what the wind was doing to the goalposts? Its no wonder that Carter only had a 25% success rate. The showers made the ball greasy and its a surprise that some quality rugby was intermittently played. 
The All Blacks were dangerous in any open play situation or when counterattacking, as is their want. Their defence was again outstanding and the conditions had little impact on their ability to defuse the bomb (note: Shmoo). 
The battle of the breakdown was again won by the All Blacks. In this, His Highness really was on another level. He effected turnover after turnover. He was ably supported by others. Why can't the Wallabies ever counter ruck like these guys? Ah, it's in the genes Bruce. 
The first try was scored in the 8th min, shorthly after Danie was yellowed (if 'medalled' can be a verb, so can this). It originated in a Cory Jane burst down the sideline, carried on by His Highness and ended up with Mils at a ruck 5m out. Nonu picks up and with some support is unstoppable powering over the line. 
A minute later, Piri Weepu (the guy who pokes out the big tongue in the haka that Antjie is quite taken with) makes a terrific break near halfway and fires a well directed 10m pass to an unmarked Muliaina who streaks away from cover to score. 
After a Carter penalty the Springboks put on a big play. Januarie augustly marched through a lineout gap and flick passed to Jean de Villiers. A strong run by him is follow by another from Danie, who's now cravening a try. He smashes through to score by the posts. After Styen converts its 13-7 at halftime. 
In the 2nd half Ranger (43 min) finishes a sharp move by Muliaina by diving over in the corner and having the presence of mind to keep his feet above the touchline for his first test try.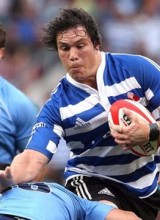 Likewise, Israel 'Fred' Dagg scores a beautiful individual try late in the piece by evading both Spies and Burger using guile and pace to touch down in substitute Bekker's tackle. Bonus point. 
In a consolation try Burger does a run-around with Skylab Bekker for the final score of the match. 
For the All Blacks Weepu, McCaw, Carter and Read were terrific. It's Weepu's first start in 18 months and he grabbed the opportunity with both mitts. Read is maturing fast and featured in every aspect of play. He's looking the complete No 8 now. His Highness and Dan the Man are simply world class. 
The Boks were better in patches with some of the usual suspects stepping up. I thought John Smit had a productive game, Ruan Pienaar certainly freed up the backline when he came on and Francois Louw was the pick of their loose forwards. Their backline just ain't firing – Jean de Villiers is wasted on the wing. 
The Springboks reasserted their dominance in the lineout taking four of the All Blacks throws. That said, the times the Bokke tried to initiate their vaunted maul from the lineout, the opposition splintered or negated it. The Bok scrum was more solid than last weekend. 
The stats of interest today were: AB v Boks Possession 50% v 50%, Time in Opp Half 56% v 44%, Tackles Made 84 v 100, Tackles Missed 21 v 36, Rucks/Mauls 99 v 85. 
The Springboks are now looking vulnerable. Defuse the bombs and counter attack – this appears to be the message.