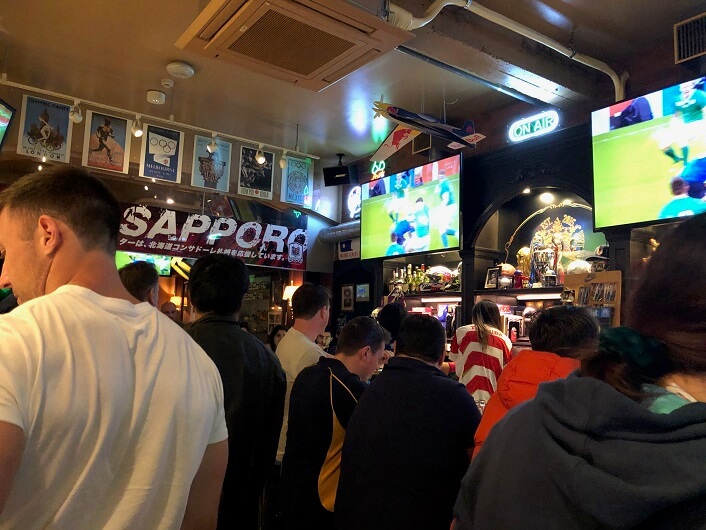 It's 5.45pm Friday night, in downtown Sapporo, and I've tried 4 bars already.
All of the bars are packed with Aussies, English, Tongans & Samoans, but mostly Aussies.  Its hard to make it in the door, let alone acquire a drink, which is never good in tropical conditions.  With google maps in hand and an ever-growing crew of thirsty Rugby fans, we move swiftly through streets surrounded by signs in Japanese, and an odd realization that there isn't going to be a good resolution to this problem. The World Cup is 36minutes away, it's getting desperate.
We find a pub that opens at 6 and we have six minutes to kill.  Luckily the Family Mart across the road sells beer, and a nice chap called Clint from southern Sydney buys a round of Beer.  Forty-odd people crowd the doorway of an English/Irish style bar with bartenders dressed in Italian soccer jerseys and hot pants. People eye off seats and spots and appoint there fittest group member to rush to acquire them. Suddenly someone in an All Blacks Jersey turns around and asks "reckon the wallabies can win the cup" and I instantly reply, I'm here with zero expectations and to tell you the truth that feels fantastic. Then I think to myself, wait, why the hell am I here then?
I do the sums in my head; a few grand down the hole in travel and accommodation. I've already spent double my daily allowance at the Japanese whisky place over lunch. I'm already thinking about spending more buying a round for several strangers. Then I remember I'm here for this; the crowded doorway, the beer, and budget fretting.  It all leads to Rugby.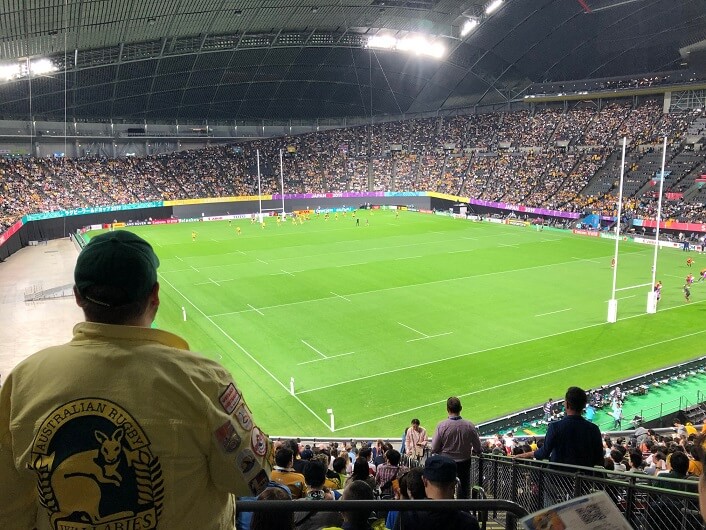 Rugby is the reason we're all together and although we try through the night we don't solve any pressing world issues, we can't even agree on a favourite for the cup. Ireland, Wales, England, New Zealand, South Africa & the dark horse Wallabies all get a run. There's optimism for all of them, a Scottish guy tries to push the case for his country, there's laughter followed by a very angry fun-filled lecture about a quarter-final 4 years ago. This is what being a rugby fan is about.
Fast forward 24 hours and we approach kick-off against Fiji.  Folks who saw each other the night before say hi, beers are exchanged on route to seats, and the Japanese join us in massive numbers. They have chosen sides, some of them both. Face paint, jerseys and headwear are everywhere, it's harder to find a neutral. Even fans of other countries have turned up dressed so you know who they support.
A group of Englishmen behind me tap me on the shoulder and ask "reckon the wallabies will win?".  I'm taken back to the bar the night before and my zero expectations response. This time however I want it, I'm here, I want the cup, I want to drink out of it and I want the Wallabies and Australian Rugby Union to be heroes. They're my heroes and I want everything so I turn and say what every real wallabies fan would say "gonna be messy but Fiji should run out of puff about 50-60 in".
Fast forward and It's an hour after kick-off, we're all still sat in our seats. The stadium is empty and they are mowing the grass. The number of English around us has swelled, there about 15 of us altogether. Still drinking from a bar that refused to close at full time and still unable to solve the world's issues. Still unable to pick a favourite for the cup and still having the time of our lives.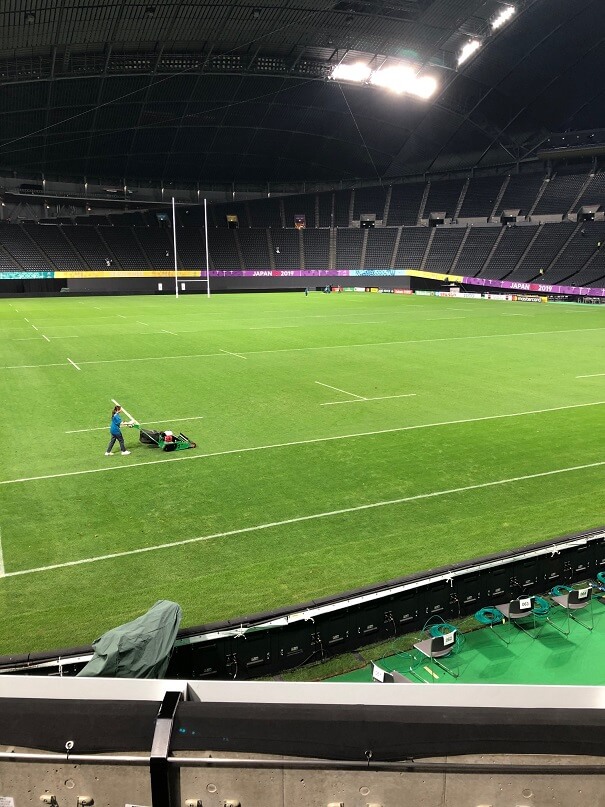 The cup is well and truly underway and as a policeman walks down the aisle to ask us to go home.  He hi-fives us. Smiles and jokes the best he can in broken English.  I'm the last to leave our seats, I say thank you and he winks and says, "I love rugby".  I absolutely know exactly what he means. I do too.
Ed: a big thanks to Waratah Jesus for writing this piece.  Go give him a follow on twitter: @waratahjesus