Rugby 7s is more than just a bunch of superfit superhumans shaming us all with their lung capacity and their back-handed flicks offloads. Yeah, it's true. There's actual a fair amount of detail concerning player roles and team tactics, with a few important deviances from standard 15s doctrine too. So buckle up buckaroos, and crack open that cranium to feast on the nutritional informational goo that is GAGR's Guide to Rugby 7s Tactics (with help from Andy Friend, coach of the Aussie men's 7s team).
The Fundamentals
To be any chance of playing 7s at the highest level, you've gotta be to fitness what Pauline Hanson is to lazy, underpaid journalists: absolute gold.
7s requires loads of running, a lot of sprinting, and a lot of repeat efforts, which means a lot of stamina and quick getaway sticks are in high demand.
On top of that, you have to be generally quite skillful, because as Friend points out "if an error is made, whether it be in attack or defense, it can really hurt your team". In a more positive sense, former Aussie 7s coach Michael O'Connor describes this need as "seven players who can pass the ball like a halfback".
If you're not familiar with who's who in the men's Aussie 7s squad, check out the video below (note that Henry Speight and Tom Kingston, who are on injury standby, don't feature):
Women's team coach Tim Walsh has named the following squad to travel to Rio:
Basic Positions
The positions in 15s are based on placings during a scrum, and so it is in 7s too. Unlike 7s though, they are less forwards than backs, with teams lining up in a 3/4 split. To help you visualise: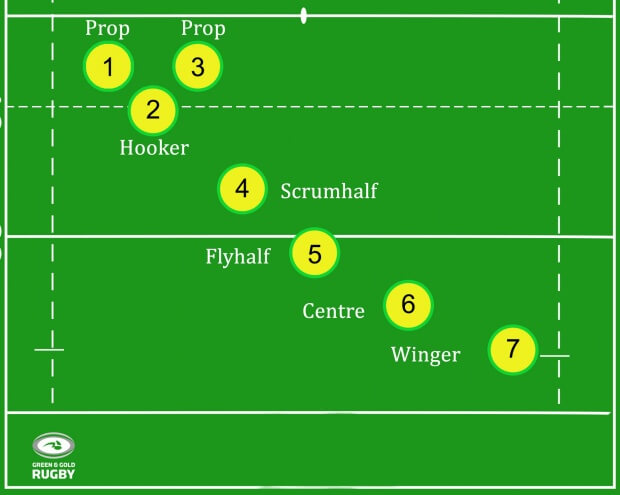 Just like 15s, the forwards turn up for the scrums and lineouts, with the presence of the scrumhalf, as always. However, given the intense athletic nature of 7s, the difference between what makes a forward and what makes a back isn't as profound as it is in the traditional version of the game.
In 7s, there are only three-man scrums and three-man lineouts, with the scrumhalf feeding and throwing the ball in for both. The backs consist of a streamlined version of a 15s backline, with the two halves, plus one centre and one winger.
Add to the seven on the field, the five substitutes on the bench.
Tactical Roles
These positions are just on points on a bit of paper. In play, Friend breaks down the various roles and needs of a 7s team into three broad areas -Ball Winners, Playmakers, and Finishers – further dividing those areas into sub categories.
Ball Winners
The main feature of rugby is the contest for the ball. Much like 15s, in 7s the main contests of the ball revolve around the scrum, the lineout and the breakdown. However, there's one more importance piece to your set-piece weaponry in 7s: the kick off.
In addition, mostly given that there's sixteen less players on the paddock in 7s, contests for possession take on a few different characteristics.
Scrum
With only a three-man pack, scrums in 7s aren't the heaving force they are in the traditional version of the game. This means that a quick and clean scrum is ideal, although in 7s the scrum still needs a bit bulk, a bit of timing, and a bit of power to either win the ball or disrupt the opposition.
Three of Tom Cusack, Con Foley, Ed Jenkins, Nick Malouf, Pat McCutcheon, Jesse Parahi and Tom Kingston are usually found banging heads for the Aussie 7s men's team. For the women, it's co-captains Shannon Parry and Sharni Williams together with the likes of Gemma Etheridge and Chloe Dalton, whilst Amy Turner and Evania Pelite provide utility value to the squad.
Lineouts
Again, like 15s, the lineouts in 7s are truncated affairs, with only two involved in catching the throw. This means the forwards in 7s have to be extra clinical in their movement and deception at lineout time. In addition, an extra quirk of 7s is that the halfback, not the hooker, handles throwing-in duties, which means that that skill is another asset a good 7s scrumhalf must have.
Forward Con Foley  "runs a very good lineout" Friend says, and is usually assisted by Ed Jenkins, although Pat McCutcheon, Allan Fa'alava'au, Henry Hutchison or any other of the forwards usually get involved. Friend singles out John Porch as a standout thrower, with James Stannard and Cameron Clark usually being the others to take on this duty.
Kick offs
A huge departure of difference between 15s and 7s is the importance of the kickoff in the shortened version. For example, Adam Zaruba of Canada demonstrates the impact a perfect kickoff routine can have, in the gif below:
There are basic two different sorts of ball winners at kickoffs, the restart catchers and the pods. These players, other than obviously having a good jump and catch on them, also have to be skilled at knowing how to land in a position that will mean that their team can keep or secure possession. For Australia, Jesse Parahi usually fills this role, with Ed Jenkins or another forward usually in support.
Pods on the other hand, are deployed to catch an opposition's restart. As Friend wonderfully described it, a pod is all about "[getting] two of your smaller blokes…put them together, they make one big tall bloke" to work together to win high balls.
Mostly, Australian teams set up themselves up for receiving a kickoff with three sets of pods, with the scrumhalf (usually James Stannard) hanging back as a full back might do in 15s. However, the most prominent podding duo for Australia, who are also usually the team to contest lineouts, is Con Foley and Ed Jenkins, with Henry Hutchison sometimes filling in.
The women's team is blessed to have basketball convert Chloe Dalton in their squad. as she's established herself as the team's kicking specialist with her metronomic restarts (and conversions) proving a valuable contributor to the team's success.
Rucks
Despite the fast nature of 7s, rucks are still an important part of the game. The big boppers in their team can make their strength particularly felt in this area of the game, both in defending rucks and disrupting the other team's flow.
With a healthy amount of support players available in 15s, the ability to commit numbers to rucks is an often overlooked aspect the traditional game. Not so with 7s, as many breakdowns are mostly contested between one or two players from either side. As such, there's a vastly different approach to rucking in 7s.
Friend places approaches rucks in 7s as "[having] the skill in being able to get in over the ball carrier and remove a threat, but don't remove him so far that you are now out of play. Remove it so that the ball is available for [the scrumhalf] to come, yet stay in a strong position so that you can hit and then lock in and stay in that position."
With the frenetic pace of the game, and incredible interplay and swapping between positions, there is no David Pocock-esque rucking dynamo to pick out from the 7s squad.
Playmakers & Finishers
So now you have the ball, there's one thing left to do: strap on the feed bag and get some meat.
First of all are the halves – the scrumhalf and the flyhalf – and these two, just like in the big version, direct the attacking movement. The scrumhalf, just like in 15s, attends to the rucks and scrums, with the added 7s bonus of also throwing in the lineouts, and the flyhalf does all the usual fancy creative stuff.
In the Australian team, these roles are played by James Stannard, Lewis Holland, John Porch, and Cameron Clark, as well as Allan Fa'alava'au (who at this point seems to be able to play every position in 7s). Friend says while Stannard and Holland stick to a more structured system of play, Fa'alava'au tends to do his own thing when playing as half  (otherwise known as 'Quadeing').
Next is the centre, who has to have excellent hands, Folau-esque levels of agility, and be a good tactical runner and strong defender. Cameron Clark and Tom Kingston usually play as centre for Australia.
For the women it largely revolves around two of the very best players in Charlotte Caslick and Emilee Cherry, both former Australian touch football representatives and superbly skilled players. Further out they link with the likes of Alicia Quirk and Nicole Beck who provide that gap running finesse as well as rugged defensive game.
Then, at the pointy end of the stick is the winger. These are the players that you pass the ball to, and hope they do the rest – or as Friend nicely suggests, "give them the ball and hopefully you can put your glass down and start getting ready for the restart." Henry Hutchison, John Porch and Henry Speight are three names who burn the turf on the far side.
The women have two killer finishers in the Emma Tonegato (who scored ten tries in the Atlanta tournament alone earlier this year) and Ellia Green, the former track athlete who has proved a massive impact on the world stage through her powerful running and sublime finishing.
(The Americans, especially, have really gone down this root by grabbing the fastest sprinters they can get out of college, rugby experience regardless, and stuck them on the wing for just this purpose, as passing and ball winning skills are least needed. For example, Carlin Isles has made a career in sevens by dint of being really really really fast).
This concludes the basic guide to rugby 7s, and if you consume this all, and test your knowledge by watching the few games that are on Youtube, you'll become the most popular pub patron in no time. Keep your eyes peeled for part two of GAGR's Guide to Rugby 7s, where we'll go through how the other big nations' men's teams try to play.