What a finish for a match. I think many of us lost hope before the fat lady sang on Saturday and how good does it feel to be wrong? Too damn good! Here are five things we learned about the Wallabies that popped out of the match after a few reviews.
1. Kicking
Cooper had an okay evening with the boot, but once he was subbed, we didn't have a kicker on the field  better than Giteau, who was short from 40-odd meters. That is a real worry, as come october clutch kicks win games.
That is where we come to a problem; Foley has not been stabbing them with real consistency, Nic White is out of favour,
Leali'ifano has lost his kicking boots and by the looks of it also out of reckoning. That brings us down to one guy and I know this is a really unpopular opinion but would it have hurt us to have James O´Connor there in the end to take shots at goal? Ok, i know we probably wouldn't have won if Giteau had slotted the late penalty but how often does that happen? If JOC finds form he could well be on the plane for London.
As for exit-strategies I think we were miles better than last EOYT, but still not as good as we could be. Cooper got good distance on his clearing kicks and most of the time we had a good chase after them, but IF we are to box kick, i just don't understand why it's not Folau chasing it? I mean the guy is arguably the best bomb defuser in business, so why not put attacking kicks up for him?
2. Breakdown
Breakdown on the first half was at times a total shambles. It took the Springboks only 8 minutes to get their first turnover (Bismarck du Plessis). We had two guys clearing the said ruck, both coming in with aggression, but with no accuracy whatsoever. As I saw it, that was the tale of the story until Pocock came on; either there was aggression, urgency or accuracy, but too many times only one of them at a time.
Few times a player was isolated, wether that is then said players fault or the supporters being lazy and at times the Boks just dominated the
first up contact so that the support overran the situation.
I'm sure this is something Cheika will be addressing heavily during the week and I do wonder if he will do much testing in the Argie game as the first half of this one left alot of work to do.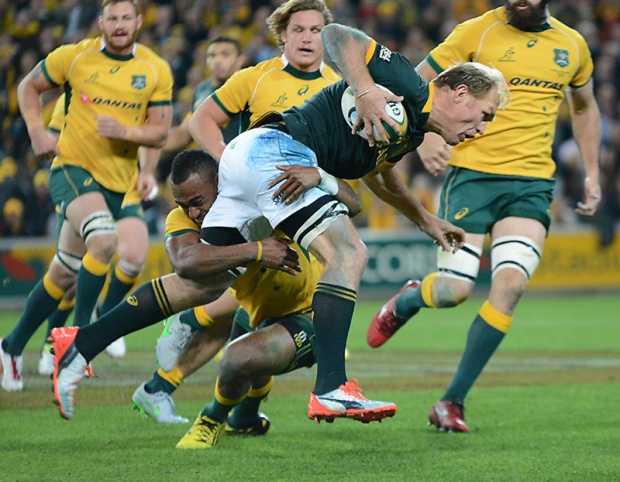 3. Defence
I think one of the good things out from this game was our defence – ignoring the shambles that was the Kriel try (3 Boks against 4 or 5 Wallabies, depending how you count it). Especially after the brain fart by QC right at the hooter of first half. The Boks got a huge opportunity to score seven points there, but we held strong in defence.
Also a worth of noting is that the Boks didn't really use their maul a lot – I wonder if that was becouse of Skelton being on the field?
Many also have pointed out the shuffling of the back line on defence. I have no problem with it as it seems to be very well drilled into this team so we weren't found out with kicks for territory. It's also reassuring to know that we still have guys like Leali'ifano to throw in the mix if someone goes down and he will add even more starch.
4. 2nd row
I don't buy the opinion that Skelton had a horror of a game especially the scrum woes were coming much from the loose-head side where Simmons was packing. It was also notable that Slipper was seemingly injured so expect Sio to step up against Argentina. There were times on defensive line outs where I felt Skelton was being lazy and not supporting his jumper where we could have snatched a steal and he looked seemingly exhausted abit too early. Whether Cheika will persist with him or just use him as an impact from the bench will be seen, but I would prefer the latter.
Horwill rolled back a few years and gave us a promising show, so I am assuming he will get another run and propably a start next week.
Simmons was his usual self, a powderpuff with the ball in hand, but still racked 10 tackles and ran the line out really well. I woulnd't be surprised if Simmons was a lock (pun) becouse his line out work, but the scrum left some worries if it wasn´t for Slipper being injured.
I wouldn't mind seeing a second row of Horwill and Arnold run against the argies with Skelton on the bench as this is the last chance to blood in new talent.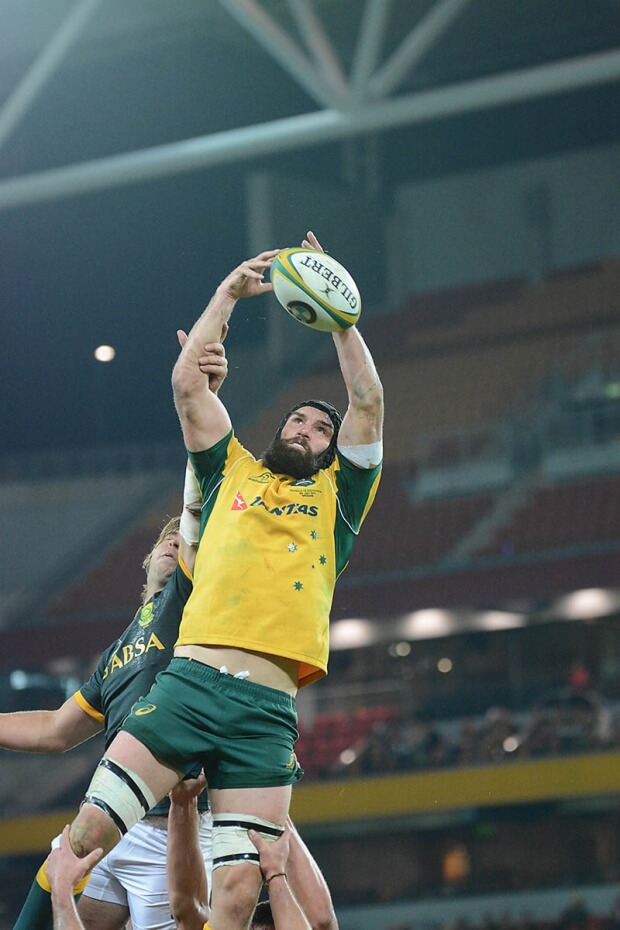 5. The Pooper
I dont know if Pocock single handedly fixed the attacking breakdown, or was it a combination of him, Cheika threatening to burn every piggies house down if we lost one more ruck ball after half time, Bismarck subbed or Phipps on the field to energize the attack, but whatever the outcome on the second half was so much better and I think Pocock had a huge influence on that.
I think he also made Hooper to attend more rucks; I saw atleast three rucks where they both went in as it was a race whom gets there first and I absolutely loved it. Hooper did not have his best game in attack (only 14 run meters) but he did have a telling game, Etzebeth, Schalk and Louw atleast will now know better than to take him one on one.
We now know Pocock has to start from now on; he is our best player and arguably the best 7 out there. Hooper is still also one of our best players, if not second best after Pocock, so I would lean onto starting them both.
Many here talk about accomodating Skelton, but from now on it should be about accomodating the Pooper, they both punch well above their size and seems like there is so much competition that they get the better out of each other.
Overall this was a promising start, lots of questions, but some crusial answers too. Most important of them being that the Hooper-Pocock combo works, Matt Toomua should start, Kuridrani only had a minor post-injury dip in his form and set-piece success.
One big and remaining question is that what happens to Cooper, Giteau and Foley? Hope the Argentina game will answer that for us!