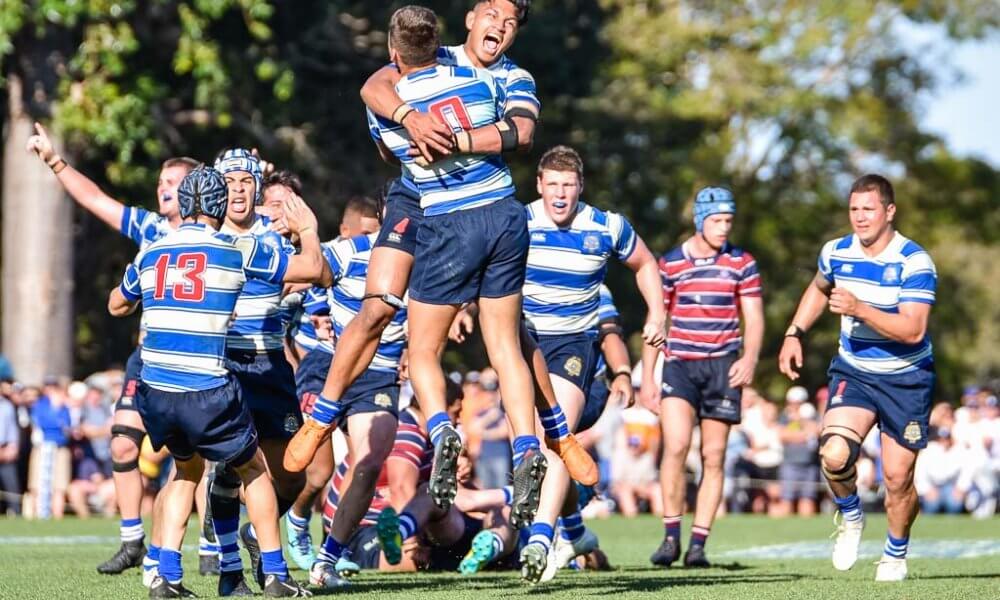 Nudgee College will house the GPS 1st XV silverware for another year after holding out The Southport School for a 34-29 win on Ross Oval.
In what was only the third ever rugby 'Grand Final' in the 100-year history of GPS, Southport fought back from a 24-point half time deficit only to see Nudgee flyer Jangala Bennet steal victory with a late touchdown.
This premiership is now number 42 for the Boondall school.
Many felt the key matchup was going to be between Australian Schoolboy, Reejan Pasiota and Crusaders signed Campbell Parata. Whilst the Nudgee playmaker consistently challenged the TSS outfit, Parata was subdued in the first stanza and parts of the second.
A strong first half by the Catholics appeared to have all but choked their Gold Coast counterparts out of the decider. Guided by Pasitoa, Nudgee dominated possession and territory crossing for three classy tries to take a 24-0 lead into the break.
Whilst the match was over in the eyes of many, Southport appeared to have other ideas.
Their second half fightback began quickly with fullback Dion Samuela crossing in the corner less than two minutes after the break.
TSS continued to work hard, maintaining large amounts of possession, slowly shifting momentum away from the butcher's stripes.
New Zealand born, 125kg giant Reno Gerrard stood up with a double, silencing the 8000 strong Ross Oval crowd when scores levelled up with 15 minutes to play.
Southport continued to blitz and a missed penalty by Pasitoa with five minutes to go left the door open for one of the all-time great comebacks.
It was not to be though.
With less than four minutes remaining though Nudgee fullback Dan Atkinson filed a chip to teammate Josh Flook who almost instantly preceded to grubber the ball into in-goal where a flying Jangala Bennet grounded the ball to clinch victory.
After the win Nudgee captain Harrison Vella spoke to the Courier-Mail's, Jim Tucker;
"Full credit to TSS for pushing us to the limit but I knew if we got the ball back and the momentum at the end we'd score," Vella said.
"There's just a huge sense of pride because there wasn't a moment where I thought we'd lose because of all that the boys put in."
The premiership marks the first undefeated season for the college since 2008.
The Details
Nudgee College – 34
Tries: Kale Manu, Reejan Pasitoa, Josh Flook, Harrison Vella, Jangala Bennet
Conversion: Reejan Pasitoa (3/5)
Penalties: Reejan Pasitoa (1/2)
The Southport School – 29
Tries: Dion Samuela (2), Hamish Roberts, Reno Gerrard (2),
Conversion: Campbell Parata (2/5)
Penalties: N/A
For a full match replay click HERE thanks to DoubleTake Sport
In other Round 9 GPS results:
Brisbane Boys College clichéd third place defeating Churchie at home 29-22
Brisbane State High defeated Ipswich Grammar 38-31
Toowoomba Grammar School finished with a win against Terrace 27-22
For some players rugby in 2018 is not over yet though with Schoolboys Test Matches to be played on the 1st and 6th of October in Brisbane.
Reesjan Pasitoa and Bailey Tautau from Nudgee will pull on the green and gold threads as will Tom van der Schyff, Spencer Jeans and Tyrell Kopua of TSS. BBC flyhalf Carter Gordon will also line up for Australia as they hope to derail New Zealand Schools for the first time since 2012.
Match Photos courtesy of HJ Nelson: