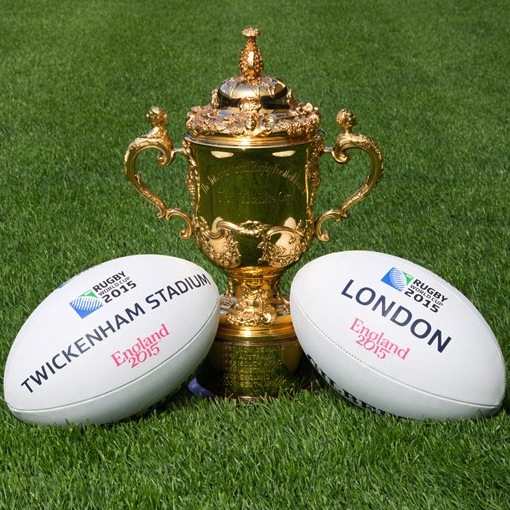 Congratulations to "Joe Mac" and "It is what it is" who have won a

 Gold Asics Wallabies jacket and a

 signed 2013 Australian Schoolboy Jersey due to their suggestions to help Gullivers Sport Travel create the ultimate Rugby World Cup tour.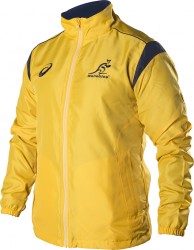 Amongst other things Joe Mac  – who won the U20 jersey – suggested a get together for a drink before the tour, which will now be included.
"It is what it is" from the G&GR forum – who won the Asics Wallaby jacket suggested:
I'd be aiming at a 'no amount of money can buy experience' for the group.

How about a surprise visit to the change room at one of the famous RWC big stadiums on a tournament day off. Go by coach and enter the stadium like a team would. Have a Wallaby top (not a jersey as that's for the real players) with their individual names on it hanging on the hooks. You'll already have their sizes.

Further surprise them by having a legendary former RWC Coach turn up and talk them through what it was like to be in this inner sanctum prior to kick off carrying the hopes of a nation.

If possible then get that Coach to shift gears and reenact a team talk he has given in that situation.

Get sound effects organised like crowd noise and studs on concrete playing loudly and lighting effects.

I'm thinking Millennium or Twickenham would be ideal for obvious reasons.

Bob Dwyer to be the guest speaker.
Many of the suggestions made by "It is what it is" can be experienced on Tour 1 with Alan Gaffney who coached at the 2011 Rugby World Cup with Ireland and his tour goes into Ireland, a part of the world he is very familiar with.
Well done to everyone who entered.
Here are the G&GR tours sold and run by Gullivers Sport Travel: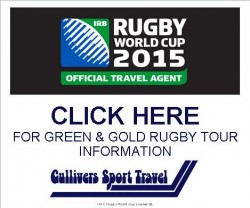 Tour 1 is a Pools Matches Only Tour hosted by Alan Gaffney. Alan has coached professionally for over 17 years. Starting off at the Randwick through to Leicester and as Assistant Coach at The Waratahs. Alan was the back coach for Ireland at the previous World Cup in NZ. – Click here for tour itinerary and booking form –
Tour 4B is Pools to semi-final Tour hosted by Chris Hickey. Chris was a stand out coach in Sydneys Shute Shield Competition. His success with Eastwood led to his appointment as Head Coach of the Australia Under21 team in 2005 & 2006. Following this he was appointed as Head Coach of the NSW Waratahs. – Click here for tour itinerary and booking form –
Tour 7C is a semi-final to Finals Tour hosted by former Wallaby legend Greg Cornelson. Greg has been capped 25 times for the Wallabies. Growing up in NSW, Greg made his test debut at 21 years of age against the All Blacks in Brisbane. His career finished at Twickenham when the Wallabies played England in 1982. Greg was the first forward since 1881 to score 4 tries (v New Zealand) in major Test. – Click here for tour itinerary and booking form –