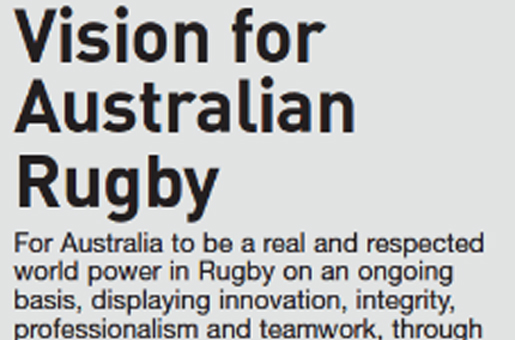 STRATEGIC PERFORMANCE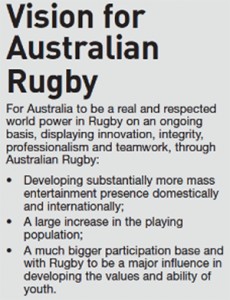 The ARU's 2012 annual report trumpets a surge in participation rates – up 24% from 2011. Michael Korolishin has already prepared a separate report on this topic detailing the double and even triple counting in these numbers. It's an excellent analysis and can be found here.
I will add that the NZRU annual report doesn't talk about participation rates – they only measure registered players, which strikes me as the real measurement of numbers of players in the game. I wonder what the Australian registered player numbers look like?
The NZRU report clearly outlines what the strategic priorities of New Zealand Rugby were in 2012 and what they are going to be in 2013. It follows with an assessment of performance against those strategic priorities in 2012 including a score against each category. The different categories are weighted to come up with a score out of 100. This system of measuring performance has been going on for years and this year the Kiwis gave themselves a score of 87/100, their highest since 2005.
The weightings for the various categories in 2012 are interesting:
25% for a winning All Blacks team;
20% for strong community rugby;
22% for an effective organisation;
25% for having outstanding professional competitions for players, coaches and referees to develop within;
3% for a positive global presence;
5% for ensuring a positive RWC 2011 legacy.
The weightings for the various categories in 2013 clearly show the direction of New Zealand rugby:
20% for a winning All Blacks team;
10% for achieving two Olympic gold medals in Rio;
20% for increased and sustainable revenue;
20% for development of professional rugby, players, coaches and referees;
10% for making rugby the sport of choice in Auckland (obviously countering the threat of rugby league);
15% for strong community rugby;
5% for enhanced relationships with partners.
With limited resources available to the ARU, those resources must be directed to the right areas to preserve the expected surplus from the Lions tour and the best way to determine the right areas is to have a clearly defined plan.
The ARU's annual report includes a statement of vision (above) but where is the detail – where is our strategic plan – we've heard that there is one but why aren't the ARU making us all aware of it?
Bill Pulver is in his first year in the job – I hope that by the time we see the first annual report under his leadership significant improvements will have been made by the ARU.